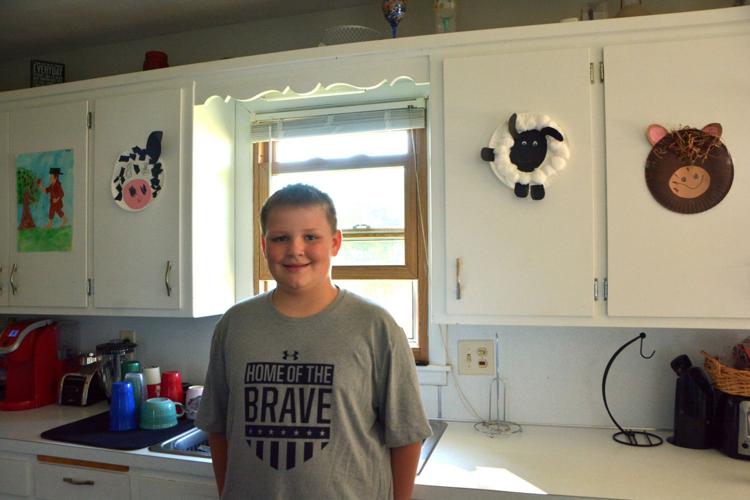 Wednesday was Ethan Buss' 10th birthday, but this year, he doesn't want presents.
Instead, he's throwing a party that he hopes will help the people affected by recent hurricanes and wildfires.
On Oct. 29 at 11 a.m., Ethan will be inviting the public to a birthday party in the back room of Risky's in Beatrice. It's a spaghetti feed, and for $8, the community can help Ethan raise money for the people hit hardest by disastrous weather events this summer.
Ethan likes to give back, and that just comes naturally, said Ethan's mom, Amber Shufeldt.
"He's not a needy kid," she said. "When we asked him what he needed for back to school this year, he just said socks and underwear. He's had the same book bag for the last two years."
Ethan is a fourth grader at Paddock Lane Elementary. In the past, he and one of his friends opened up a lemonade stand, sending all of the proceeds to diabetes research. Wanting to help people on his birthday came as no surprise, Shufeldt said.
"I've had a birthday for nine years," Ethan said. "Other little kids only had a couple birthdays and now their homes are getting destroyed. If they have a birthday coming up, their birthday present would be like a new home, new toys, new everything."
The party started out as a small idea, he said. Maybe a few friends and family, asking everyone to chip in a few bucks, but then Ethan's grandparents Bob and Sharon Roberts stepped in.
They suggested holding the party in a room at the Good Samaritan Society where Shufeldt works and maybe invite a few more people. But then they mentioned the idea at one of their weekly haunts.
"His grandpa and grandma eat at Risky's every Friday," Shufeldt said. "So they know the managers there and they were talking about it and they were like, 'We want onboard, this is amazing.'"
Risky's offered up the back room and will be holding a few games, with the possibility of a piñata and a costume party. Ethan's grandparents will pay for the spaghetti—so all the money raised can go to the Red Cross—but Risky's has really been putting in work, Shufeldt said.
They've printed flyers and are accepting donations for Ethan's cause right in the restaurant—if you're interested in donating, you can walk in and put your cash in a jar. The goal is to raise at least $5,000 for disaster relief.
When Hurricane Harvey hit in August, Ethan's class was studying the effects of hurricanes, which really piqued his interest.
"He is very aware of the world around him," his mom said. "We watch the news here, and we don't hide our children from things. He went to the library the next day and got books about hurricanes."
That's one way Ethan decides to help out, she said. If he hears about someone in need, he wants to learn more and pitch in.
"Last year, I said that I want to grow up, play for the Huskers and then try to get in the NFL," Ethan said. "If I got enough money from the NFL, I was going to buy a bunch of jars and donate loads of clean water to places that don't have clean water."
On Ethan's birthday on Wednesday, Shufeldt learned that the Red Cross would be attending his party as well. The Red Cross may even be holding a blood drive on site, she said.
Ethan did get a present for his birthday, however, but it was something he really needed: a refurbished computer. Everything else, he hoped, would go to the Red Cross.
"If a bunch of hurricanes come up, I'll do it every year," Ethan said. "Probably every year, I don't know."