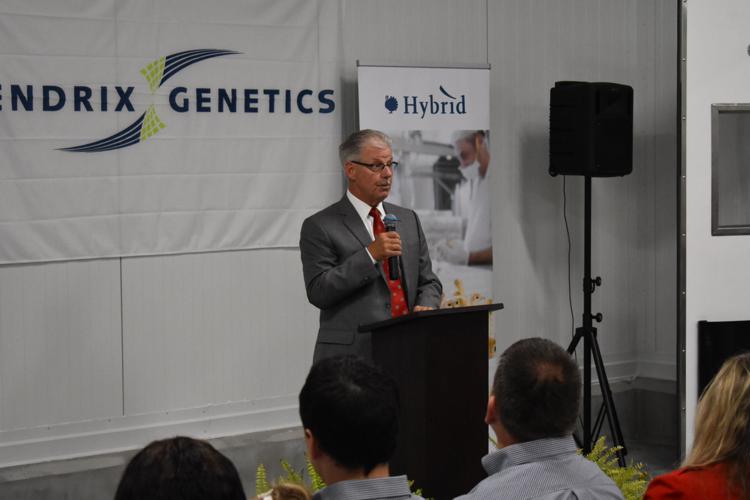 In 2017, the area has seen several new business ventures begin and innovative ideas developed for dilapidated properties, capping what some are calling a successful year for Beatrice.
Mayor Stan Wirth shared his thoughts on some of 2017's high points, and what trends he hopes to see in 2018.
"We have a lot of what I view as progressive business that's going on," he said. "Not only with the infrastructure repairs we accomplished this year, but also through economic development and some of the successes we've had there and what we hope will continue to enhance job creation."
The opening of Hybrid Turkeys in the industrial park is one new business bringing jobs to the Sunland, while several others have found success as well, prompting others to take notice.
Beatrice was selected by the Nebraska Diplomats as the community of the year for being a leader in community growth and business partnerships.
The group also named a Beatrice business, Rare Earth Salts, as the innovator of the year.
And while new beginnings demonstrated growth in the area, Wirth said the demise of old commercial buildings is also a step forward.
The former Store Kraft building is currently being demolished to make way for an anticipated new commercial development. Plans are in place to demolish the former Beatrice Community Hospital building in 2018 to make room for additional housing and steps, albeit small ones, are being taken to potentially demolish the former Dempster Industries building in south Beatrice.
While these three buildings each have deep roots in Beatrice's history, they haven't been used to their full potential in years.
"While I understand the nostalgic benefit of these structures, at some point in time, you just have to let it go," Wirth said. "Time marches on and progress marches on. We have a new state of the art facility today in the new Beatrice Community Hospital and (demolishing the old hospital) is going to give way to additional economic development with the workforce housing and also some senior living projects."
Once demolished, houses and duplexes will be constructed at the site to house 16 families in the area of 10th and Arthur streets.
The structure is planned to come down in spring 2018, and the total project is expected to be finished in early 2019.
A small portion of the former Demspter Industries building is still being used by Dempster Manufacturing – a different company than the longtime Beatrice windmill manufacturer – to assemble spreaders and recycling trailers, but long-term plans call for the building to eventually come down, as renovating the structure would likely cost more than it's worth.
"There's a lot of buildings in our community that are in such disrepair that unless someone comes in here with a pile of money, there's not much that's going to happen," Wirth said.
He added that the city doesn't own the property and he doubts the building will come down in 2018, but he sees potential in the location, possibly to solve two problems at once and use the area to build a new fire department.
"The crowded condition that the fire station is in today is, in my opinion, not acceptable," Wirth said. "Where that location is going to be, there's several of them that I think would work. My vision is to utilize the former Dempster facility. It is a building that is in tremendous disrepair and to try to bring that back to some semblance of utilization is just not economically feasible."
The department currently operates out of the lower level of the city auditorium on Ella Street, and has outgrown the space.
Not all the highlights from 2017 have been large scale projects or grand plans. Wirth said one big success story from the year has been the city's facade improvement program.
As a part of a downtown revitalization grant from the state, the forgivable loan program helps downtown property owners improve the appearance of their buildings while keeping in mind the historical significance, environmental impact, economic potential and property value of each building.
Wirth said there have been 18 projects awarded through the program, with more applications pending, since it was approved by the City Council in June.
"I think that it exceeded my expectations, and I'm happy that it did," he said. "The downtown property owners really embraced it and I think they see there was a real benefit to them to enhance their structures and revitalize our downtown area as much as we can."
Looking ahead, Wirth believes Beatrice will continue to see economic growth and said there are several projects in the works.
"We need to continue to create jobs for this area," he said. "We may continue to create jobs that are attracting people from a wider area than just Beatrice itself. Our NGage economic development group has quite a few inquiries on the drawing board today that may or may not come to fruition, but we're going to do our best using all the economic development tools that we have available to us to try to make that happen."