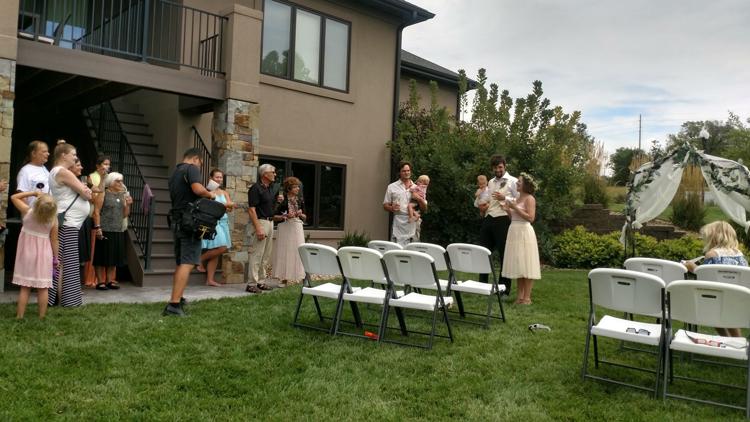 The planning was the easy part, but actually getting married proved to be a little more difficult.
Sarah Bollwitt and Morgan Jones got married during the total solar eclipse on Monday in Beatrice, but the path to their wedding day took them thousands of miles from home and several venue changes.
Bollwitt and Jones knew they wanted to get married during the total solar eclipse, the only problem was, the eclipse wouldn't reach them where they live in Homer, Alaska.
Bollwitt, a native of Seward, wanted to come back to Nebraska to get married. They could have done it at her parents' house in Seward, but Beatrice had a full minute more of eclipse totality.
Her best friend in high school, Suzanne Clabaugh and her husband Nate, offered their home in Beatrice for them to get married, which the couple accepted.
The two took a plane from Homer with their daughter, Sidney, and were off to Nebraska.
Their plane was delayed for 18 hours in Anchorage, but luckily, Jones said, they had some friends and family they could stay with.
"Sounds worse than it was," he said.
They arrived in Nebraska on Aug. 17, Bollwitt's 35th birthday, and headed to Seward where her mother had a wedding reception all planned out. After a hamburger feed this past Friday and a rehearsal dinner on Saturday, they were going to have a small get-together for their reception on Sunday.
Sunday, had other plans. The Big Blue River began to flood in Seward. They moved the tables and lighting to a nearby park, but the roads to the park were quickly closed, also due to flooding.
That's when they moved it to Bollwitt's parents' home. It was lovely, her mother Sue Bollwitt said, but then they received more bad news. Seward lost all water pressure on Sunday afternoon.
"No water, no flushing," Sue said. "Suddenly, two Port-a-Potties arrived and saved the day. Not only that, but suddenly we felt like we were kings in our palace. We had water, ice and port-a-johns. What a wonderful thing."
They had the reception and headed off to Beatrice on Monday morning, though Sue began feeling unwell and had to go to the emergency room along the way, she said, thinking she might be having a heart attack.
"I got checked out, I'm good to go," Sue said. "That was part of the travel on down here. We still made it down here with time to spare. It is meant to be."
They made it to Beatrice and their friend, Irene Williams, officiated the ceremony. It was William's second wedding, but it went much better than her first one, she said.
The sky was cloudy, but through eclipse glasses, guests could still make out the moon's shadow. At the last moment, the clouds began to part and what looked like a diamond ring shone brightly before the halo around the sun appeared and the sky plunged into darkness.
The guests cheered.
It was a difficult journey to get to their wedding day, but they had done it, Jones said, and it was a pretty amazing experience.
"The clouds were in, but we still saw the corona and Venus came out for a minute," He said, holding Sidney in his arms. "It was one of the coolest things that I've ever seen."