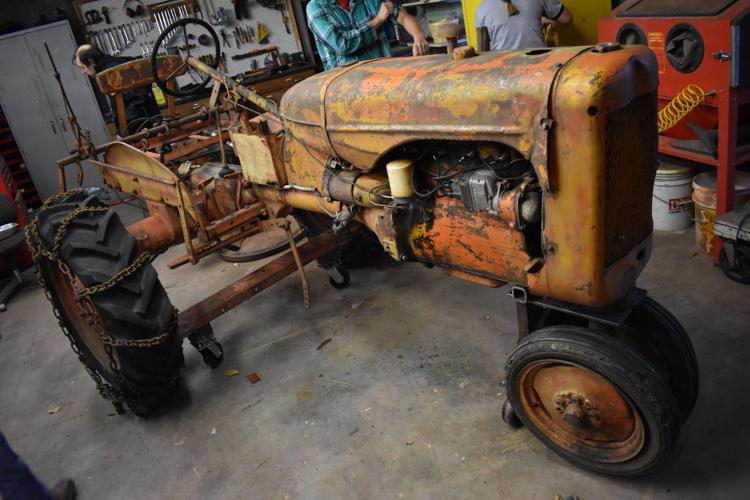 A piece of homesteading history is ready to be displayed in Gage County.
The lengthy process of retrieving a 1945 Allis Chalmers Model C tractor owned by the last homesteader has been completed, and the tractor is now in Nebraska after being retrieved from the Alaskan wilderness.
The tractor has been restored, and a public unveiling will be held at Homestead National Monument of America on Monday, Nov. 20 at 2 p.m. The event will be held at the Homestead's Heritage Center.
"When most people think of homesteading, they have an image in their minds of a single bottom plow being pulled by a team of horses," said Homestead Superintendent Mark Engler. "This tractor will show the size and scope of homesteading, as well as the relevancy of this law that transformed our nation."
The tractor once belonged to Ken Deardorff, the last American homesteader, who bought the tractor when he moved to the Alaskan wilderness in 1974.
Dearsdorff staked a claim under the Homestead Act and settled on 80 acres of land located about 200 miles from Anchorage and nearly 50 miles from the nearest town.
Using his tractor, Deardorff cleared a forest to grow his crops—mostly hays and grasses, as those were the only things that would grow in the climate. The tractor was his most important tool.
When he left the Alaskan homestead ten years after starting it, the tractor was left sitting outside for the next 30 years. Officials from Homestead Monument learned about the tractor and were determined to bring it to Beatrice.
Last year, the Friends of Homestead started an online fundraising campaign to bring the tractor to Nebraska, where University of Nebraska students have been preparing it for display.
The tractor was cleaned with mineral spirits and denatured alcohol to kill bacteria and black mold.
The rotting wood seat was put back together and period-correct spark plug wires were added to replace those that were missing.
Officials used a helicopter to lift the tractor to Big Lake, Ala., where a crate was custom built for it. It was put on a barge to Anchorage, then onto a ship to Seattle before being trucked to Beatrice.