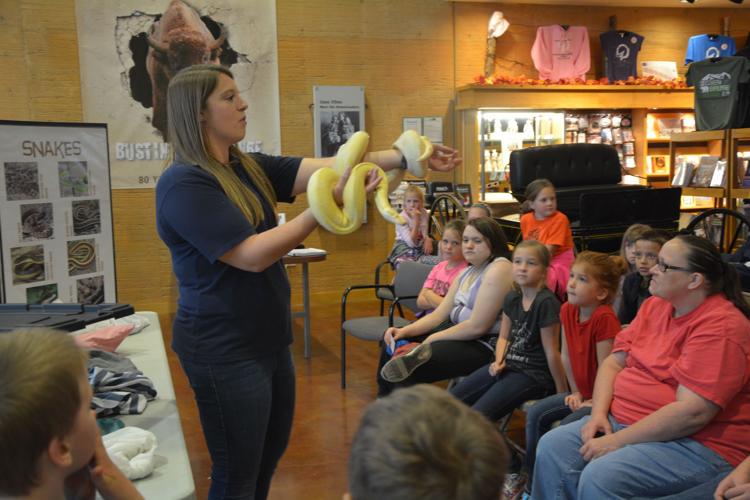 Creepy-crawlies, things that go bump in the night and other spooky goings-on all make for eerie Halloween fun, but at the Homestead National Monument, they're turning the scary stuff into something educational.
On Saturday, Oct. 28, the Homesteadwill host its annual Howling Homestead event starting at 6 p.m. in and around the monument's Heritage Center.
The night will feature live birds of prey, spiders, insects and snakes, an encounter with a mad scientist, nighttime nature walks, storytellers, refreshments and the first 100 kids who come to the monument for Howling Homestead get a free pumpkin, courtesy of Friends of the Homestead.
The Howling Homestead isn't about scaring you, said park superintendent Mark Engler, it's about engaging with the natural world around us. It's a family friendly event, he said, and a learning experience with a Halloween backdrop.
"While we may be thinking about Halloween and scary things," Engler said, "This will let us look at these things in a different light."
Things like live owls, courtesy of the Fontenelle Forest's Raptor Recovery program and programs from the Lincoln Children's Zoo. The Prairie Astronomy Club from Lincoln will be on hand as well with telescopes for a little stargazing.
Visitors travel around the park in groups, stopping for about 15 minutes per station and, toward the end, they'll have a chance to enjoy some fall-themed refreshments.
Since the event is in mid-autumn, Engler said, it's important to dress for the occasion.
"We ask people coming to it, leave your costumes at home," he said. "We also ask that they take into consideration the weather. If it's going to be a cool evening, make sure you dress for a cool temperature since part of it is outside and part of it is inside."
The event typically attracts hundreds of kids and their families, Engler said, and it's something people tend to come back to. It's a fun evening but—like broccoli smothered in cheese—it's about sneaking a little learning into something fun.
"We have a person we call a mad scientist," Engler said of the Educational Service Unit's contribution. "But actually, they're sharing with us fun experiments that help people better understand our natural world and the science behind different things."
In the mean time, the Homestead National Monument's latest art exhibition "The Legacy of Nebraska" opened on Friday and will run through the beginning of January.
A collection of oil paintings of southeast Nebraska scenes by Nebraskan painter Todd A. Williams, The Legacy of Nebraska is an exhibit that's spent the last few months touring the state in celebration of the Nebraska sesquicentennial.
Williams' paintings have almost a feathery, dream-like look about them and feature the people, places and things that have made Nebraska what it is today.
"I would say that they show our state's rich history," Engler said. They also are a source of pride for Nebraskans. Seeing some of these features and landmarks from different places in Nebraska, I think it would be cool for people to see them through the eyes of Todd Williams."
Williams will be on hand, along with author David Hendee, for a presentation and book signing on Nov. 5 at 1 p.m.
Both the presentation and the Howling Homestead events are free to attend.