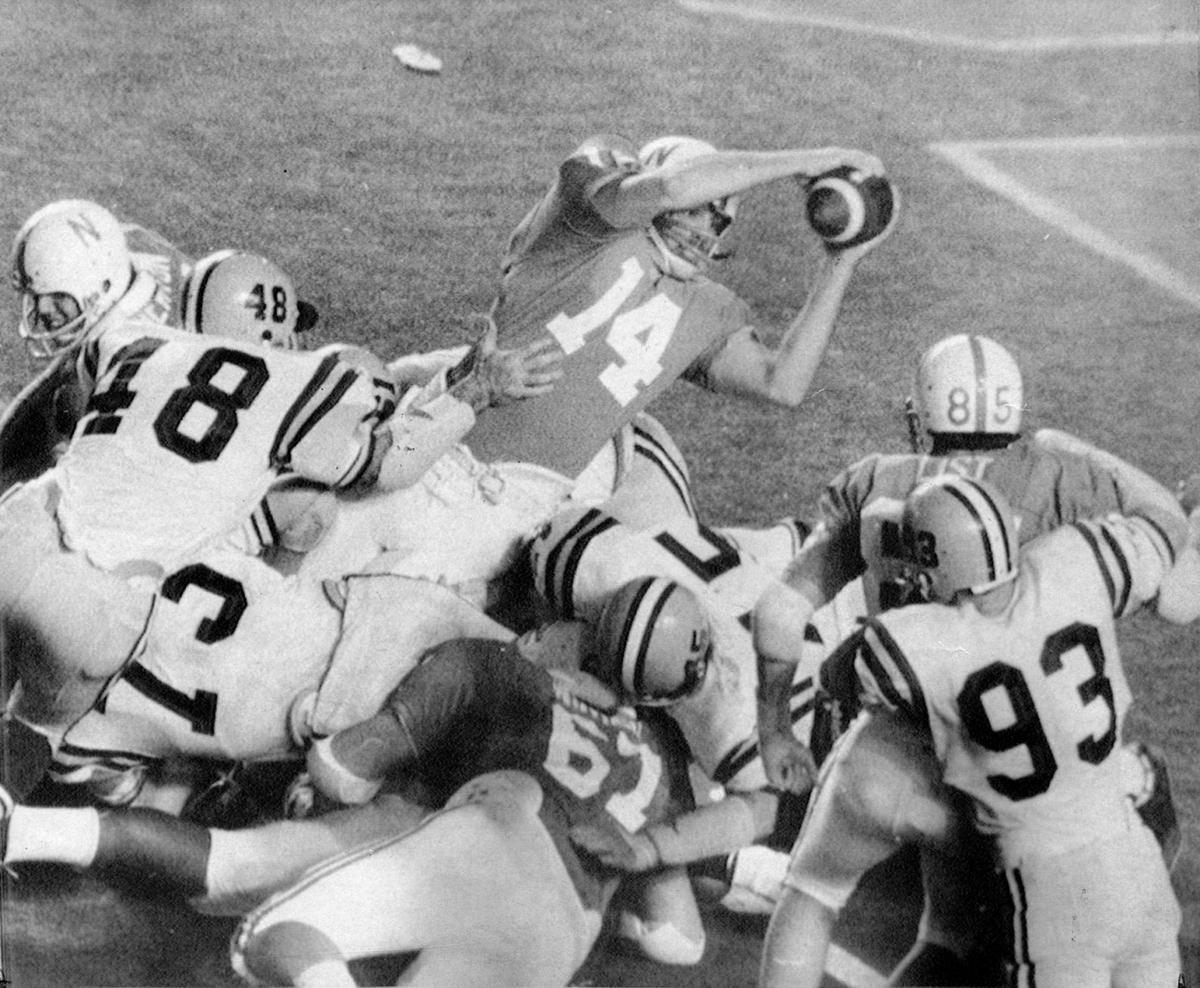 The outcome: Huskers 17, LSU 12
It was a minute after 5 p.m. in Miami on that first day of 1971 when the television in the locker room flashed the final score: Notre Dame 24, Texas 11.
This was good news to come out of Dallas, but just a slice of the news Nebraska needed on this day.
That is how it goes when you begin the big bowl day ranked No. 3.
The second bit of necessary news would not be known until three hours later. That's when it was announced in the locker room that Jim Plunkett's Stanford Cardinal had done in Woody Hayes' Buckeyes in the Rose Bowl.
"There it is," Bob Devaney is said to have told his team just before it ran onto the field to face LSU in the Orange Bowl.
Now the Huskers just had to help themselves.
Running on adrenaline, Nebraska looked like it might coast to a champagne party, busting out to a 10-0 lead before the first quarter was over.
That's when things got hairy. The Nebraska offense stalled. Quarterback Jerry Tagge, who would end the night with a touchdown to forever be immortalized in some painting at your nearest Husker gift shop, was pulled from the game at one point, giving way to Van Brownson, who shared snaps with Tagge that season.
And when LSU fired a 31-yard touchdown pass to end the third quarter, it looked like Nebraska just might biff its golden chance, trailing 12-10.
But then came the heroics, and Sports Illustrated's Dan Jenkins was as good as anyone writing about that sort of thing.
Jenkins: "Tagge would win the game. He took Nebraska 67 yards for the touchdown — maybe the most glorious 67 yards Nebraska ever would drive. He sent Orduna inside, and he went outside himself. He passed to Dan Schneiss and Johnny Rodgers. He ran again. And again. And he passed to Kinney — a big one, 17 yards, to the LSU five. Kinney ran for three. And Tagge for one. Finally they were one yard away.
"Jerry Tagge sneaked for the score, leaning forward after being met, stretching out the ball with his hands. As he held the ball up there in that heap, Nebraska considered itself No. 1, and on the basis of the won-lost evidence among the major contenders, it is hard to disagree."
Tagge had failed on a sneak just a play before, but this time on third down, his second-effort lean was not to be denied. Snap your pictures. It was a moment fit for an expensive frame.
With that, and some tough defense to finish it, Nebraska escaped with a 17-12 win.
Ah, but there was still some bickering before hoisting the trophy.
The AP poll did not declare a champion for another four days. In the meantime, Nebraska's Bob Devaney and Notre Dame's Ara Parshegian went back and forth in the press about why their team was the top dog.
Parshegian, whose team had one loss to USC as its blemish, argued that Notre Dame "accepted a greater challenge" by playing top-ranked Texas in the Cotton than Nebraska did by besting LSU in the Orange Bowl.
Devaney, whose team had one tie to USC as its blemish, fired back that Parshegian "was full of B.S. to make statements like that," pointing out Notre Dame had scored only a field goal on its home field against LSU in a 3-0 win that season.
With his team enjoyably stuck in Miami for an extra couple of days because of a blizzard in the Midwest, Devaney even issued a challenge for Notre Dame to bring his team down South for a game.
No game. Finally a resolution came.
Nebraska ran away with the vote, claiming 39 first-place votes to Notre Dame's 8.
"It's probably the greatest thing ever to happen to University of Nebraska athletics," Devaney said of the football program's national championship.
He was only slightly wrong. There was no "probably" about it.