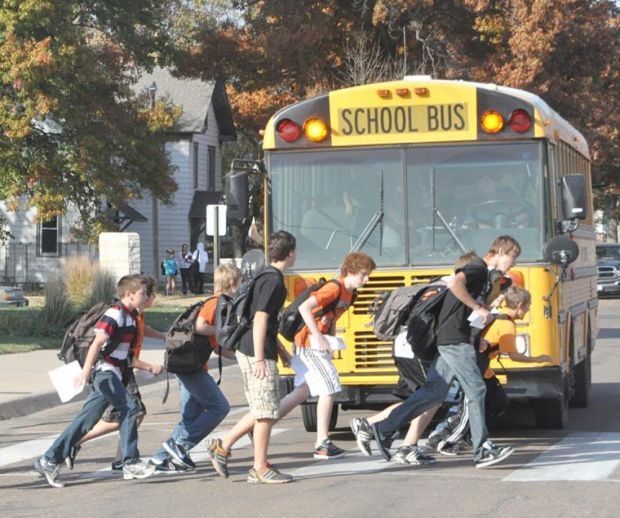 It's almost time for schools reconvene, and the additional traffic may impede weekday work commutes.
Beatrice Public Schools start between 8:10-8:20 a.m., with schools opening even earlier to serve breakfast. This means around 7 a.m., buses will start to pick up students, while others may choose to walk or car pool.
The first day of school for kindergarten through ninth grade is Wednesday, Aug. 12, with preschool and grades 10-12 starting Thursday, Aug. 13.
In Nebraska, it is illegal to pass a school bus that has their stop sign out.
Jeff Hays, a paramedic and firefighter for the Beatrice Fire and Rescue Department, said he has dealt with incidents between school buses and other vehicles before, and that the individuals involved sustained minor injuries.
"The biggest thing is just awareness," Hays said. "Being safe when the buses are stopped, the red stop sign's out and the lights are flashing. Just stop, be patient and wait. The kids might take a little bit to get off, but it's well worth the extra time to wait a few minutes."
Since BPS is starting on tier two of their return to school action plan, the community will likely see an increase in traffic as the district and MidStates plans to operate buses at 50% capacity and not provide transportation to parochial school students.
BPS answered other frequently asked questions in a document on the district website, which states students will be required to wear masks on the bus, and that public health officials have recommended opening windows as much as possible to ensure ventilation and try to stop the spread of COVID-19. The buses will also be sanitized after every route.
If the school moves to tier three of the plan, transportation will only be provided for special education and rural students.
"Federal and state laws only require districts to transport students whose [Individualized Education Program] states that alternate transportation is necessary or a student lives four miles outside of the district," the document states.
Individuals who do not have a way to get their student to school can call BPS at 402-223-1500 or MidStates at 402-806-4444 to discuss options.
Be the first to know
Get local news delivered to your inbox!