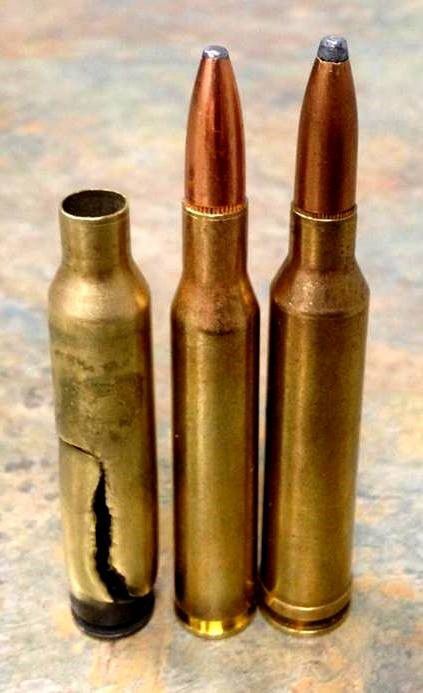 With some of the warmer days we have had recently, many people have been out doing a little target practice. I got a text and pictures from a local shooter this past week that served as a good reminder to be careful when you are out doing your shooting. It is a story about making sure you keep your mind and eyes on your task. All of us who are shooters know and practice the basic safety rules when handling and shooting any firearm…but accidents can still happen.
The first picture I saw showed the face of this shooter. It looked like he was sunburned on the right side of his face. A closer look showed me he had a few specks of blood on his face as well. The rest of the story was even scarier.
The shooter, who is very experienced and has been hunting and shooting for 40 years or more, and his son were out doing some target practice. He shoots a 7mm Magnum and his son shoots a .270 Winchester.
The pair had been shooting a while and dialing in their rifles. Both men had loose cartridges laying on the tailgate of a pickup and when one shooter reached for another round he accidently picked up a .270 cartridge and loaded it in his 7mm Magnum. If you look at the picture above, you will see how close the two different cartridges are in size and general appearance. It would be very easy to mistake one for the other with a casual glance. The .270 round "chambered", he took aim and pulled the trigger. That is when things went awry. The .270 round fired, or more accurately, exploded in the chamber!
Overall the 7mm Magnum is just slightly bigger, mere thousandths of an inch, than the .270. Just that little bit of difference allowed the .270 case to swell inside the chamber. The swelling also allowed the casing to rupture, letting unburnt powder and bits of brass to escape. In any explosion, pressure follows the path of least resistance. In this case, the path of least resistance was backward. The gases, unburnt powder and brass shrapnel blew back into the shooter's face!
"I immediately knew something blew up when I pulled the trigger," the shooter told me, "But I had no idea what had happened yet. All I knew was that my face felt like it was burned."
Unburnt powder grains and bits of brass or molten brass blasted out of the breech with thousands of pounds of pressure behind them. Those particles hit the right side of the shooters face. The unburnt powder hit and stuck into the surface of his skin. Several bits of brass penetrated the surface of the skin and drew a bit of blood.
One piece of brass hit the shooter in the right eye. It penetrated the surface of the eye and embedded in the sclera, the "white of the eye". Fortunately there was no permanent damage to the shooter's eye, but removal of the brass fragment did require medical treatment.
"When I raised my head, my son was looking at me with a very scared look. I knew something had really gone wrong," the shooter told me. "I had to get a mirror to see for myself. I realized I was lucky to still have a right eye to see out of!"
"It took a few minutes to figure out what had happened", said the shooter. "When I looked at the rifle and opened the bolt, I saw the split case. I then saw it was a .270 cartridge and not a 7mm. I had just reached over to grab another round and loaded it without even thinking about it."
It is easy to see how the two different cartridges could be mistaken. Even side by side, there is not a lot of difference.
I actually came close to doing the same thing a couple of years ago. I bought a rifle from an individual who told me it was a .308 and I had no reason not to take his words for it. I just assumed (and we all know that that can mean) it was a .308 because the guy I bought it from told me it was a .308. I never looked at the rifle closely...it was in fact a .300 Winchester Magnum.
I put the rifle in my vault for a few months and several months later decided to see if it was sighted in. I planned to meet up with a couple of shooting buddies and do some target practice. The day we met at the range I was making my preparations when my shooting buddy, Fred Werkmeister, said, "Oh, cool. I've never shot a .300 Win Mag before."
I looked at Werkmeister and gave him a bit of a quizzical look and said, "What? You're not going to shoot one today either. This is a .308."
Werkmeister calmly pointed to the caliber designation on the side of the barrel. Sure enough…I had a .300 Win Mag. I thanked him for noticing that. I was literally seconds away from loading a .308 cartridge and firing my first shot with the rifle. I don't know exactly what would have happened if I had pulled the trigger, but it could have been similar to the 7mm-.270 incident mentioned above…or worse.
The 7mm rifle involved in this incident was inspected by a gunsmith and appears to have survived the event with no problems. This story serves as a good lesson to all of us who shoot for whatever reason. Have fun, but keep your mind on the task and keep ammunition boxed in its original container and separated on the shooting bench.