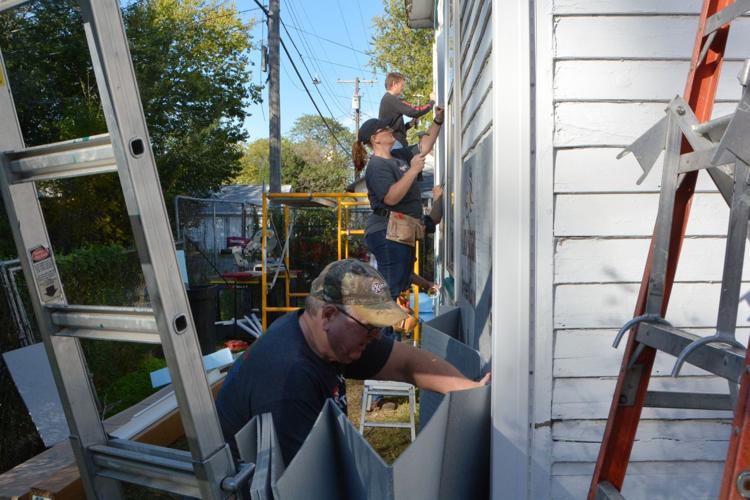 Habitat for Humanity is known for lending a helping hand to those in need, and this holiday season, giving to the organization can get you something back in return.
The Beatrice chapter of Habitat for Humanity is looking to offer tax credits as a part of a program from the Nebraska Department of Economic Development. When the organization receives a donation of $500 or more, they'll submit paperwork to the Department of Economic Development for a tax credit to the donor.
"If an individual was to make a $1,000 cash donation to Habitat, they would be able to take that $1,000 off their federal income tax first," said Allen Grell, project coordinator for Beatrice Habitat for Humanity. "Then, the state of Nebraska will award them with a state sales tax credit of 40 percent of that $1,000. So, they're going to get another tax credit from the state of Nebraska of $400. That can be applied to their state of Nebraska tax liability."
The offer is part of a fundraising effort that aims to build a brand-new home for one of their future partners, Grell said. In the 17 years since he and his wife, Linda Grell, have been involved with Habitat, the cost of building a house in Beatrice has almost doubled, rising from about $60,000 to more than $100,000, he said.
In order to maintain Beatrice Habitat for Humanity's status as an affiliate with Habitat International, the organization has to either build or rehab a home every three years.
Lately, they've been rehabbing homes, including the most recent renovation of Thomas Grosky's Beatrice home. Working with multiple volunteers from Exmark Manufacturing, Habitat put in new siding, installed 20 new windows and performed electric work on the exterior and interior of Grosky's house.
It's less expensive to rehab a home than it is to build one, Grell said, but not by much.
Beatrice Habitat for Humanity was once given a house which the original owners had abandoned. They had locked the doors, walked away and never came back, leaving everything the way it was for 15 years. 
The house was later donated to Habitat and members got to work fixing it up. There was still food in the fridge, and sheets were still on the bed. If it weren't for the dust and mold, the house looked as though someone was still living there. After gutting the house, the project cost the group nearly $75,000, Grell said. The project would not have been possible without the help of volunteers and donors.
The abandoned house, like all Habitat homes, was built and rehabbed with help from the people who would be living in them.
Habitat for Humanity turned out to be a perfect fit for Mac and Shaina Henning. Five years ago, they saw an ad at the Beatrice Wal-Mart requesting a partner for Habitat for Humanity.
The Hennings were expecting a child and they'd been trying to buy a home for a while, but kept running into issues. Both of them were young and couldn't qualify for many homes. The ones they did qualify for required quite a bit of work. That's when they applied for a home loan through Habitat.
"They showed us the house, and it was head and heels above what we had seen for the price," Mac said. "When they told us it was a zero interest home loan, as well, that was really nice, considering Shaina was in school and I was working a minimum wage job."
Friends around their age who also bought homes, he estimated, probably spent about $200 a month more than they did. When you're working a minimum wage job, Mac said, $200 extra a month is a huge chunk of money.
"Especially since our son has multiple food allergies," he said. "The food we had to buy was more expensive than just ramen noodles. That helped out, so we could put that money toward our kid's diet."
About a year after they purchased the house, Mac was able to go back to school. With the money they'd saved, Mac and Shaina were both able to attend school and are now both licensed practical nurses.
The typical monthly payment is right around $450, Grell said, which covers the mortgage, taxes and insurance. None of the homeowners involved with the Beatrice Habitat program have ever defaulted he said, and they still have all but one original homeowner.
Habitat for Humanity is a Christian organization—its most recognizable face was probably former President Jimmy Carter. As such, Habitat International has a strong history of tithing, Grell said.
Ten percent of every dollar received by the Beatrice affiliate goes to support building homes in Ethiopia. They're much different from the homes being built in Beatrice, Grell said, and most can be built for around $4,500.
Most of the homes don't have sanitary facilities or running water, so there's a big push to build community bathrooms at the moment, he said.
For people interested in giving to Habitat, Grell said this is a prime time to do it if donors are looking to minimize their tax liability, and the donation doesn't necessarily have to be in the form of cash.
"They could give us material, they could give us in-kind service," he said. "We can interpret all of those as to what value they would be. We'll submit them to the department of economic development, and they'll issue out a tax credit."
For those interested in donating, Beatrice Habitat can be reached at 402-239-3891. Anyone interested in becoming partners can call that number as well.
A lot of Beatrice Habitat partners usually come to them through word of mouth or from advertisements they've seen, Grell said, so they haven't seen the level of interest they'd expect.
"It's amazing that people aren't beating our door down," he said. "But the truth of the matter is, people are busy with their life. We have a difficult time getting the word out."