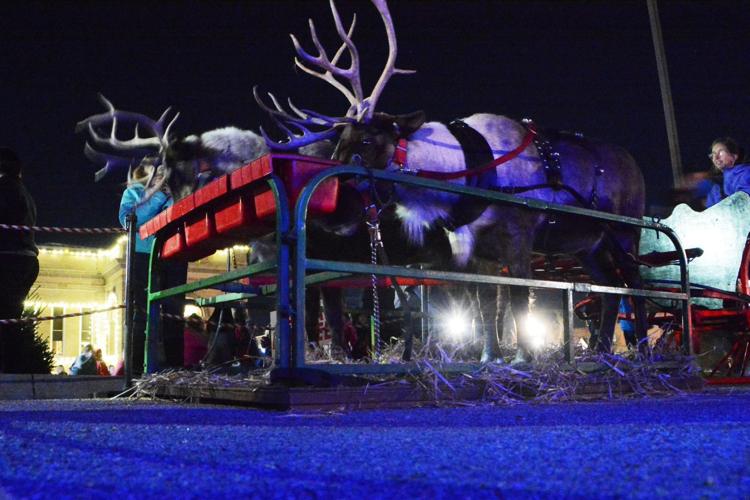 One of St. Nick's helpers was in Beatrice on Saturday night and brought with him a few of Santa's famous reindeer.
Rod Gross—who runs Gross' Belgians out of Lincoln—was on hand during the Lighted Christmas Parade in Beatrice on Saturday with two live reindeer, Dancer and Prancer.
"That's who Santa told me to bring tonight," Gross said.
The two reindeer, brought to town with the help of Beatrice Community Hospital, spent the time enclosed in a pen, happily chewing on reindeer feed as kids and families posed for photos aboard the sleigh placed behind them.
Gross and his reindeer have been a part of the parade for the past three years it has been held. For the last two years, the reindeer took part in the parade, but this year, they were just available for photos in the Charles Park parking lot.
For their size, reindeer have pretty big antlers, sticking up into the air about two feet, with a portion of the antler covering their face and eyes. There's a good reason for that, Gross said, other than just looking photogenic.
"In the wild, they're running through trees and brush," Gross said. "They stick their nose up in the air and they put their antlers around their body. That protects their body and their eyes."
Back at their home base in Lincoln, Gross said, they've got six reindeer, in addition to several horses. Reindeer, which are hard to come by, can run upward of $10,000.
There's another thing about reindeer that might surprise you, he said, as soon as the fuzzy antler velvet comes off for the winter, their antlers are done growing for the season.
"The males lose their antlers before Christmas," Gross said. "That's why all of Santa's reindeer are girls. And the girls hang onto their antlers until April or May, when they're ready to calf and they'll lose their antlers."
If you're coming to see the reindeer, Gross said, remember that the ropes around the pens are there for a reason. Kids are pretty good about not reaching over or climbing under to pet the reindeer, it's the grownups you have to watch out for.
Gross said he had to remind a father about not going beyond the ropes. There's a lot Gross can deal with, he said, but crossing the rope mystifies him.
If you missed the reindeer during the parade, you'll still have a chance to see Gross' reindeer this coming Saturday in Lincoln in the Haymarket at a Breakfast with Santa event, or at Hy-Vee in Lincoln at 40th and Old Cheney on Tuesday. For now, his schedule is booked pretty solid almost all the way up to Christmas.
"We started on Nov. 10," Gross said. "And this is the first year we don't have anything booked yet for Christmas Eve."