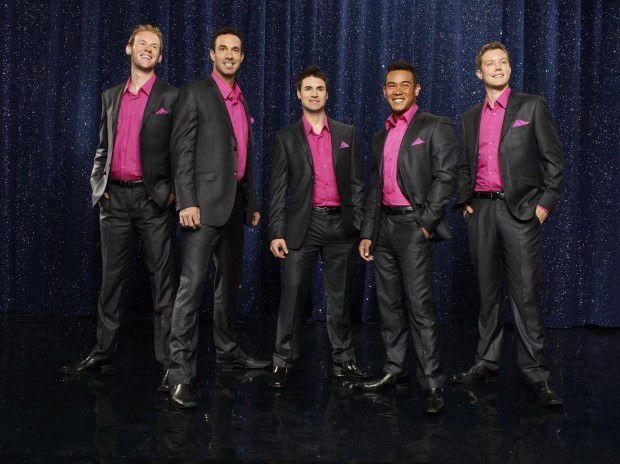 The Cat's Pajamas calls its transportation the "Sunshine Van."
It's a 15-passenger vehicle "on this side of 20 years," group member and Lincoln native Zakk Wooten said.
"It can't go over 60 miles per hour, and if it does, the whole thing starts to shake," he said.
Still, the Sunshine Van proved its worthiness in May when it transported the five-person a cappella group from its Branson, Mo., home to Chicago for an audition for NBC's "The Sing-Off," the network's popular reality competition show.
About a month later, the Cat's Pajamas learned it was one of 16 groups picked to compete this season for a Sony Music recording contract and $200,000.
"The Sing-Off" premieres its third season at 7 p.m. Monday on NBC (Time Warner Cable channels 6 and 1006).
The shows scours the country in search of the best a cappella groups, ranging in size and age, and pits them against one another in a sing-off. This season, the show has expanded to 16 groups. Nick Lachey is the host. The judges are Ben Folds, Shawn Stockman and Sara Bareilles.
The Cat's Pajamas is based in Branson, where it performs eight months out of the year. The other four months the group tours to schools, putting on clinics and performing concerts.
You have free articles remaining.
Wooten, 27, is a Lincoln Southeast High School (2002) and University of Nebraska-Lincoln graduate (2009). His music resume in Lincoln includes singing in the a cappella groups No Better Cause, which he co-founded, and Rocktavo.
"Quite honestly, when I was doing a cappella back at Southeast, I never thought of it as a profession," Wooten said in a phone interview to promote "The Sing-Off." "To do this every day, I feel very lucky."
Wooten's performed with Cat's Pajamas for nearly a year, working the prior year for the ensemble's feeder group, Cat's Meow.
Cat's Pajamas also features Brian Skinner, Chris Rossi, Nate Mendl and John Patrick Gieringer, who also attended UNL. Gieringer is a Bellevue West graduate (2006).
"This is a wonderful opportunity for them," said Alisa Belflower, a UNL voice professor who has worked with both Wooten and Gieringer. "Of all the groups that exist in the nation, they became one of the very few chosen."
Of course, it wouldn't have happened had Cat's Pajamas not decided on a whim to audition.
Wooten said people often come up to them after performances asking if they ever considered trying out for the TV show. When they heard NBC was casting in Chicago, they decided to give it a go, canceling a Saturday night performance to make the drive north in the Sunshine Van.
"If it didn't work out, all we lost was a Saturday," he said. "But we really believe in what we do. We thought we were good enough to make the cut, and we did."