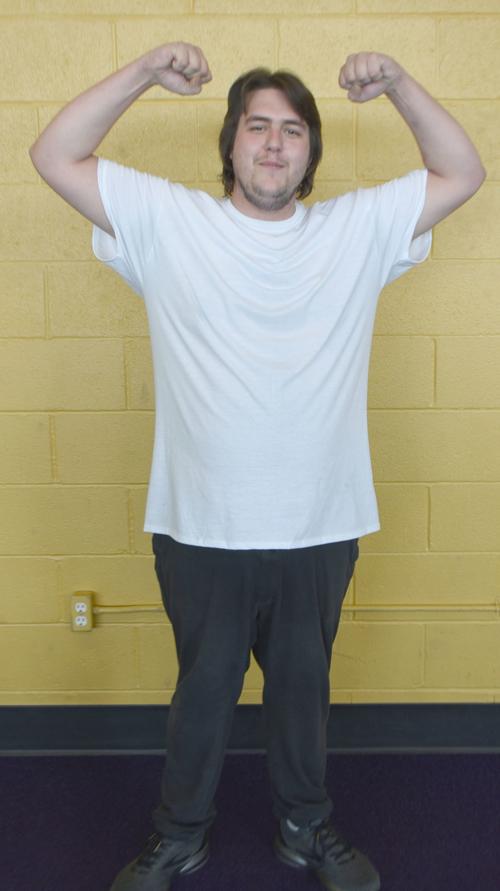 Young men don't typically worry about their health until something goes wrong.
That was the case for Gage McCarthy.
While his weight slowly crept up since graduating high school he hadn't worried about his health until one day when his grandmother noticed he was drinking large amounts of water.
Herself a diabetic, she tested Gage's blood sugar, and when his blood sugar registered over 600 (it should be closer to 100), it was time to see a doctor.
I just got diagnosed with diabetes and they told me if I could lose 50-75 pounds I might not even have to take anything for it," Gage said when explaining his biggest reason for taking part in the Fitness Challenge.
McCarthy is also an avid motorcycle rider but noticed this past year it became more uncomfortable on long trips and that he was getting more cramps.
"I noticed recently it started hurting more," he said. "Just since working with Bryan and him helping me stretch my back out I haven't had a cramp since then."
McCarthy said he hadn't really worked out since high school. And while the workouts will be challenging, he admits it's establishing new eating habits that will be the biggest obstacle.
He doesn't deny that in the past he's had what his grandma calls "an atrocious eating habit."
"That's the hardest thing is changing the way I eat," McCarthy said. "I gave up pop and I enjoy the nutrition plan a lot. It's going pretty good so far. I have high hopes."