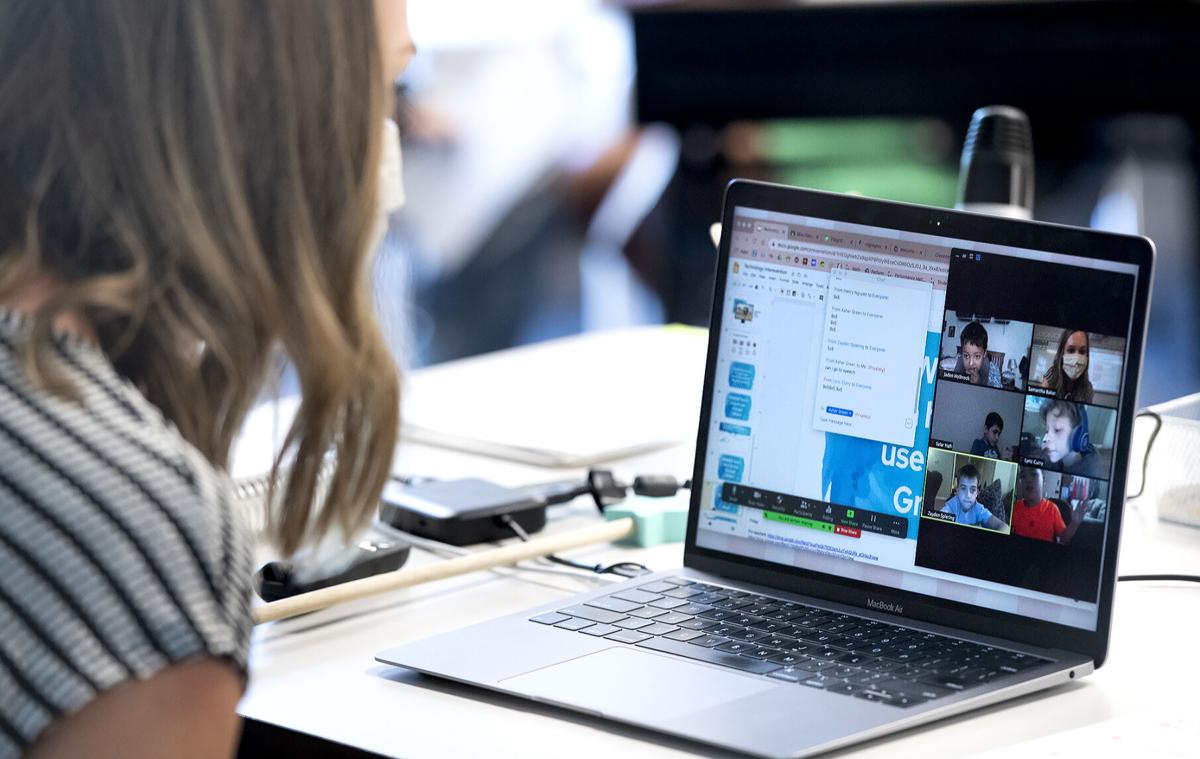 Brynna Luke and her husband had a tough decision to make for their three children — two in high school and one in first grade — when school started this fall. 
The schools were turned upside-down in the spring because of COVID-19, and so was Luke's family. Her outgoing 6-year-old cried every day for six months because she missed being with other kids her age. Her immunocompromised, more introverted daughter wanted to learn remotely. 
The somewhat chaotic nature of what was going on disrupted the family's more organized, predictable way of being. 
The mom's job in real estate was reduced, she told the Legislature's Education Committee, which held a hearing Tuesday to learn about how schools, students and families have been affected by COVID-19. Her husband's work as a molecular biologist doubled.
So Luke finally gave her kids the option of being home-schooled or going to school, even though it meant she had to dive into something she had no idea how to do. 
The Lukes did it because they didn't like remote learning and the kids needed to get back to a better routine. The youngest went back to school for her own emotional well-being. The high school kids stayed home, but would like to go back to school at a later date. 
"It's not perfect and I'm very, very tired. I'm mentally tired," Luke said. "I feel like I'm barely treading water above level every day, trying to manage everything."
Public school enrollment has dropped in the state between last school year and this year, from 329,290 to 324,059. Non-public enrollment went from 30,741 to 28,994, with 30 of those schools not yet reporting. 
Jennifer Ziemer told the committee she pulled her kids out of school because of the mask mandate after two months at Lincoln Public Schools. Her kindergartner was coming home from school every day with a soaking-wet mask from his tongue licking it, she said through tears. 
Her 8-year-old developed depression and anxiety in the spring from her world being completely interrupted. Even trying out school when it reopened, her anxiety was high, Ziemer said. 
"I'm having to choose between her mental health and her education at this point," she  said. 
Remote learning, having a child sit six hours a day on Zoom, and a system that was failing both the children who are present and those at home, was not an option, she said. 
"That's unreasonable for a child that's 8 and a child that's 6, without a dedicated teacher to actively teach them," the mom said. 
So a week ago, the family opted to home-school. Ziemer quit work to teach them, throwing herself into something she wasn't equipped to do. The Ziemers don't have the money to buy a whole new curriculum and everything that goes with it, so they are using whatever free resources they can find.  
"I just wish that there was more options out there," Ziemer said. "It really feels like my children's education, through no fault of anybody else's, is kind of being held hostage by this virus. And lots of parents feel that way."
Several people testified that there are alternatives, including Zach Harsin, who started an exempt school, Acton Academy, which was actually planned before the virus hit. 
The K-12 school is not concerned with grade designation and kids move at their own pace. There are no tests, no homework, no teachers to answer questions, only guides to ask Socratic questions. 
Harsin planned to open in 2021, but with everyone scrambling now to find the fit best from their family, decided to adapt and speed up the timeline. 
Nebraska Education Commissioner Matt Blomstedt said the increase in filings for home schools went from 3,915 in 2019-20 to 6,802 this year, a 72.6% increase. Students in home schools went from about 8,800 to 14,000, a nearly 57% increase. 
Jeremy Ekeler, education policy director for the Nebraska Catholic Conference, said there's about 26,000 Catholic school students in Nebraska, and another 14,000 non-Catholic private-school children. 
There's a widening equity gap in education caused by COVID-19, he said. Historically, Catholic schools have been best at educating students with lesser means, and embracing immigrant students no one else wanted. The efficacy of those schools is being threatened now by the virus. 
Across the state, Catholic schools have lost 1,400 in enrollment this year, like losing an entire high school. Higher-poverty, higher-diversity schools are losing more kids, he said. 
Spanish-speaking students are hit the hardest, with an 18% drop in those students. 
The Lincoln diocese closed two of its schools in the last year before the pandemic and Blessed Sacrament School, which is 51% minority with six nationalities, has lost one-fifth of its students. 
Stacie Higgins, president of the Nebraska Association of School Boards, said 244 school districts in Nebraska have had to abruptly shift their model of operation, and they are doing it with unknown liability. 
There's no consensus on what is a safe learning environment. 
"We have found that mitigating risks in schools is a politically charged topic that makes the local board rooms the junction for community frustration," Higgins said. Boards and superintendents are having to make decisions for which they don't have expertise. 
There are so many opinions from local, state and national authorities about what is best for students, she said. 
School districts need flexibility, continued support and clarity on such things as liability, how to operate with systems developed pre-pandemic, how schools will be held accountable for instructional hours and test scores and on how community risk dials impact students and teachers.
"School district leaders are not epidemiologists, they're not local health experts and they have not created a risk dial prior to April," she said. "They do all those things now."
Concerned about COVID-19?
Sign up now to get the most recent coronavirus headlines and other important local and national news sent to your email inbox daily.