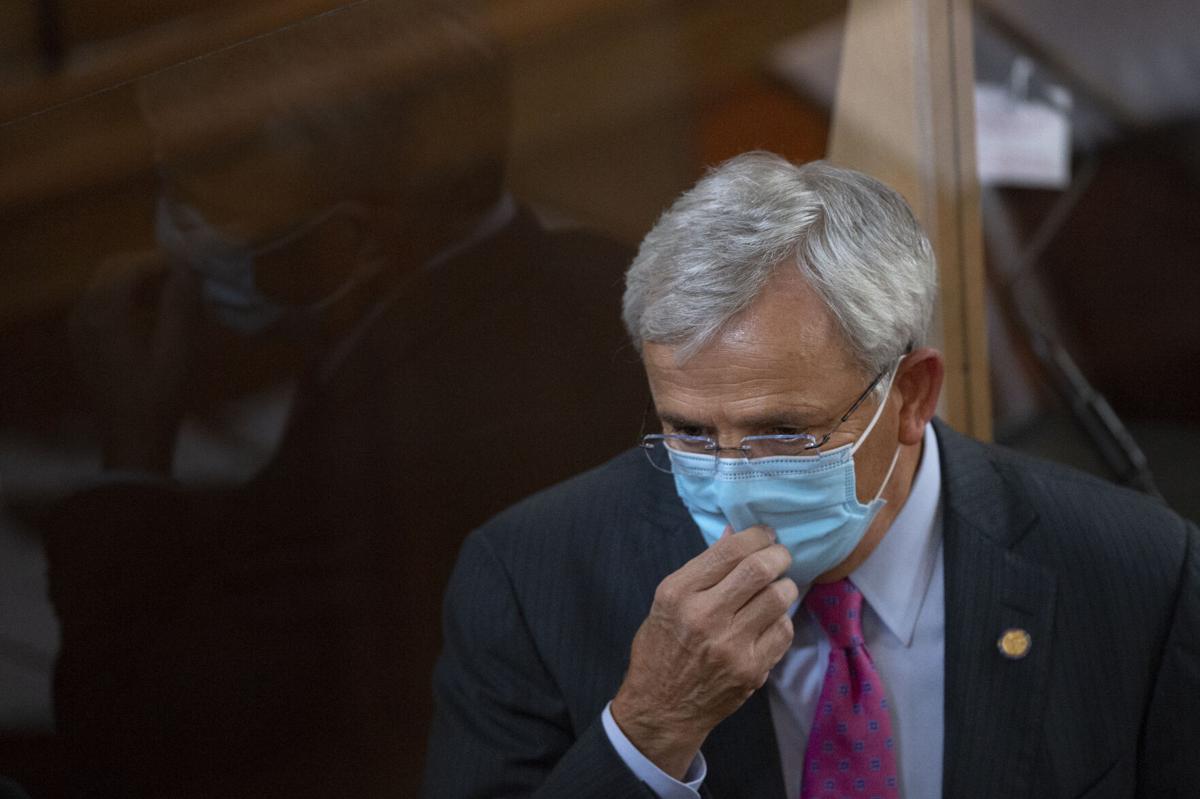 With five days left in the session, and piles of business to be completed, including property tax and business incentive bills, the Legislature got to listen Tuesday morning to Gretna Sen. Andrew La Grone read "Yertle the Turtle."
That reading, and more motions filed by La Grone, who said he intended to filibuster Judiciary Committee Chairman Steve Lathrop's prison reform bill (LB1004) focused on parole, triggered an angry response from Lathrop. 
During debate on the bill, La Grone filed a raft of amendments, meant to take the debate to three hours. He said senators would be sending the wrong message if they voted to cut criminal sentences without ever having taken a vote to cut property taxes. He then read the Dr. Seuss book. 
Sen. Andrew LaGrone reads "Yertle the Turtle" in a filibuster in the Nebraska Legislature against Sen. Steve Lathrop's bill speeding up parole eligibility for prisoners. pic.twitter.com/Kw7K9U3rW6

— NET News (@NETNewsNebraska) August 4, 2020
Sen. Mark Kolterman of Seward didn't appreciate La Grone's move with only five days left to complete the Legislature's business. 
"We're all getting beat up; we're all getting tired of the fighting, the bickering, the battling that's going on in this body," Kolterman said. 
In six years, he's never seen this kind of contempt, he said. The state deserves better than its senators acting like a bunch of kids in fourth grade. 
After Sen. Steve Erdman of Bayard essentially told Kolterman to "deal with it ... it is what it is," Lathrop, who is in his 10th year, stood up again, angry and emotional. 
"I served with people who respected this institution," said Lathrop, whose first term allowed him to serve alongside senators who had been in the Legislature many years, back to the 1980s and 1990s. 
But Tuesday morning, he said, a bill that makes modest improvements for the Department of Corrections drew 23 amendments so La Grone could read a children's story, withdraw an amendment, open another amendment and withdraw it, then another, he said.
"Now we have the invisible hand of partisanship. I say invisible, but it really isn't invisible anymore," he said. 
A reliable group of people frequently get texts from outside the chamber telling them to shut down a bill. 
"Nobody's exercising judgment in this place anymore," he said. "We don't care. We're waiting for someone to give us orders, for God's sake. And they're partisan."
The Legislature is not functioning, and it is ridiculous, he said, shouting. 
"Exercise some judgment. Use your own brain," he said. "For crying out loud, you guys. You're better than this ... and this is important. ... It's the last place on this continent where we come together as nonpartisans. ... This is embarrassing."
La Grone was next to speak and said he had been assured there would be a vote on property taxes and withdrew the amendments. But he said he reserved the right to refile them on the next round of debate.
Lathrop's bill, supported by the state's county attorneys and the Omaha Police Officers Association, would allow offenders to become parole-eligible at least two years before their mandatory discharge date. The law now says an offender is parole-eligible after one-half of the minimum term. This bill would add parole eligibility two years before mandatory discharge, whichever is earlier. 
Someone with a flat sentence of, say three years, would not qualify for what the bill offers. A person must have an indeterminate sentence of a lesser number of years to a greater number of years. For example, a 14- to 16-year sentence would make a person eligible for parole within two years of a mandatory discharge date, in this case in six years.
It is expected to give prisoners incentives to get their programming completed so they can qualify for parole, Lathrop said. People who are paroled, rather than released on their mandatory release date, have a better chance of successfully transitioning into society, he said. 
The bill as amended would also allow an 18-year-old inmate to make health care decisions without the consent of his or her parent or guardian.
The bill is not retroactive to anyone already sentenced. It would take effect, if passed and signed by the governor, in mid-November. 
The state has been in a prison overcrowding emergency since July 1, and as of the end of June, the prisons have been at about 151% of design capacity, reduced because of the COVID-19 pandemic. As more court hearings and trials ramp up again, however, that number could go back to previous levels of about 159% and possibly beyond, officials predicted.
Nebraska Parole Board Chairwoman Rosalyn Cotton gave Lathrop the idea for the bill, possibly to allow the board more offenders to consider for parole eligibility, Lathrop said. 
"The solution to overcrowding, ultimately is going to be some thoughtful combination of reforms and building. But we can't possibly build our way out of it," Lathrop said. 
The bill was advanced on a 29-2 vote, with La Grone and Sen. Robert Clements of Elmwood voting no. Sixteen senators were present not voting, and two were excused.
Be the first to know
Get local news delivered to your inbox!