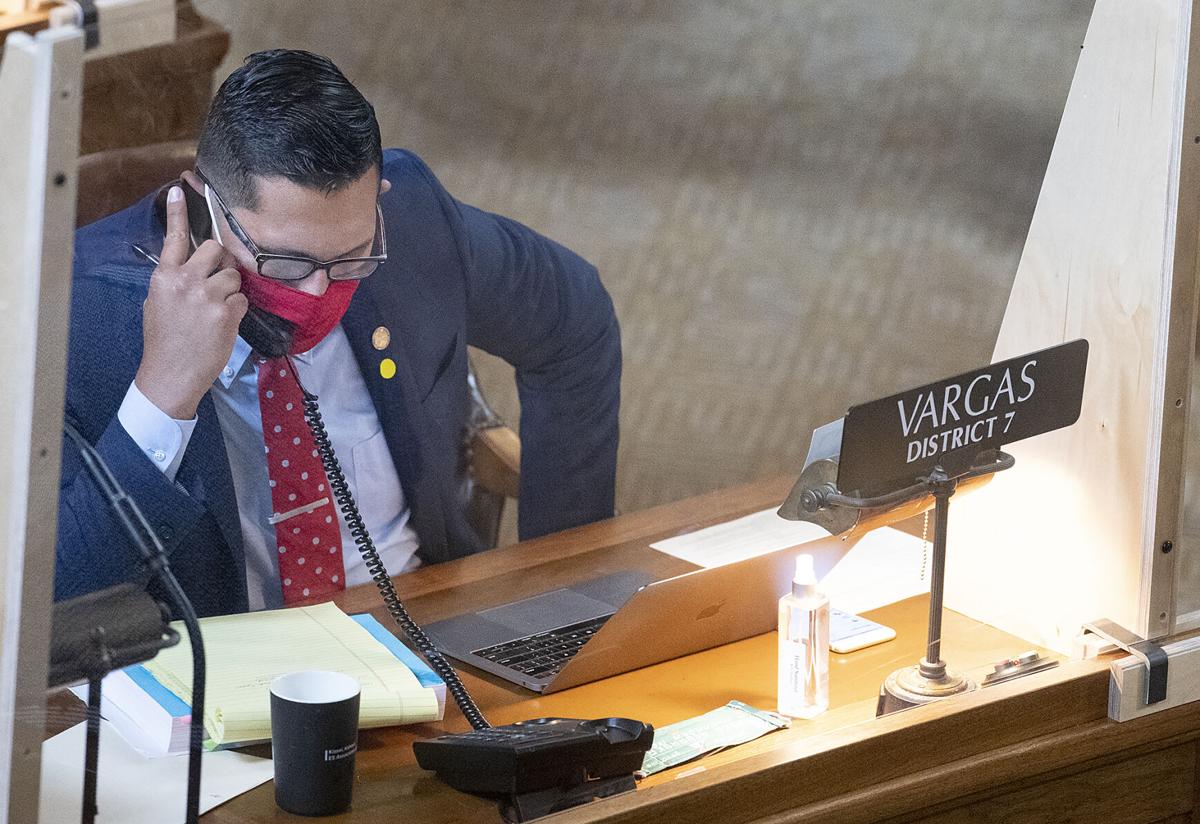 An impassioned effort by Sen. Tony Vargas of Omaha to give meat processing workers and their advocates an opportunity to bring their concerns about the outbreak of COVID-19 in packing plants directly to the Legislature fell two votes short of approval Wednesday.
Hours later, Vargas filed an amendment to rewrite a pending bill to mandate a series of safety measures, including a provision requiring 6 feet of distancing between workers on meat processing production lines.
That could be accomplished by slowing production line speeds, staggering work shifts and work breaks, or adjusting the number of employees in work shifts, according to language in the amendment.
The amendment, which lists a number of other actions that employers would be required to take to protect workers, would rewrite LB667, which Vargas had introduced to fund youth work development and training assistance. That bill is currently in the Business and Labor Committee. 
The senator's proposal to suspend legislative rules to allow introduction of a new bill in the fading days of this year's session fell just short of meeting the 30-vote threshold, failing on a 28-10 count.
Eleven senators who were present chose not to cast a vote.
Vargas said his proposal offered an opportunity to determine "if there is anything we can do" to help alleviate effects of the virus in Nebraska's meat processing plants, where nearly 5,000 workers have been infected.
Twenty-one workers have died; 223 have required hospitalization.
His proposal would focus on health and safety standards, Vargas said.
Vargas, whose father died in New York City in April after a lengthy battle with the virus that included 29 days of hospitalization, is the only Latino member of the Legislature and represents a heavily Latino legislative district in south Omaha.
The meat processing workforce in Nebraska is largely composed of Latino, immigrant and refugee employees.
Vargas said a public hearing would allow senators to "hear what is happening on both sides" of the issue by also giving a voice to company representatives who say they've taken aggressive action to protect employees by providing face masks and shields, along with scrubbing and sanitizing the workplace. 
Workers on the rapidly moving production lines labor shoulder-to-shoulder and often directly across from one another.
Opponents of the Vargas motion centered on the actions already taken by the plants to protect workers, and a number of senators stressed the importance of protecting Nebraska agriculture by keeping the meat processing plants fully operational.
Sen. Tom Brewer of Gordon pointed to the impact on the cattle industry "if we do something that grinds this to a halt," either by forcing closure or "reducing production to a level that is not sustainable."
"We all need them open," Sen. Joni Albrecht of Thurston said. 
Sen. Matt Williams of Gothenburg said the large Tyson meat processing plant in Lexington has "really stepped up and implemented all that they can," following a series of recommendations provided by the University of Nebraska Medical Center. 
But, he said, he would support Vargas so that "workers will have an opportunity to share their stories (and) the industry will have an opportunity to share specific things they have done and how they have stepped up" to meet the challenge.
Sen. Mike Moser of Columbus, the sole member of the Legislature who has contracted the virus, said he believes plants are taking the advice of UNMC and responding with worker protections. But he voted to support a legislative hearing. 
"We can at least listen and figure out a way to respond," Sen. Justin Wayne of Omaha said. "Let them be heard."
Sen. Steve Erdman of Bayard argued that "the virus is not spreading in the meatpacking facilities," but rather among workers who live in crowded conditions and are "getting infected outside the plant."
Sen. Mike Groene of North Platte said "this issue already has been addressed" by the meat processing plants. 
"I do think plants have this under control with hot spots here and there," Sen. Curt Friesen of Henderson said. 
Sen. Sara Howard of Omaha said senators owe a colleague the courtesy of granting his request for a hearing prior to adjournment of the 2020 legislative session next month because of dramatically changed conditions.
"Please don't expect courtesy if you don't extend it," she said. 
Concerned about COVID-19?
Sign up now to get the most recent coronavirus headlines and other important local and national news sent to your email inbox daily.