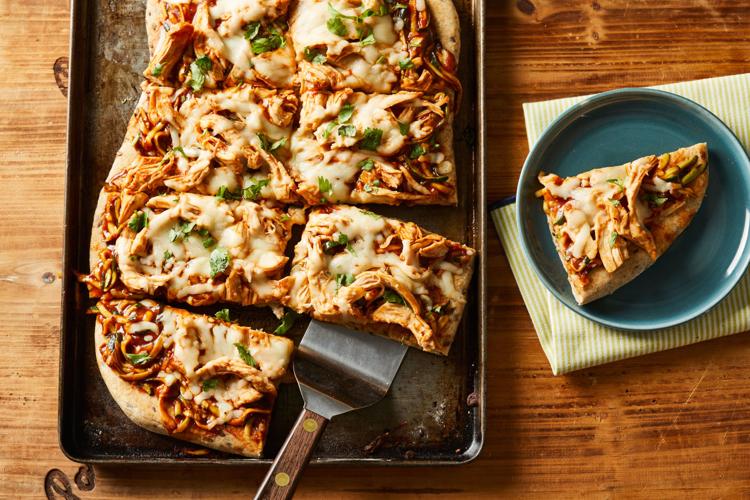 Classic barbecue chicken pizza gets a healthy twist with hidden shredded zucchini in the sauce. It's a great way to sneak extra veggies into your meal.
Barbecue Chicken Pizza
1 pound boneless, skinless chicken breast
3/4 cup barbecue sauce
1 pound whole-wheat pizza dough
2 tablespoons extra-virgin olive oil, divided
1 medium zucchini
1 cup shredded part-skim mozzarella cheese
Chopped fresh parsley or cilantro for garnish
1. Preheat oven to 425 F. Coat a large rimmed baking sheet with cooking spray.
2. Place chicken in a large saucepan and add water to cover by 2 inches. Bring to a simmer. Reduce heat to maintain a gentle simmer and cook until an instant-read thermometer inserted into the thickest part of the chicken registers 165 F, about 15 minutes.
3. Remove the chicken to a clean cutting board. (Discard poaching liquid or save for another use.) Let cool slightly, then shred the chicken into bite-size pieces with two forks. Transfer to a bowl and stir in 1/4 cup barbecue sauce.
4. Meanwhile, roll pizza dough out on a lightly floured surface to the approximate size of the baking sheet. Transfer to the prepared baking sheet and brush with 1 tablespoon oil. Bake until golden in spots, about 10 minutes.
5. Grate zucchini through the large holes on a box grater; pat dry with a clean kitchen towel. Combine the zucchini with the remaining 1/2 cup barbecue sauce in a small bowl.
6. Turn the crust over and brush with the remaining 1 tablespoon oil. Evenly top with the saucy zucchini, the chicken and mozzarella. Continue baking until the cheese is melted, 6 to 8 minutes more. Serve sprinkled with parsley (or cilantro), if desired.
Check the sodium of your favorite barbecue sauce; some can be quite high. This recipe was developed with a sauce containing 350 mg sodium per 2-tablespoon serving.
Recipe nutrition per serving: 494 Calories, Total Fat: 18 g, Saturated Fat: 4 g, Cholesterol: 81 mg, Carbohydrates: 54 g, Fiber: 2 g, Total Sugars: 16 g, Added Sugars: 11 g, Protein: 33 g, Sodium: 852 mg, Potassium: 542 mg, Folate: 24 mcg, Calcium: 182 mg
Carbohydrate Servings: 3 1/2
(EatingWell is a magazine and website devoted to healthy eating as a way of life. Online at www.eatingwell.com.)
Satisfy your cravings
With our weekly newsletter packed with the latest in everything food.