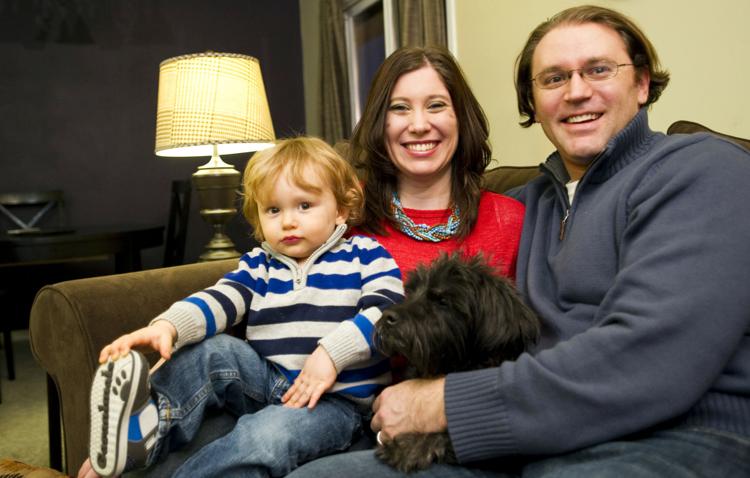 Shhhh. Jen and Nick Middlekauff want to keep some of the surprise elements, well, a surprise in Tuesday's HGTV "House Hunters" episode, which features their story of buying a home in Lincoln.
But it's kind of hard to do when so many Lincoln people were involved in the filming, saw the camera crew here in September during the family's house "search," and are now their neighbors, friends and coworkers.
But HGTV has some rules for the participants to keep the lid on their production specifics, and the Middlekauffs are doing their best to be mindful of that.
Jen said she always has been a fan of the HGTV reality show.
"I absolutely love it," she said.
Jen grew up in Lincoln, graduating from Lincoln East High School. So when she and Nick decided to leave Los Angeles, they settled on Jen's hometown to work in and raise their toddler son, Wyatt.
The Capital City, with its great school system and reasonable home prices, was a perfect fit, they thought.
They moved in with Jen's parents and began house hunting. That's when they decided to check out the HGTV website "just for fun." They had been searching for houses with real estate agent Ryan Pierce of Nebraska Home Sales, and after seeing an especially "weird basement," they started to joke about appearing on "House Hunters."
They took the joke further.
The audition process takes some time, Jen said. They had to send a tape, then their Lincoln real estate agent had to send a tape, too.
"We still didn't think we had a chance," Jen said.
Pierce was asked for a three- to five-minute tape introducing himself and talking about the couple's home search.
You have free articles remaining.
"I did it myself with a tripod and a video camera in my office," he said.
Soon after, they received the call, and after agreeing to the fine print, the Middlekauffs were told a TV crew would arrive in September.
Both Jen and Pierce said they were surprised at how much work goes into filming the 30-minute television show.
"They probably had 50 to 60 hours of video," he said.
There is no script, but there are some rules.
"No swearing," Jen said. "And no mentioning name brands." And they ask the participants to be animated and talk in the present tense, so it appears it's happening then and not several months ago.
Pierce said he had shown the Middlekauffs 10 to 15 homes, and, just like on the show, the family had a wish list.
Buyers usually start out with a checklist of things they would like in a house. Sometimes they are able to find everything in one spot and sometimes there are compromises.
"It's always a challenge working with buyers' wish lists and their budget," Pierce said.
The Middlekauffs wanted something in South Lincoln for under $200,000. Other "wishes" included three bedrooms, two baths (one of them a master bath), a big backyard, attached garage and a large kitchen. Jen said she really wanted the house to have an "open concept" and they were hoping for either a ranch or a traditional two-story style.
What they bought had many of those items, but not all of them. They made some compromises, but are happy with them, Jen said.
On Tuesday, viewers can see which house became the Middlekauffs' new home. They are planning on having a small "watch party" with family and friends, but, of course, everyone there will know the outcome.