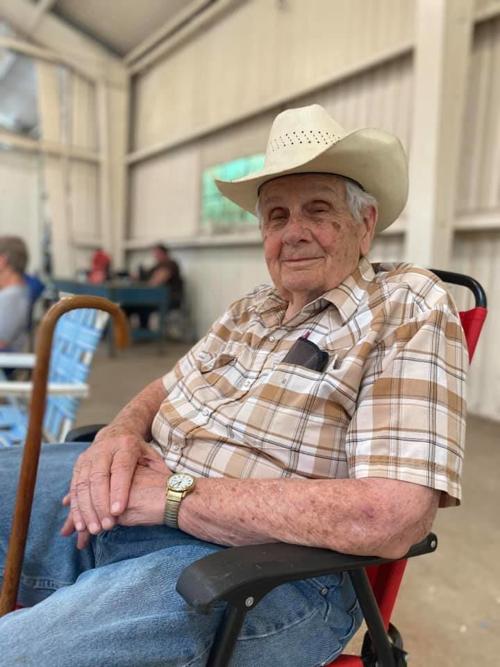 Don Finch has only missed one Gage County Fair in his life.
On Wednesday morning, the 88 year old watched the dairy show and said he wasn't going to let COVID-19 stop him from coming out and supporting the kids.
"I had Polio in 1952 so I didn't make it that year," said Finch.
Finch served as the first president of the 4-H Building Inc. on the Gage County Fairgrounds.
"I was leader of a 4-H club at that time," he said. "There was only one building on the fairgrounds at that time. The home-ec girls had projects on the north side and the hogs were on the south side.
"In 1955, leaders and parents came together and decided we needed a new building. We did fundraisers and the rural community really pulled together to make it happen. By the third year we had the building up and half paid for.
4-H Building Inc. is a non-profit corporation. The vision was to provide a place for the local youth to showcase their projects during the Gage County Fair, have club events and for the community to have a place to hold gatherings.
"I can't take much credit," Finch said. "There were oodles of people that did as much and more work than I did."
While the building sits on the fairgrounds, it is not owned or operated by the Gage County Ag Society, the University of Nebraska Extension or 4-H.
Finch's granddaughter, Megan Overbeck, currently serves as the 4-H Building Inc. secretary and is working with other board members on a fundraising drive to repair the building.
"I'm the fourth generation of the family members that has served on the 4-H Building Inc. Board," said Overbeck. "It's a labor of love, but more than that. It's respect for my grandfather. We know that he put a lot of blood, sweat and tears in the project."
Finch also worked as a bus driver for more than 26 years for Beatrice Public Schools.
He was known as "Cowboy Don" to the kids on his route and later to the community.
"When I retired from farming I was 58 years old," Finch said. "Someone suggested that I drive the bus and I thought that I'd give it a try. I enjoyed the kids."
Finch resides with his daughter in Beatrice. He said he hoped to see more livestock shows later in the week.
Get local news delivered to your inbox!
Subscribe to our Daily Headlines newsletter.