WILBER — Hours before Sydney Loofe disappeared last November, the two people accused of killing her were recorded going through the checkout line of a Lincoln home improvement store two blocks from where she worked.
Investigators allege Aubrey Trail and Bailey Boswell were buying tools and supplies they later used to dismember the 24-year-old Loofe and dump her body in a field in rural Clay County the following day.
Their purchases at the north Lincoln Home Depot are among the pieces of evidence laid out in what prosecutors call a case of premeditated murder. But the pair's suspected motive remains a mystery, at least to the general public.
On Tuesday, Trail and Boswell appeared in court on murder charges for the first time, nearly seven months after Loofe's death. Saline County Judge Linda Bauer ordered both of them to be held without bond in the local jail.
Prosecutors, in documents unsealed shortly before Tuesday's hearings, outlined some of what they believe happened to Loofe.
They accuse Trail, 51, of strangling Loofe with an extension cord on Nov. 15 and disposing of her body with help from Boswell, 24. Both are charged with first-degree murder, punishable by life imprisonment or the death penalty, and improper disposal of human remains.
It's still unclear if prosecutors will seek the death penalty. A spokeswoman for the Nebraska Attorney General's Office said a decision won't be made until the cases are bound over to district court, which could take weeks.
Under Nebraska law, certain aggravating circumstances must be present for a prosecutor to allege a death sentence is warranted. Among the possible aggravators is killing someone to cover up another crime, or to conceal a killer's identity or hide that a victim was tortured.
Prosecutors have yet to allege any of those factors in Loofe's case.
A forensic pathologist who did the autopsy found the cause of Loofe's death was "homicidal violence including strangulation," Saline County Sheriff Alan Moore said in arrest affidavits for Trail and Boswell.
Investigators have said Boswell met Loofe using the smartphone dating app Tinder on Nov. 11. Tinder records showed the two messaged each other 140 times over the next four days, and went on their first date Nov. 14, Moore said.
The next morning, security footage showed Boswell and Trail in line at Home Depot. 
"It should be noted that Sydney Loofe was alive at that time, and began her shift later that day at Menards," Moore wrote.
Loofe and Boswell's second date began shortly before 7 o'clock that night, after Loofe left work and Boswell picked her up at her home in the Havelock neighborhood, the affidavits say.
They drove an hour to Boswell and Trail's apartment in the downstairs of a home in Wilber, according to investigators.
What happened from there is still unclear.
The last activity on Loofe's cellphone was picked up from a tower near Wilber at 8:31 that night. Three days later, Trail and Boswell's landlord, who lived upstairs, told investigators about smelling a strong bleach odor coming from the downstairs apartment.
Investigators searched the apartment, and said in court documents that portions of the walls seemed to have been "wiped down in an effort to clean them."
"At that time, law enforcement authorities actively began looking for Boswell and Trail," Moore said.
The pair at first denied any involvement in Loofe's death, taking to social media as law enforcement pursued them across state lines. Later, after they were arrested near Branson, Missouri, on Nov. 30, Trail told reporters that he'd killed Loofe accidentally, the result of erotic asphyxiation gone too far, and that two other women were in the room at the time.
He said he didn't call 911 because he didn't think police would believe his story.
On Dec. 4, investigators found some of Loofe's remains in garbage bags in a field southeast of Clay Center, Moore said, and they found more of her body the next day.
Boswell's cellphone signal had been picked up Nov. 16 in the area where Loofe's remains were found, investigators said. By Nov. 17, the phone's memory had been wiped clean.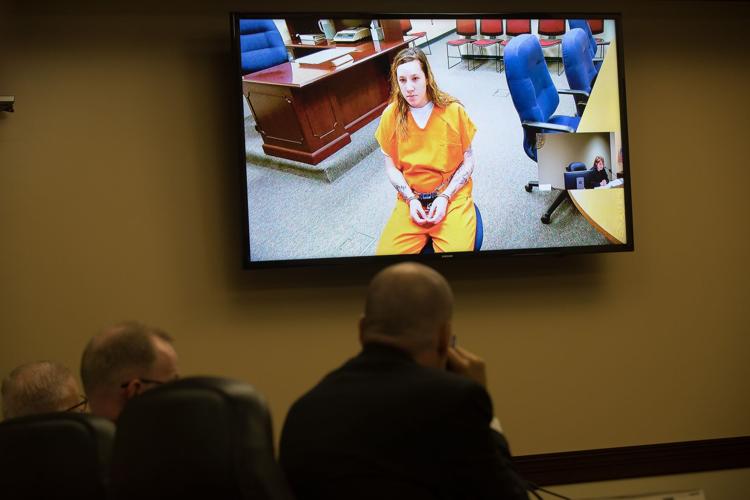 Boswell, who has said little publicly since her arrest, is represented in the case by the Nebraska Commission on Public Advocacy. In court Tuesday, Trail said he wants to represent himself for now, so the judge appointed standby attorneys from Hebron.
Trail and Boswell will appear in court again next week to determine whether they will have preliminary hearings, in which the judge would review the evidence against them and decide whether it's enough to keep the cases moving.
"I want to have one as soon as possible," Trail told the judge.
Loofe's death marks the first alleged murder in Saline County since 2005, according to data from the Nebraska Crime Commission.
In May 2005, Martin Mejia was killed northwest of Dorchester by his former roommate, Carlos Argueta, after Mejia threatened to report Argueta for selling drugs, according to newspaper records.