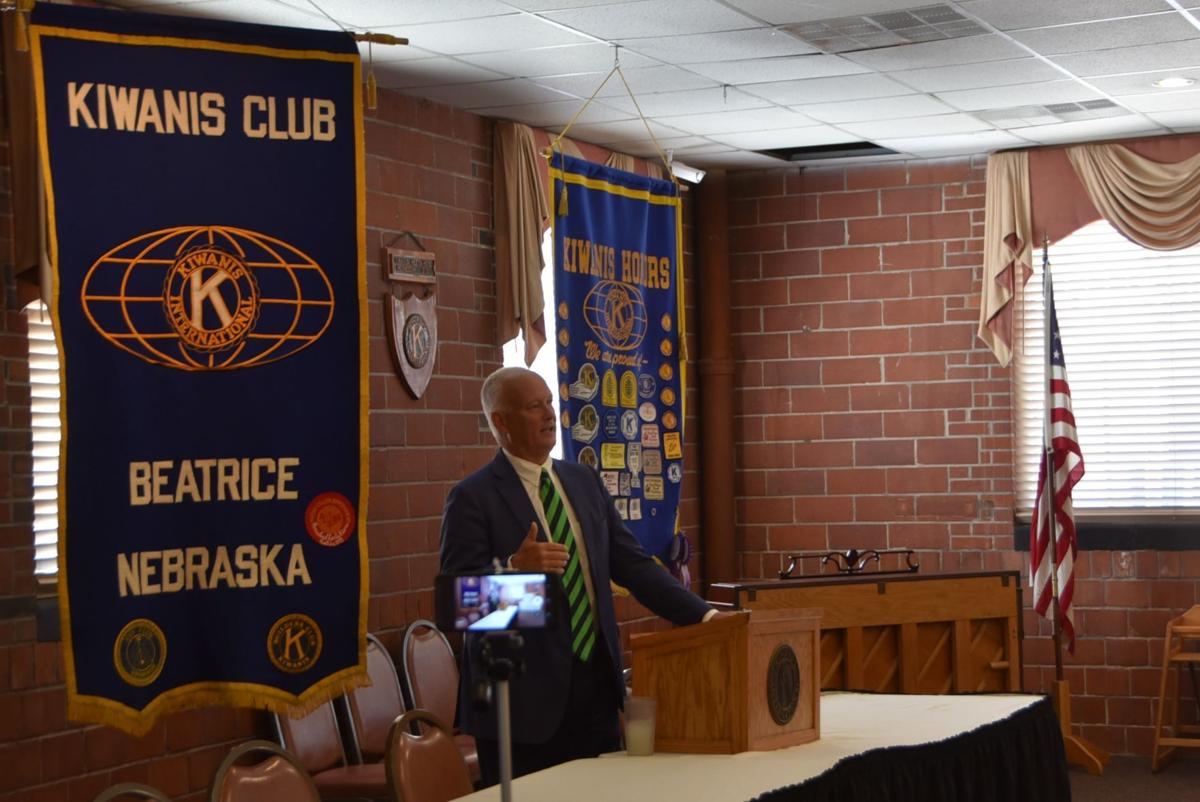 The Beatrice Kiwanis group had a special guest during their meeting at Valentino's on Wednesday, as the Nebraska Attorney General, Doug Peterson, led a discussion about the state attorney office and what cases they are currently facing.
Peterson said the office has 65 lawyers and roughly 40 investigators, paralegals and other staff that focuses on criminal prosecution and appeals across the state, from the county level all the way up to the U.S. Supreme Court. He said there's also an ag and natural resource bureau, who works on cases including water rights between states, and a human trafficking task force.
In 2015, Peterson explained that Nebraska was given an F rating nationally regarding their efforts against human trafficking.
"So if there was any human trafficking activity in Omaha, it typically, inevitably involved people going back and forth from the casinos to the Omaha area," Peterson gave as an example. "So you had the interstate network there, and the federal authorities would investigate and prosecute those cases. The problem was in Nebraska, we didn't have a strong human trafficking law, particularly in the area of penalties. And now, with the passage of that law, we have significant penalties, and we have, I think, a pretty strong network across the state, with strong support by law enforcement, and also community service and service providers."
Peterson said challenges regarding sex trafficking include educating the community about what it looks like, and explaining to victims that what they've experienced is not okay.
"One of the biggest challenges with human trafficking is to convince a 16 year old girl that it's not okay for her to be trafficked around for the purposes of sex, and that all he provides for her is a house, food, and a place to stay. That's called slavery. And some of these girls have come from situations that are so bad, they will accept those conditions and not even understand how offensive the act really is. And it does include boys, too. But when you pull them out, there's a real process of trying to convert them over to understand 'you have far greater value, and you need to understand that you can't be treated like this.'"
Peterson said there's a misconception that sex trafficking only happens in large cities. He said while it happens there as well, it happens everywhere, especially with the use of technology and the dark web, and that the state is currently prosecuting a case that if the individual is convicted, it could set a precedent that trafficking a minor results in 50 years in prison.
"So we've gone from an F to an A in the national ratings, based upon the strength," Peterson said. "And I appreciate the legislature for doing what they did to pass the laws, and law enforcement has done a great job of embracing this and working with us on it."
Peterson briefly discussed an attendee's question about Bitcoin and cryptocurrency. He said that he doesn't know what it's going to look like in the future, but that it's currently an issue with law enforcement, as it can be used to purchase illegal materials, particularly on the dark web.
"[The dark web] was created by the federal government, and used for important informants," Peterson explained. "What they ended up doing is putting the technology out there into the market, and who ran with it? Drug dealers and child porn folks. The drug one, on the dark web, what makes it so difficult is if I order a kilo of cocaine through the dark web, and they ever tap into the suppliers' system, they're going to have a really, really hard time finding me and getting back to me. They're going to have a really hard time finding who the supplier is, because it's just a very difficult process."
Peterson said cases involving the dark web have led to convictions, and gave one example involving a worldwide pedophile ring.
"About six years ago, the U.S. Department of Justice got a call from law enforcement in the Netherlands, and they said 'we think we know where the source is.' The Department of Justice, who oversees the FBI, took the information. It was being operated out of Bellevue, Nebraska. And the guy who was operating it was about 24 year old."
Peterson said that individual is now serving a roughly 25-year sentence.
"It's pretty amazing what can happen," Peterson said. "I know your question was what do I think about cryptocurrency. I think it's a problem. I think the dark web is going to be a big problem, and I think more and more of these types of crimes are always going to be difficult, whether it's sex trafficking or drug trafficking or pedophilia."
The largest portion of Peterson's discussion involved the Consumer Protection Division of the state attorney office. He said part of the division focuses on providing information to the public about phone scams, but that a growing focus is on big technology companies like Google and Facebook storing and sharing individuals' information.
"The fact of the matter is they're gathering data, data, data, and so their extent of profile on each one of us individually becomes not only something that they can market, but also something that they can control, and that's the big worry…Republican or Democrat, the fact of the matter is they're becoming one of the biggest information sources, and when they start influencing how they filter out information, that's a significant problem," Peterson said.
Peterson said another topic across governing bodies is how social media is influencing the habits and behaviors of individuals, especially children. He said there are currently two antitrust lawsuits regarding an individual's information, and that the Senate and House of Representatives have proposed bills regarding deceptive trade practices and minors.
"I really do think each one of us as citizens, particularly if we have young people in our homes, need to be aware of the fact that the tech world wants to engage you and your children on computer screens as long as possible, to gather as much information as possible," Peterson said. "And I think we really need to kind of change our usage levels. Technology has its purpose, but we can't let them consume us, because they want to consume us. So I would want that message, to say 'you know, maybe I need to wean myself off how much I'm on social media or other things, and only go on a real need basis.' I'm being a little fatherly there, grandfatherly, but from what I see as to how they use it, it is really concerning."