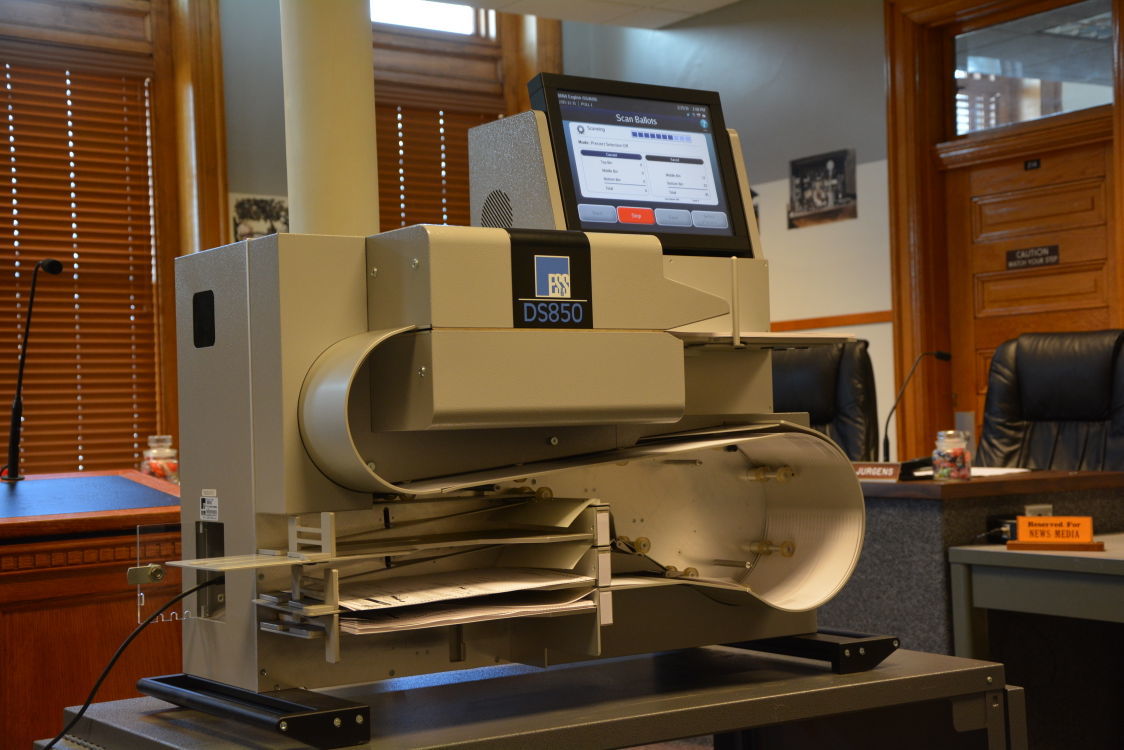 Votes cast in Gage County for the 2016 elections will be processed through a new machine aimed to tally more quickly and with fewer issues.
The County Board voted unanimously to purchase a DS850 machine from Omaha-based Election Systems and Software (ES and S) during its Wednesday meeting.
Dawn Hill, County Clerk and Election Commissioner, said the current machine, a 650 model, is prone to several issues, adding hours to the counting process on election night.
"The machine that we currently have now, I did confirm with ES and S and that was manufactured in 1996," Hill said. "We have issues with slow ballots, jamming, it stops. It does read correct — I want to make sure everyone knows we do not have a problem with reading the ballots and totaling the votes. We do have an audit performed."
The DS850 will cost $105,487, and an annual maintenance cost of around $4,000, which includes software updates. The current ballot counting machine is owned by the state.
While Hill emphasized the current machine's final counts are accurate, board member Matt Bauman pointed out it may be wise to upgrade before issues arise.
"Right now we have integrity in the system, but not that many years ago on a federal level there was a huge issue with regard to the validity of a campaign and the validity of a vote," he said. "The last thing we need is to have a 20-year-old piece of equipment that we know has had some failures and open up the door for something."
One of the new machine's biggest assets is its ability to better handle mail-in ballots that were folded, and not get jammed or held up by spills or creases made my the voter.
"The issues we see more so are if we have moisture, you're ballots can warp," Hill said. "People are eating, food gets spilled on them, those types of things."
Additionally, because the vote-counting machine can handle folded ballots better, they may be folded when sent out, saving on postage costs, and smaller ballots can be used.
County Board member Terry Jurgens questioned if the six-figure purchase will be obsolete in the near future.
"Are we going to be using this same type of system in 10 years?" he asked. "Is there something going to change in the next 5-10 years that we won't be using this type of ballot system anymore? It could be electronic, it could be anything, we don't know."
Election Systems and Software officials said during a Monday demonstration the machine can sort up to 10,000 ballots per hour.
In the 2012 presidential election, roughly 9,600 Gage County residents voted.
In addition to sorting ballots quicker, the proposed sorter has the advantages of better sorting, advanced recounts and recognizing inconsistencies in ballots – such as bubbles not being completely filled or using pen instead of pencil.