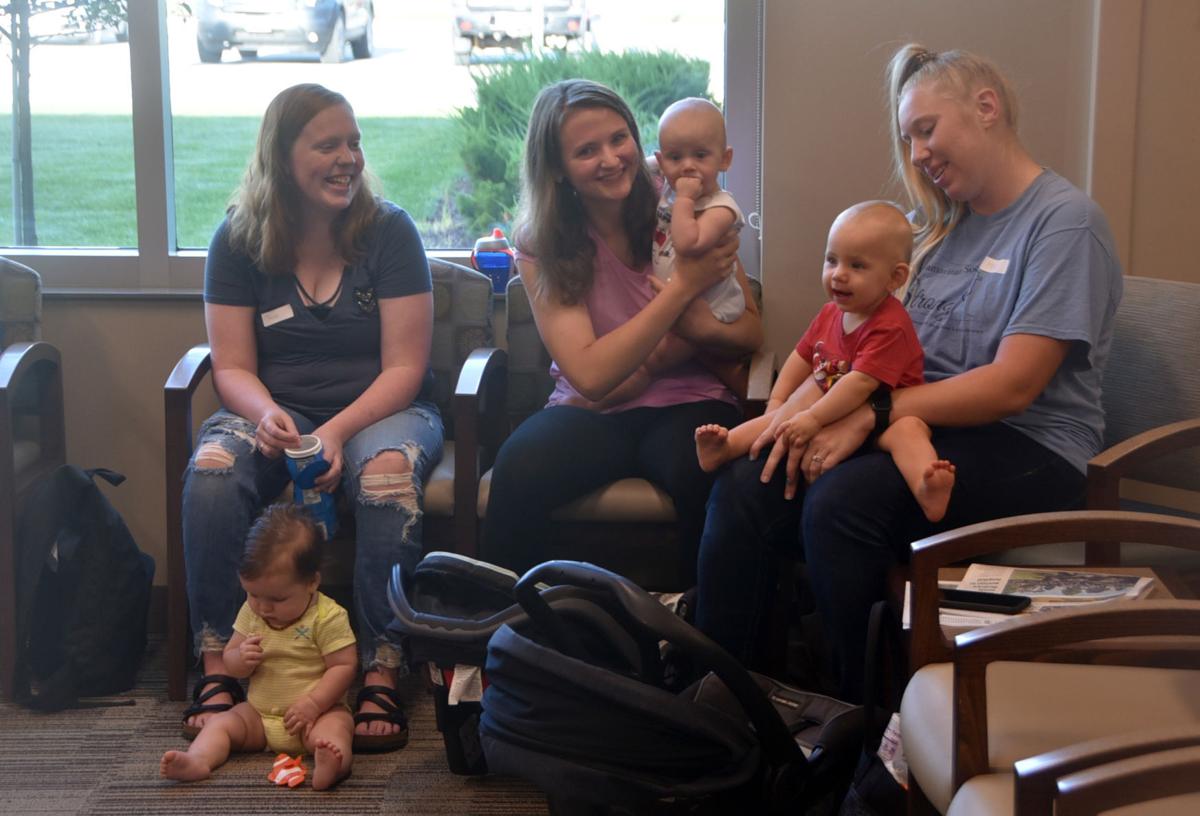 To celebrate national breastfeeding month in August, a group of moms met at Beatrice Community Hospital to discuss motherhood and the range of experiences that come with it.
There were several comments about how big a baby had grown since last seeing them, how small the newborns were and a general cooing and smiling at the kids as the mothers talked in the Beatrice Women's and Children's Clinic.
The BCH Breastfeeding Support Group has met almost monthly for nearly four years. They also discuss supplementing and bottle feeding options, in addition to how to increase supply, proper latch techniques, feeding or pumping in public, dietary intolerances and alcohol consumption when breastfeeding.
The groups is currently run by two BCH labor and delivery nurses, Angela Ahlman and Samantha Bruna, who are also pregnant or currently have kids at the breast feeding age.
Bruna said moms from the area, not just BCH patients, attend the meeting, and that participants range in age, number of kids, and sometimes come to talk before having the baby or even deciding to breastfeed. She said she was one of the first in her group of friends to have a baby and that it was hard to for her to share her concerns, but that the mothers in this group can meet new people that have kids the same age going through the same things.
"You'll have first time moms show up and won't say anything until the end of class," Bruna said. "Then they'll go 'oh, yours does that too?' So it's really nice for them to realize that they're not alone."
Bruna said new moms often enter the group thinking that breast feeding should be easy and painless from the beginning, and then get discouraged if that's not the case.
"I really struggled to breastfeed," Ahlman admitted. "But I'm finding it very rewarding to help other moms succeed in that."
Bruna said the moms come to the group a different number of times, or leave when their child gets older and come back when they have their next baby.
The group had to cancel several meetings this spring due to the COVID-19 pandemic, and Bruna said when they first came back last month there were 13 mothers ready to discuss, the most she said she's seen participate in the group at one time.
"They are just so supportive of each other, which is amazing," Ahlman said.
The group meets every third Thursday of the month in the Women's and Children's Clinic starting at 6:30 p.m. More information can be found at "BCH Breastfeeding Support Group" page on Facebook, where Ahlman, Bruna and other mothers continue to hold online discussions.
Get local news delivered to your inbox!
Subscribe to our Daily Headlines newsletter.