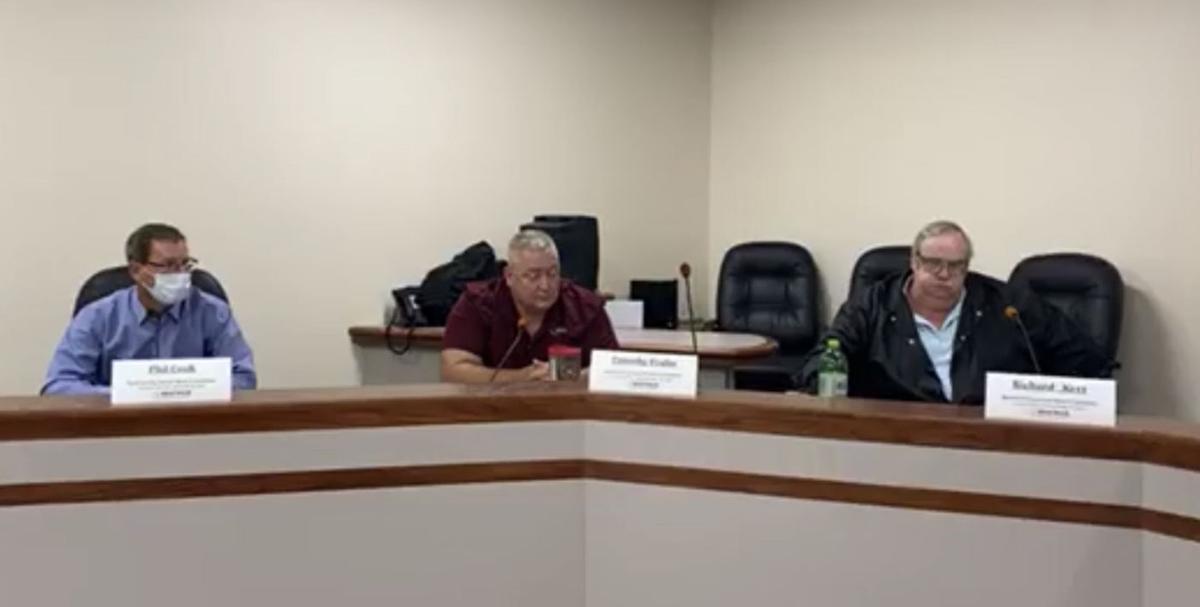 The individuals contending for a seat on the Beatrice City Council were able to discuss some of their viewpoints Thursday evening as the Beatrice Area Chamber of Commerce hosted a candidate forum.
Forum moderator James Nelson asked each of the candidates a series of questions. The forums were recorded and posted on the Beatrice Area Chamber's Facebook page and shared to the Beatrice Daily Sun Facebook page.
There are two candidates each competing for three wards on the council in the November election: incumbent Phil Cook and challenger Timothy Fralin in ward one, incumbent Rich Kerr and challenger Caleb Sabatka in ward three, and non-incumbents Gary Barnard and Brian Rix in ward four. Incumbent Ted Fairbanks in ward two is running unopposed, and did not attend the forum.
Each candidate began by introducing themselves, all of them noting that they're running to help the community and its individuals.
Cook noted that he is a lifelong resident of Beatrice, has been a member of the city council for over 20 years, and that he has been involved in the Chamber of Commerce, the Beatrice Humane Society, Beatrice Gun Club and Nebraska Pheasants Forever.
Fralin discussed his 22 years of work at Neapco, and 15 years working on youth sports boards.
Kerr said he's lived in ward three for 28 years, and that during his time representing the ward on the council, many dilapidated buildings have been removed and recreational activities have been added to the area.
Sabatka said he would also like to focus on the west side of town, and is running to inspire his generation to get more involved in government.
Barnard discussed how he is a lifelong resident of Beatrice, and has been a chairman of the Salvation Army Advisory Board and is a former Gage County Supervisor.
Rix said he thinks the community has aided him, and that he's running to do his part and help people.
The candidates basically agreed on questions involving salaries, current street projects and ideas to get more people to live and work in Beatrice. Cook, Fralin and Sabatka all mentioned increased or competitive wages, with the latter two and Rix also noting the need for affordable housing.
Cook and Barnard both discussed the recreational opportunities the city already has available will continue to bring people in. Rix suggested more advertising be done, and Kerr said more advertising jobs should be created, and that more individuals should participate in the façade improvement grants to improve downtown.
Nelson also questioned the candidates about what role, if any, the city should have in repairing or demolishing dilapidated buildings in the community.
Kerr said the council can't legislate personal responsibility, and he thinks the property owners should pay for the project, not taxpayers.
Sabatka said he was a contractor on the Mercantile Building project, noting that the project was completed with the help of several grants.
 "Do I believe that we should have a say? Yes, but maybe there's a limit," Sabatka said. "Do I think it's necessary to tear down a building? Depends on where it stands structurally. If it's not structurally sound, yes. But if it's salvageable, then we could save it."
Fralin said the council should play a big role in these projects, noting that dilapidated buildings are unsightly and embarrassing when bringing new people into Beatrice.
Rix and Barnard both said involvement should be on a case-by-case basis. Rix noted that the city should pay to demolish the building if it becomes a public safety issue, and Barnard noted that dilapidated buildings also affect adjoining building owners.
Cook said the council has to be involved.
"We started very softly on these buildings, nudging the homeowners along," Cook said. "But if they have no money, we have to step in and do something to protect the rest of everybody's property. Once we do that, we have to use every resource that we have. If that means we spend money to update them, bring them back into compliance, that's what we'll need to do because we have to protect everyone else's property."
The public will have the final say during the Nov. 3 election on which candidates join the Beatrice City Council. 
Get local news delivered to your inbox!
Subscribe to our Daily Headlines newsletter.