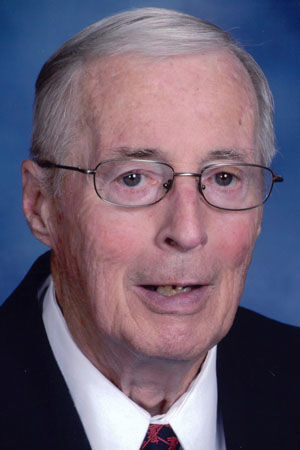 A Beatrice humanitarian who was instrumental in starting several area groups passed away this week.
John Dando died on Tuesday. He was 88 years old.
Dando's obituary states he was a co-founder and past president for Beatrice Habitat for Humanity. Dando was a member of Beatrice Kiwanis, Gage County Foundation, and was a finance officer for AMVETS.
He served on the Beatrice Community Hospital Board and was a volunteer driver taking children to the Shrine Hospital and driving veterans to the VA Hospital.
Dando also helped start the annual Relay for Live event in Gage County more than 20 years ago.
Kathy Steinkamp, with Relay for Life, said the cause was especially close to Dando's heart.
"His wife, Betty, died from cancer so he was a huge supporter of Relay when we started it and he was active on the committee," she said. "He was a very well respected man and people were always happy to see him on any foundation, board or organization because they knew he would get things done. He was one who would commit to something and carry it through. He would have still been out there the last few years if not for his failing health."
Dando's obituary also states he was a co-founder of the Beatrice Food Pantry. Pantry Coordinator Karen Mains said Dando was a regular volunteer at the pantry.
"He helped organize a lot of the pantry," she recalled. "He would always help organize, sort and date the food. That was his job when I first started at the pantry."
Mains estimated that Dando was involved with the pantry for around 45 years.
"He had really been involved the whole time until his health got bad around five years ago," Mains said. "It's a big loss. He was a great person and helped everybody whenever they needed anything. He was involved in every organization in town."
Dando was born on April 4, 1932 in Minersville, Pa., in the Appalachian Mountains. He joined the Air Force in 1953 and was stationed at Offutt Air Force Base in Omaha for more than three years.
He lived in Council Bluffs and Des Moines, Iowa and worked as a Federal Reserve bank examiner from 1957-1963.
In 1963, he started working for First National Bank of Beatrice, where he worked his way up to executive vice president, ultimately retiring in 1998 as bank president.
Burial will be at the Memorial Park Cemetery in Council Bluffs on Saturday. A celebration of life will be held on Sunday at 1:30 p.m. at St. John Lutheran Church of Beatrice. The family will meet and greet friends from 12:30 p.m. until service time at the church on Sunday.