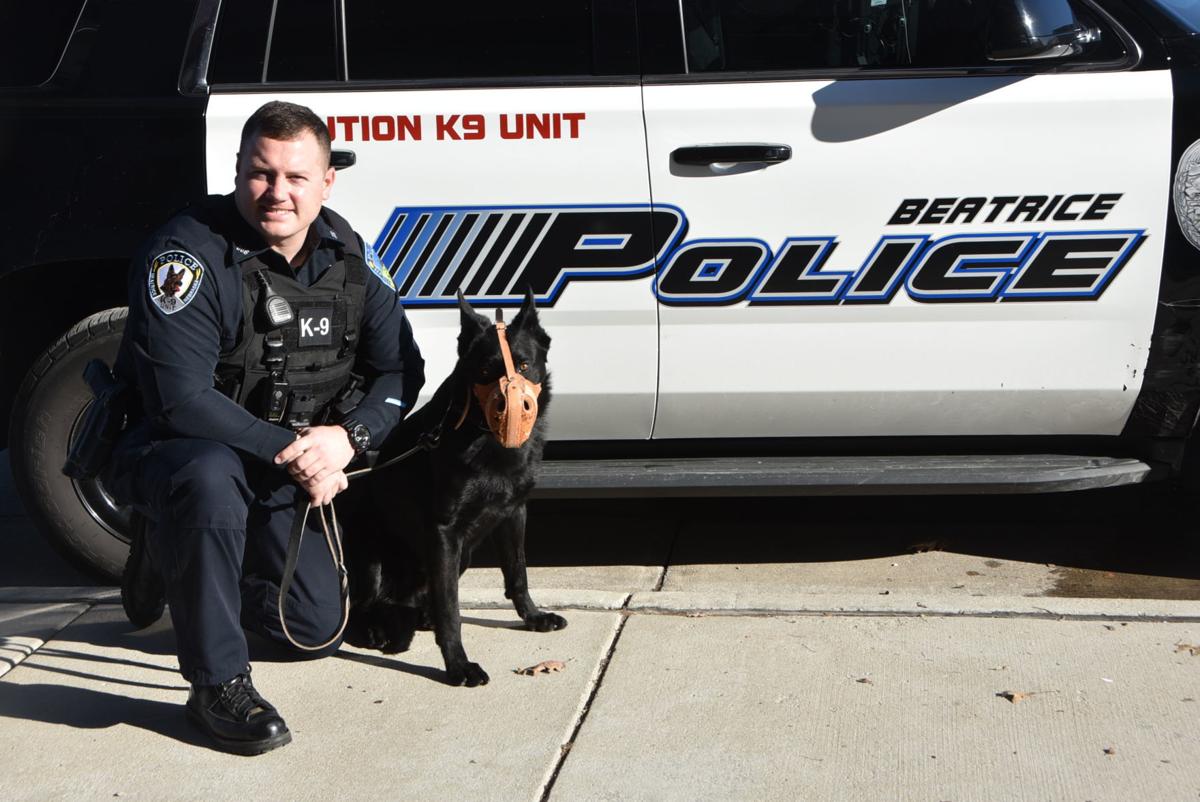 The Beatrice Police Department has expanded its K-9 program with the recent addition of a year old, black shepherd mix from the Czech Republic named Thomas.
Last fall, K-9 Thomas and his handler, Beatrice Police Department Officer Derrick Hosick, spent more than three months training to receive certification in Grand Island with the Nebraska State Patrol.
Hosick explained that Thomas is different than the department's other K-9, Toro, and the Gage County Sheriff's Office K-9, Buster, because he has functions in addition to detecting narcotics.
"That basically includes criminal apprehension, building searches, tracking and evidence recovery," Hosick said. "That can be on a wide-scale of things. A juvenile who's ran away, all the way up to a criminal who is evading custody."
During a city council meeting Monday night, Hosick said Thomas' commands are a mix of Dutch, German and English, with the English being commands for both Thomas and the individual under arrest. Hosick also said Thomas' work life expectancy is roughly 8-10 years.
"With shepherds, your biggest issue's going to be hip dysplasia, things like that, but I have taken extra steps giving him nutrients and supplements to try to prevent that," Hosick said.
In his short time with the department, Thomas has already helped recover a stolen vehicle, detected narcotics and serve warrants, and Hosick said it wouldn't be uncommon for the sheriff's office or the Wymore Police Department to use Thomas for those patrol functions.
"The K-9 is more or less really the only reason I wanted to be a police officer," Hosick said. "I saw the need for a dual purpose dog in the county, let alone the city of Beatrice. I felt that we could really benefit from it, and I knew that I was the right kind of officer to do it."
Hosick said there isn't a lot of downtime between training and otherwise caring for Thomas, but that he's loved the experience so far.
"He's a good dog," Hosick said. "He's very eager to work, and he's got a high drive, ready to go exploring."
He added that Thomas will wear a muzzle while he's still in training, but that he is not aggressive.
"I think he knows the difference between when it's time to work and when we're just hanging out, but this is more so for his safety than anyone else's safety," Hosick said. "I just don't want anyone to startle him or anything since we're still new to everything."
Hosick said that Thomas was funded completely from grants and donations from various organizations including the City of Beatrice, the Beatrice Police Department, Blue Valley Veterinary Clinic, The BNSF Railway Company and Orscheln Farm and Home.
He explained that a significant amount of money was donated from the Margaret and Martha Thomas Foundation in Wymore, which is why Hosick named Thomas after them.
Hosick said he's thankful for the community support of the department's K-9 unit.
"Thomas is going to be really good at what he does, and I'm excited to work with him," Hosick said.
Get local news delivered to your inbox!
Subscribe to our Daily Headlines newsletter.