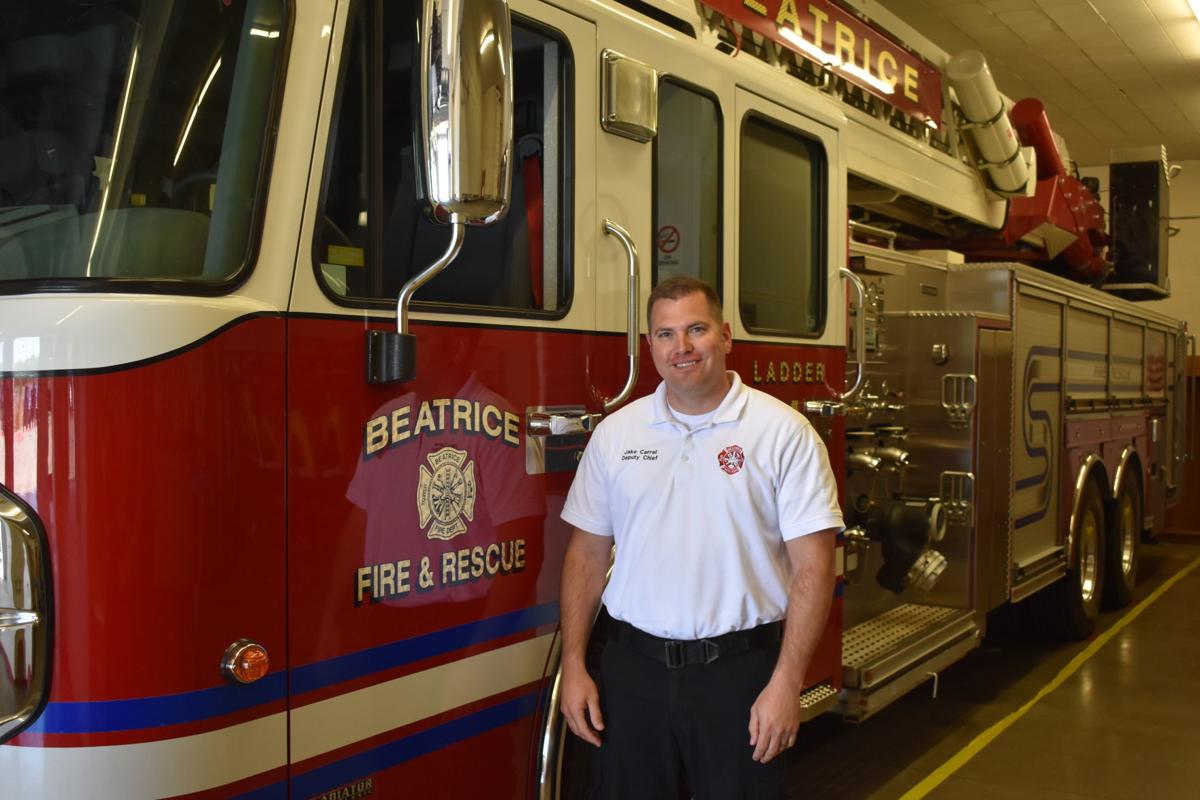 Beatrice Fire and Rescue is saying farewell to its deputy fire chief, who is leaving the department after nearly 20 years of service.
Jake Carrel is leaving Beatrice Fire and Rescue to take a position as the fire chief at Kaukauna Wis. later this month.
Carrel is a 1999 graduate of Beatrice High School and has spent the entirety of his 19-year career with Beatrice Fire and Rescue, where his father, John, also worked for nearly 40 years before retiring in 2014.
Carrel said Kaukauna is his wife's hometown, which prompted the move for the couple and their three children.
"I wasn't out looking for employment elsewhere," he recalled. "This job just happened to come up and I was fortunate enough to be offered the position. It's a great opportunity. The area up there is experiencing some good growth. It's a young, active community with a well-supported fire department, similar in a lot of ways to here."
Friday will be Carrel's last day with Beatrice Fire and Rescue.
Reflecting on his career in Beatrice, some calls have stuck with Carrel for years. Like a 14-car pileup on Highway 4 on Valentine's Day in 2010 that left several people injured.
"The whiteout conditions were a challenge, but there were no major injuries," he said.
Fires, medical calls, car crashes and more. In the last 19 years Carrel has responded to all kinds of situations. But through them all, it's the people by his side who made the biggest impact.
"A lot of the folks here I've worked with the majority of my career," he said. "That's tough to walk away from. My biggest memories are working with the crews and the relationships built over the years… Beatrice is very fortunate to have the department that we have in town that a lot of communities our size don't have."
Call volume has steadily increased over Carrel's 19 years with the department. He said technology has also improved, resulting in much better patient care.
"From someone's living room we're able to transmit 12 lead data straight to Lincoln hospital (catheterization labs) where cardiologists can see that essentially instantly and help determine the care that patient's given," Carrel said. "That's technology we use regularly. That's huge."
While in Beatrice, Carrel also started a side business allowing pager calls to be transmitted to responders' phones, initially via text message and now via a phone app.
The Page My Cell app has added users, and is used across the state.
"It started over six years ago," he recalled. "That particular program was designed for Beatrice Fire and Rescue. Now it's grown to over 10,000 users in Nebraska. It's neat to see as it continues to grow."
Carrel added he doesn't regret leaving before he'll get to work in the new fire station planned for Beatrice, saying the project is "in good hands" with the department. The station will be built using funds from a voter-approved sales tax increase last November, an indication of the level of support Carrel said the town has shown Beatrice Fire and Rescue.
"The really nice thing about working here is that the community support is awesome, as you've seen with the passing of the sales tax in November," he said. "The city has treated us well over the years in maintaining what we have, and that's going to be further enhanced with the new fire station. I've never questioned the support in the community."
Get local news delivered to your inbox!
Subscribe to our Daily Headlines newsletter.