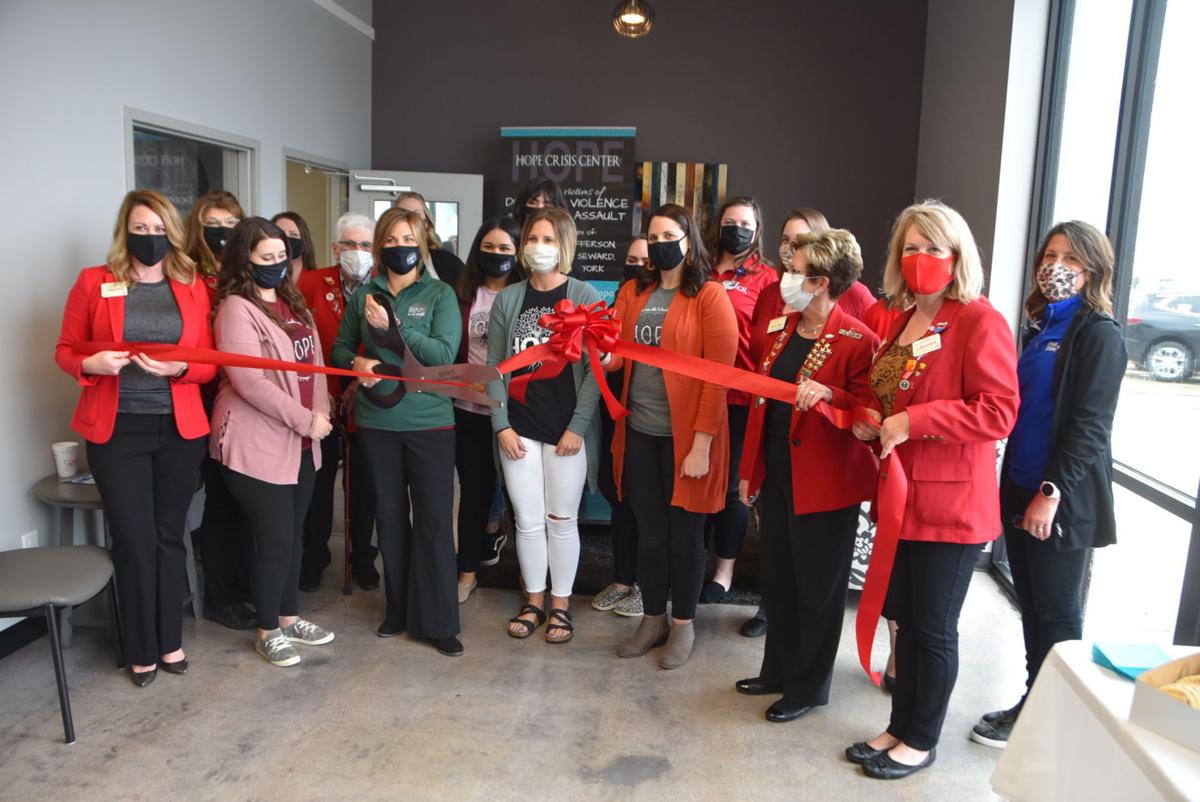 After a delay in celebrations due to the COVID-19 pandemic, on Thursday two local organizations held an open house and ribbon cutting for their new location at 2015 N. Sixth St. in Beatrice.
The public was invited to tour the new offices and meet the teams of Blue Valley Community Action and the Hope Crisis Center, which have been in this location since July of 2020.
Shelly Hofeling, nurse for children's services at BVCA, said they provide resources for families including emergency assistance and housing, food programs, and veterans services.
Carmen Hinman, executive director of the Hope Crisis Center, said their services are for victims of domestic and sexual violence.
Both entities were previously located in Adams Hall at Southeast Community College's Beatrice campus, but moved once the school started undergoing renovations last year.
Hinman said the move has allowed both organizations to be more visible and accessible to the community.
"This facility is definitely going to allow us to direct people here," Hinman said. "When you say right behind Arby's or the old Joseph's College of Beauty, people seem to know where we're at."
Hofeling said the move has also allowed all of Blue Valley's programs to work out of one space.
"And we kind of moved along with Hope Crisis," Hofeling said. "We wanted to stay together, because we do offer some services to each other, so it was important to stay connected with Hope Crisis…Usually, when someone is coming to us for their situation, maybe their emergency housing and things, there's reasons for that. And sometimes they need Hope Crisis in that situation, and it's an easy place to just walk them across without it being seen or known. A lot of people that are experiencing domestic violence and things like that, they don't want to be seen going into a place like that, so they usually can utilize saying they're here for Blue Valley, when they'd be able to go to Hope Crisis at the same time."
"It's been a long-standing partnership," Hinman said. "HOPE Crisis Center used to be, years ago, a program under Blue Valley Community Action. We used to be Blue Valley Crisis Intervention. And in 2006, we began our own non-profit entity. So we have a long history of working with one another, and that still proves to be beneficial to those that we serve to the community. It just works for us to be co-located."
Hofeling noted that BVCA has several locations across Southeast Nebraska, and that it's important for them to be conveniently located because the families they serve often have issues involving transportation.
"So if they had to travel, to let's say Fairbury, to get these services, it wouldn't happen because they don't have gas money, or they don't have a vehicle, or they can't catch a ride there and back," Hofeling said. "So it's super important to be here, especially in those emergency situations."
Both groups had a ribbon cutting with the Beatrice Chamber of Commerce.
The Chamber's Director, Angie Bruna, said they enjoy doing ribbon cuttings with organizations like this because they are both celebrating the achievement of a new location and helping to connect people to these services.
"We have a lot of people who need help at different stages in their lives, and it's important for us to service as that connecting piece," Bruna said. "We really like to highlight not only our members, but also those resources that are available to different people, and just be a branch for the community."
More information about BVCA's locations and services can be found at bvca.net/, and the Hope Center's 24-hour crisis line is 1-877-388-4673.