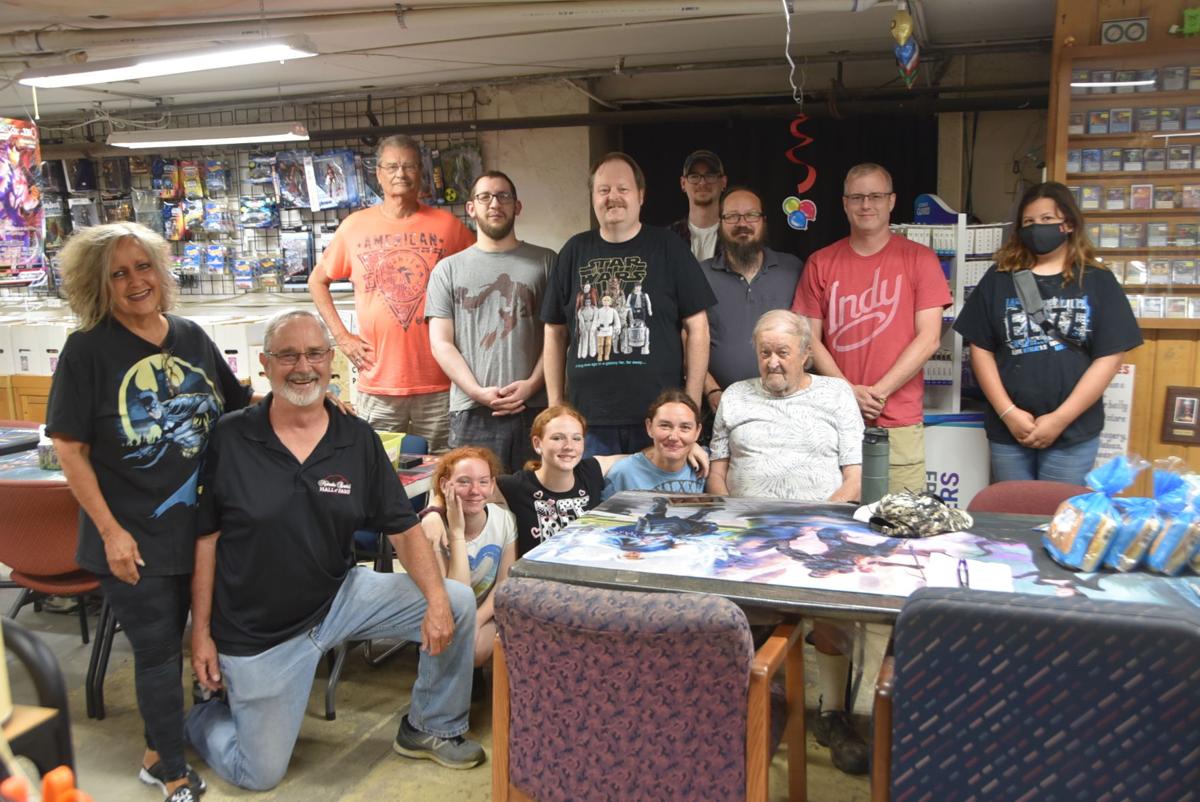 Friends and customers gathered at 320 Court St. Monday to celebrate C & L Baseball Cards' 30th anniversary in downtown Beatrice.
The business goes farther back, however, to when a father and son decided to have a garage sale in 1987.
"I sold a bunch of cards, and Dad didn't sell much of anything," co-owner Christopher Knowles said. "So cards was what started the market."
Co-owner Larry Knowles said the two then started participating in card shows around Nebraska and Kansas.
Christopher said it was mainly to find cards he wanted to buy for himself, but that the two would also take custom orders. He said C & L started due to being laid off from his job shortly after college, and Larry wanting to officially join as a partner to the card business.
"People were coming to the house, to Dad's little den that he had made, which used to be our front porch, and we turned it into a card shop," Christopher said. "I'd put up a sign saying 'open', and kids would come knock on the door, come and get cards. Well, I was reading a couple of comic books, because I'd always been into that, and a kid wanted to buy the comic book. So I said 'can I finish reading it first?'"
Christopher explained that one of the businesses he got sports cards from also sold comic books, so that's what helped them expand.
Larry said they were buying about $300-worth of comics every week to start out.
The two opened their downtown location in 1991, and despite a flood a year later, causing the cards to stick together like bricks, as Larry describes, C & L has been able to continue and expand.
In addition to comic books and baseball cards, Christopher said they've expanded to card games like Magic the Gathering, Pokémon, Yu-Gi-Oh!, Force of Will, board games like Star Wars: Legion and Dungeons and Dragons, and videogame systems.
Christopher said while most of their customer-base is college age or older, kids come in to collect Pokémon cards, and then C & L has tournaments for that and several other games that can teach people how to play.
"I've had a lot of customers that have moved out of here after high school, and still miss coming down here because where they moved to, they're always cutthroat, a lot of the other shops," Christopher explained. "Here we have a lot more open-play. Play to have fun, that's the main thing. It's fun, learn the game, and enjoy it."
Christopher said it's been cool watching customers grow up and now bring their kids in, or get other family members involved in the games. He said the COVID-19 pandemic has been challenging, but it's also brought in new customers that want to expand their childhood card collections.
"We've had a couple of our best years the last two years than we've ever had…I'd like to thank everybody, especially the last couple years with COVID, for supporting us," Christopher said. "Customers and locals have been absolutely amazing, supporting us through all of the hardships."
Christopher said he never would have expected C & L lasting this long, but that he's enjoyed it, and it's been a lot of fun.
Friends and customers from the nearby Nebraska Baseball Hall of Fame awarded Christopher and Larry with a plaque in recognition of the 30-year milestone.
Lynn Chelewski, a Hall of Fame board member, said he became a customer several years ago while searching for Nebraska baseball player cards.
 "I'm not a game guy, but I like the memorabilia, and a lot of my friends come down here and play," Chelewski said. "It's just a neat, little thing for the community."