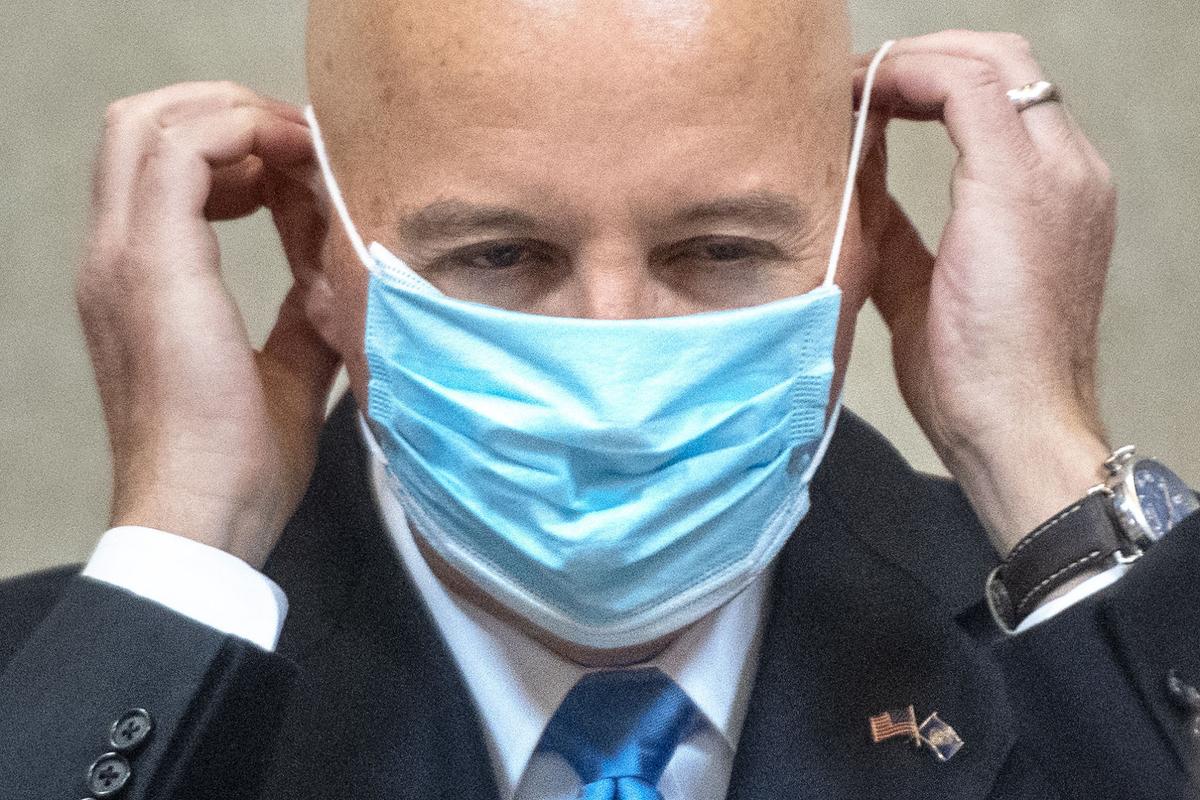 Earlier this week the Beatrice Board of Health enacted a mask mandate for the city, requiring masks to be worn in all indoor public places.
The mandate to slow the spread of the COVID-19 virus is new territory for Beatrice that's raising questions about how the requirement will be enforced.
The mandate, which will be in effect until Dec. 15, states that individuals must wear a mask while in any indoor public facility, unless actively eating or drinking.
It also limits bars and restaurants to eight people per table, with no exemption for playing games, and no bar seating whatsoever. The board also specified that the mandate is required when individuals are utilizing indoor fitness centers.
The health board includes Beatrice Mayor Stan Wirth, Dr. Steven Paulmeyer from Beatrice Community Hospital, Beatrice Police Chief Bruce Lang, City Council President Richard Clabaugh and Landmark Snacks general manager Bob Reed.
When approved on Tuesday, it was stated at the Board of Health Meeting that violating the mandate would be a class 3 misdemeanor, punishable by up to three months in jail, and/or a $500 maximum fine.
On Thursday, Beatrice City Administrator Tobias Tempelmeyer clarified how a violation of the mandate would be handled, since it's not in city code and was not passed as a city ordinance.
"It is punishable by law, it's an order put in place by the health board," he said. "It could fall back to disturbing the peace, it could be obstructing government operations. Most likely those would probably be the two the violation would fall under since there's not a separate code by city."
Tempelmeyer said state statutes get confusing because the term "health board" is used differently in different sections.
The way the term is defined in chapter 71, when applied to Gage County the health board would likely be considered Public Health Solutions, which oversees six counties in southeast Nebraska. Under this interpretation, only Public Health Solutions could implement a mask mandate that could result in a criminal citation. 
In the case of the Beatrice Board of Health, officials are citing Nebraska Revised Statute 16-238, which allows first class cities to make regulations to prevent the introduction and spread of contagious, infectious, or malignant diseases into the city.
The statutes reads in part, "A majority of such board shall constitute a quorum and shall enact rules and regulations, having the force and effect of law, to safeguard the health of the people of such city and prevent nuisances and unsanitary conditions, enforce the same, and provide fines and punishments for the violation of such rules and regulations."
The short answer according to Tempelmeyer is yes, you can be cited for a misdemeanor criminal offense for violating the mandate. But that doesn't mean you will be.
"I would be surprised if anybody is cited or prosecuted," he said. "Is it possible? It is. You can drive to work, speed and never get caught, but there's always that one right time. It can happen… You do something like this you think is clear and have the chance to look at it later and find loopholes or question marks. You try to do the best you can. Nobody's been through a pandemic before so we're all trying to learn."
Get local news delivered to your inbox!
Subscribe to our Daily Headlines newsletter.