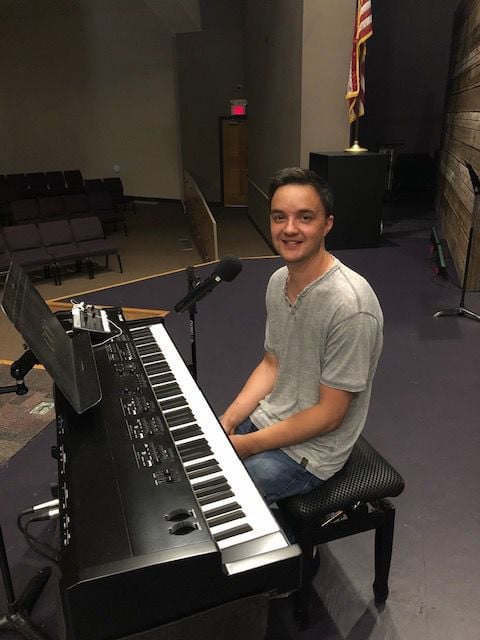 As Directed Health Measure restrictions lessen in Gage County, members of the Christ Community Church in Beatrice may see a couple new faces during services.
Daniel Worsham started as the church's new worship pastor two weeks ago, after the former pastor accepted a position in Omaha this spring.
Worsham said the experience has been great so far.
"The first Sunday, there were a lot of nerves going up to it, but even after the first service I just felt a lot more relaxed," Worsham said. "Just a really, really welcoming church…Everybody's so nice, it just made us feel at home."
Worsham's father was a youth pastor in Kenosha, Wisconsin, where he grew up. Around age 10, Worsham started playing the French Horn, and later got a degree in music performance at the University of Minnesota.
In 2014, Worsham spent nine months performing with the Sarajevo Philharmonic Orchestra in Bosnia-Herzegovina.
When Worsham returned, he married his now wife, Hana, got more involved in the church and started working as a freelance musician among other things. He said his original goal was to work in a symphony orchestra, but when he was contacted by Christ Community Church he said he found a connection with senior pastor Dan Martin and his views on religion.
"We didn't know much about Beatrice, we didn't know much about Nebraska, but just the people here that we got connected with, and just the quality of the leadership here at the church just really drew us in," Worsham said.
"We have a passion and a vision to help people to be able to worship the Lord, and Daniel fits all of the requirements that we look for in a pastor, musician and person," Martin said.
Worsham said he and Hana are excited to work with the church choir, but noted that the COVID-19 pandemic makes that planning and organizing difficult.
"There's an orchestra pit here at the church that hasn't really been utilized, so that's something that I have my eye on [too]," Worsham said.
Get local news delivered to your inbox!
Subscribe to our Daily Headlines newsletter.