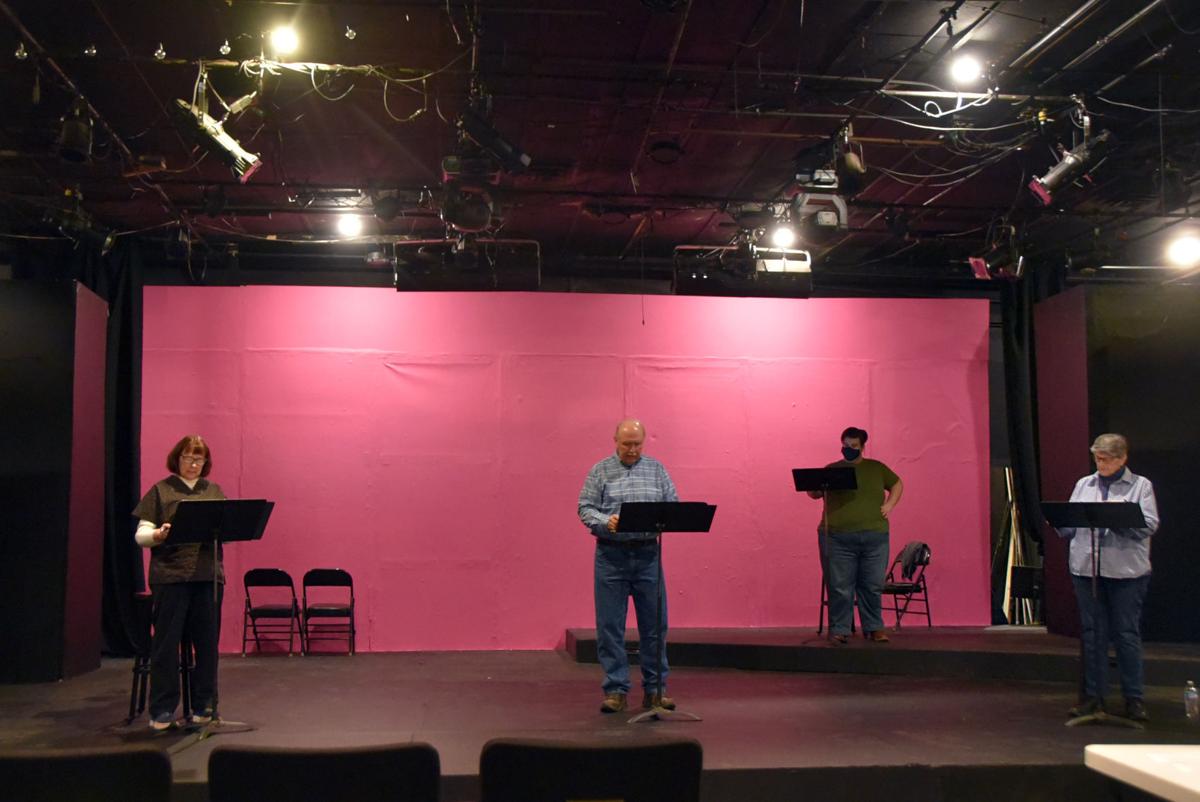 Community Players is jumping into their spring season with three staged readings of shows and several other acting opportunities. Termed as Readers Three-ater, Community Players will have a show on various Fridays in the coming months, with each show available for online viewing the following week.
The three shows being performed are "The Last Romance" on Feb. 19, "Stuart Little" on March 5 and "12 Incompetent Jurors" on March 26, with show times all at 7:30p.m.
"The Last Romance" follows a widower named Ralph, who chose to get married over his ambitions to become an opera singer. Ralph meets and tries to establish a relationship with a woman named Carol, who he meets in a dog park. He's also living and interacting with his angry younger sister, Rose, whose husband left her for another woman decades ago, but she has never divorced him.
"I think the world is full of chaos right now because of COVID, because of all of the political stuff we've had and just not being able to get out into the world and do the things that you want to do," Chris Obbink, one of the actors, said. "And I think in this story, what happens is you have a group of people who have had major losses in their life, and what they're doing is they're learning to take their life where it's at, change it and move in a direction they've never been and still be happy, even though it's maybe not what they thought their life was going to be or where it was going to go."
Obbink said she has participated in Readers Theater shows at Community Players before, and that she enjoys it because it's less stressful. She suggested it as a way for people who are interested in acting but haven't done it before to get involved in the theater.
"I just hope people come and they enjoy it, because it really is just a cute play," Obbink said.
Community Players' managing artistic director, Jamie Ulmer, noted that in addition to the Readers Three-ater, they are working on a restaging of their show "Say Goodnight, Gracie" at the Lincoln Community Playhouse this weekend, are preparing for their annual fundraising variety show in March, and have an Acting Up student production planned in April.
"That means we're almost busier than usual, because we will be offering some sort of event for the public every week from now until the first week of April, and then even after that it's a week and then we're doing our Acting Up show for the semester," Ulmer said. "So there's a lot going on, which is awesome, and it's allowing us to take advantage of a lot of different opportunities by doing this series. We decided to do this series because as we were looking at what to do right now as far as programming-wise, the shows that we had previously announced were big casts and big production values. We just didn't feel that we could justify the expense of producing some of these big shows knowing that the audience still isn't ready to come back en masse yet, but we also wanted to make sure that we were offering some sort of programming."
Ulmer said the staged productions also allows Community Players to gradually add more cast members back on stage and provide additional opportunities for local actors. He explained that with staged readings allow for the actors to stay socially distanced, which allows them to perform without masks while following the theater's COVID safety guidelines.
Ulmer said each show will also have a guest director, including Fly Jamerson from Lincoln for "The Last Romance," Community Players associate artistic director Tyler Rinne for "Stuart Little," and a third director still to be determined.
Jamerson's most recent directorial credit was for "Gross Indecency: The Three Trials of Oscar Wilde" at the Lincoln Community Playhouse last January.
"I've worked all over the country, but we're Nebraskans now," Jamerson said. "A year and a half ago when [my family] moved here, it was already my intention to be doing work all over the place here. I've worked with preschoolers, I've worked with professionals and everything in between. So for me, no matter what kind of project that I'm working on, I bring the same amount of passion and professionalism and joy and fun to it, because it's just what I love."
Jamerson said that having a dialogue-focused show like "The Last Romance" is perfect for doing a staged reading.
Tickets for any of the three-ater are $10 for both in-person and online viewing, and can be purchased by calling Community Players at 402-228-1801 between noon and 5p.m. Monday through Friday, or online at beatricecommunityplayers.com/tickets