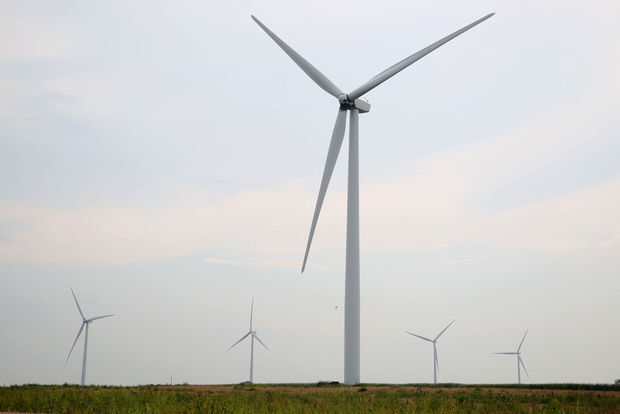 After several hours of debate between many Gage County officials and residents, a resolution increasing setback requirements for commercial wind turbines was passed and adopted by the Gage County Board of Supervisors Wednesday morning, resulting in a round of applause from those in attendance.
The amendment increases setback requirements from nonparticipating residences from 3/8 to one mile. Nonparticipating residents are those who do not have contracts in place with a wind company. The Gage County Planning and Zoning committee previously approved the resolution in a 6-1 vote in August, after a six hour meeting.
While the changes would apply to all future commercial turbines, the push for change has been largely driven by a proposal from NextEra Energy Resources to build a wind farm in northern Gage County.
During a meeting of the Gage County Board Wednesday morning, several board members discussed the feedback they've heard from the Gage County community since the Planning and Zoning vote.
Dennis Byars, Eddie Dorn and John Hill all said they've primarily heard from people in favor of the amendment.
"Our intent is not to try and ban wind [energy]," Hill said. "With this text amendment, there can still be wind farms developed at the right location. We'll need to work with adjoining neighbors and not skip neighbors. There's wind farms developed and landowners don't get contacted about it, and then they've got turbines all around them, and that needs to change."
Hill said the board needs to encourage the community and local landowners to create a wind association before these projects begin. He said he would like for Gage County to adopt Lancaster County's wind turbine noise limits, which are 40 decibels during the daytime, and 37 at night.
Board member Gary Lytle said the unknown long-term health impacts of wind turbines on people should be enough reason to approve the setback.
"My concern is that we err on safety and caution," Lytle said. "I think at this point, the mile setback is probably justified just in that."
The board also approved a plan to ask Planning and Zoning to review issues of wind turbine noise limits, as well as making setbacks from the property line rather than residence.
Board member Matt Bauman suggested that setbacks be determined on the area of Gage County that the wind turbines would be placed.
"If you live in the rural areas, you refer to neighbors who live a mile or two away. In town, they might be 30 feet away…It's a bigger issue than just northern Gage County. Alternative energy is coming. It's here. We're probably a little bit behind where we need to be. For that area of the county, I think the text amendment works. For other areas of the county, it doesn't. We might get getting it wrong by painting the county with one broad brush," Bauman said.
The resolution was approved in a 6-1 vote, with member Terry Jurgens of Odell voting against the increased setback. He said he's voting according to the feedback he's received from his district in Southwest Gage County, which has largely been against the setback.
Jurgens quoted a note from former County Board member Dave Anderson, who said "Do not penalize county-wide residents on the wishes of a select few. Wind towers have contributed greatly to the Odell-Diller area. If the sight of vision of towers is offensive to some, increasing that setback to one mile does not help. It can be seen for 20 miles. If all else fails, please consider grandfathering existing projects, so if Steele Flats wants to expand, it can under current rules."
Board Chairman Erich Tiemann noted that Planning and Zoning can consider any recommendations from board members, which would be resubmitted to the County Board for approval.
Get local news delivered to your inbox!
Subscribe to our Daily Headlines newsletter.