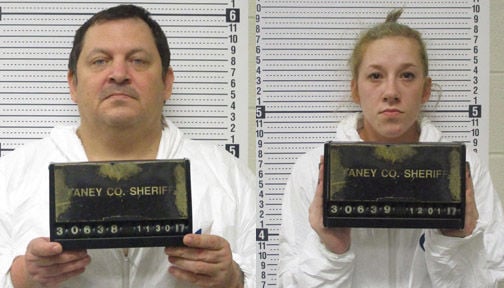 WILBER — After they both swiped right, "Audrey, 25" struck up the Tinder conversation with Sydney Loofe on the morning of Nov. 11, 2017.
"They're just chit-chatting back and forth," FBI Special Agent Mike Maseth testified Wednesday at Aubrey Trail's murder trial. Trail is charged with killing Loofe, the 24-year-old Lincoln woman, four days later.
In those first few exchanges on a Saturday, Loofe — Bailey Boswell's 27th Tinder match — says she lives in Lincoln, but is from Neligh and at home with family for the weekend.
Boswell says she lives outside Lincoln.
They talk about smoking pot and about setting up a date to meet.
Later, they talk about foods they like, like cornbread and black-eyed peas. Loofe says she's eating at Applebee's.
On Nov. 13, Boswell, who is at home in Wilber at the time with Trail and another woman she met on Tinder, says they're all set for a date.
"All I need is an address," she says.
"OK. Tomorrow," Loofe answers.
The next day, she tells Boswell she works at Menards. And Boswell asks again for her address, "so I can see how long it will take me to get there."
Within 5 minutes of getting it, Boswell calls a hotel in Lincoln to make a reservation for that night for her and Trail.
That night, Boswell and Loofe meet for the first time, driving around town smoking pot in Boswell's car. After, Boswell sends her another message: "Goodnight gorgeous."
At 8:38 a.m. on Nov. 15, 2017, they exchange more messages.
"And what time do Bailey Boswell and Aubrey Trail go to the Home Depot?" Assistant Attorney General Mike Guinan asked Maseth.
At 10:30 a.m., less than two hours later, they buy a hacksaw, tin snips, drop cloths and a utility knife.
Boswell sends Loofe more messages at 12:23 p.m.
"What's going on at that point?" the prosecutor asked.
"They're pulling out of the parking lot at Menards," the FBI agent said.
That's where Trail had been caught on a surveillance camera going in to the home improvement store in north Lincoln as Loofe, who was working, walked out to the guard shack. Trail looked back twice, over his shoulder, after their paths nearly crossed.
In Tinder messages, Boswell and Loofe go on to talk about meeting at 7 to cruise around town, smoke and get to know each other, even about maybe going to a casino over the weekend. Loofe asks if it will be just the two of them on the date.
"Of course," Boswell says.
Their last Tinder communication comes at 6:54 p.m. on Nov. 15, 2017.
"Here," Boswell says, signaling her arrival to pick Loofe up from her apartment.
About an hour and a half later, Loofe's phone will go off near Wilber, the last place it was traced.
Prosecution is nearing an end, with the medical examiner who did the autopsy on Loofe's remains and a tool-mark examiner scheduled to be called on Monday when Trail's trial continues. He has continued to be absent from the courtroom after a suicide attempt.
Sign up for our Crime & Courts newsletter
Get the latest in local public safety news with this weekly email.