A Lancaster County jury has found a 22-year-old woman guilty of motor vehicle homicide for a fatal crash with a motorcycle rider last July at a controversial intersection in southwest Lincoln over defense arguments about its "oddly configured" design.
"Even when you look at pictures, it looks confusing," Allie Davis' attorney, Bob Creager, told the jury in closing arguments Thursday, referring to the stretch where southbound traffic on 14th Street crosses northbound Warlick Boulevard to get to Old Cheney Road. 
In December, city officials put plans on hold to redesign the intersection with an elevated roundabout after the bids on the project came back over the $36 million budget.
But in court this week, the current design came under scrutiny in connection to a trial over a crash there the night of July 31 that caused the death of 22-year-old Triston Grieser of Lincoln.
Prosecutors said Davis was driving a Ford Escape south on 14th at about 9:30 p.m. when she failed to yield to Grieser's oncoming Harley-Davidson motorcycle as he headed north on Warlick.
Davis told police — and the jury — she didn't see the motorcycle.
At trial, Creager argued that Davis wasn't guilty of a crime because she had used reasonable care that night. She was going under the speed limit and had slowed at the yield sign. She just didn't see Grieser. 
"It's a complicated case, because Allie wasn't doing anything wrong. The motorcycle wasn't either," he said. "There was no crime if she acted reasonably."
Creager called it an accident. He said at night, with the angles of the intersection, Davis just saw the ball of headlights from the car behind Grieser's motorcycle.
But, on the other side, Deputy Lancaster County Attorney Erica Pruess said Davis told police at the scene of the crash she hadn't seen anyone coming. Not even a ball of lights further down the road. 
She said even by Davis' own testimony at trial — that she did see the lights of the vehicle behind the motorcycle — she should've come to a stop. But she thought she could make it through. 
"That's not safe driving. That's not careful driving," the prosecutor said. 
Davis had said she had traveled the intersection often over the previous six years and at night. She would look toward the light at Warlick Boulevard and Old Cheney. If it was red, she was probably good to go, she said. 
Pruess said maybe Davis relied on that same system the night of the crash — to the detriment of Grieser. She said even if it is a strange or weird intersection, as one witness testified, Davis had a duty to stop for Grieser. 
"It's not a free for all," she said.
Pruess said the only just outcome was to find Davis guilty of motor vehicle homicide because she had been driving negligently or carelessly and Grieser died as a result.
The jury returned with a guilty verdict. 
Davis is set for sentencing on the misdemeanor in April.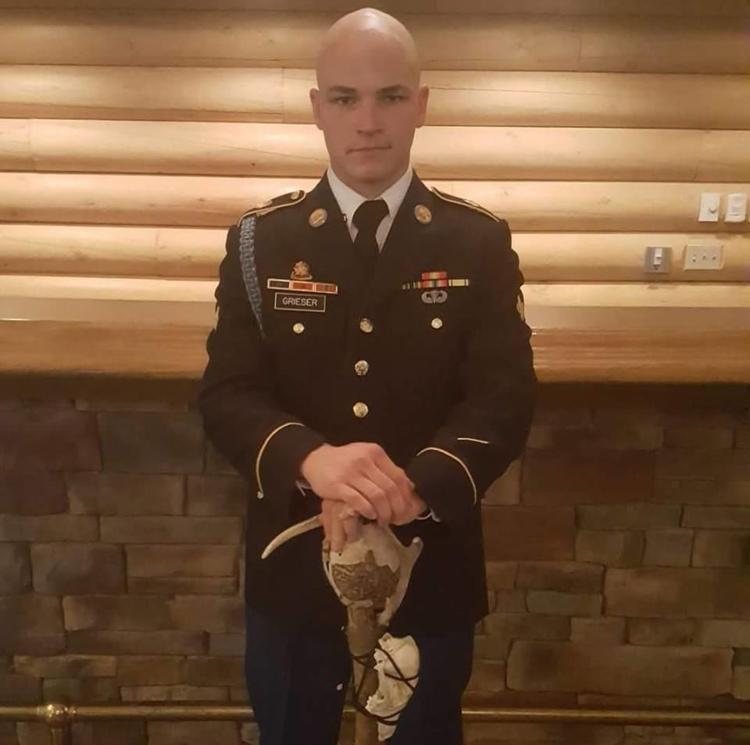 Grieser was an infantryman in the Nebraska National Guard assigned to C Troop, 1-134th Cavalry Squadron in Beatrice.
Today's jail mugshots