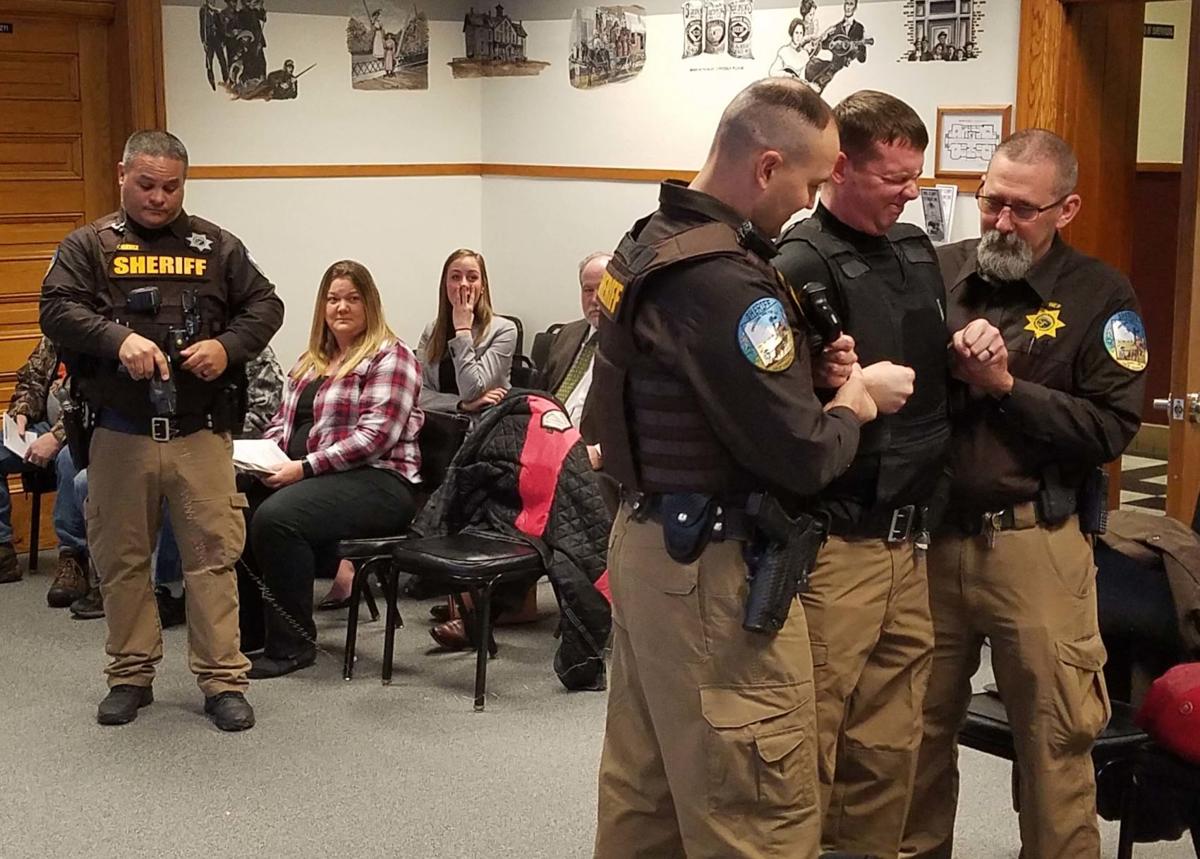 The newest deputy was welcomed to the Gage County Sheriff's Office with a shot in the back on Wednesday.
Sheriff Millard "Gus" Gustafson introduced deputy Dion Stege during the County Board of Supervisor's meeting.
He said part of Stege's training requires him to experience the shock of a taser, which was demonstrated during the meeting.
Deputy John Chavez led the demonstration, and explained how tasers work.
"It's two probes that come out of a 25-foot cartridge and the effect of it is to incapacitate you for a time period of five seconds," he said. "What I like to point out is we wear these vests to slow down or stop firearms. This will not stop a taser."
From across the room, Chavez pointed the taser with a laser sight at Stege's back and pulled the trigger. Chavez said the shock of a taser completely incapacitates a suspect, or Stege in this case, who would have fallen to the ground if not for two spotters who helped support him.
"I'm going to have two spotters hold him under arms because it's going to incapacitate him and sometimes they just fall to the ground," Chavez explained. "He's going to have no control over his body movement.
"This will incapacitate you for five seconds. If they pull the trigger again, it will incapacitate you another five seconds. They can continue to do it until they are done doing what they want to do."
The probes are often removed by law enforcement after a suspect is subdued, though Chavez added that medical responders are sometimes called to handle the removal if a probe hits the face or groin area.
Stege is a graduate of Beatrice High School who started with the department around two weeks ago. He said he's excited to join the sheriff's office and work to improve the community.
"I graduated high school here in Beatrice and have two kids," Stege said. "I wanted to join the sheriff's office to make a difference in the community and make it a better place to live."