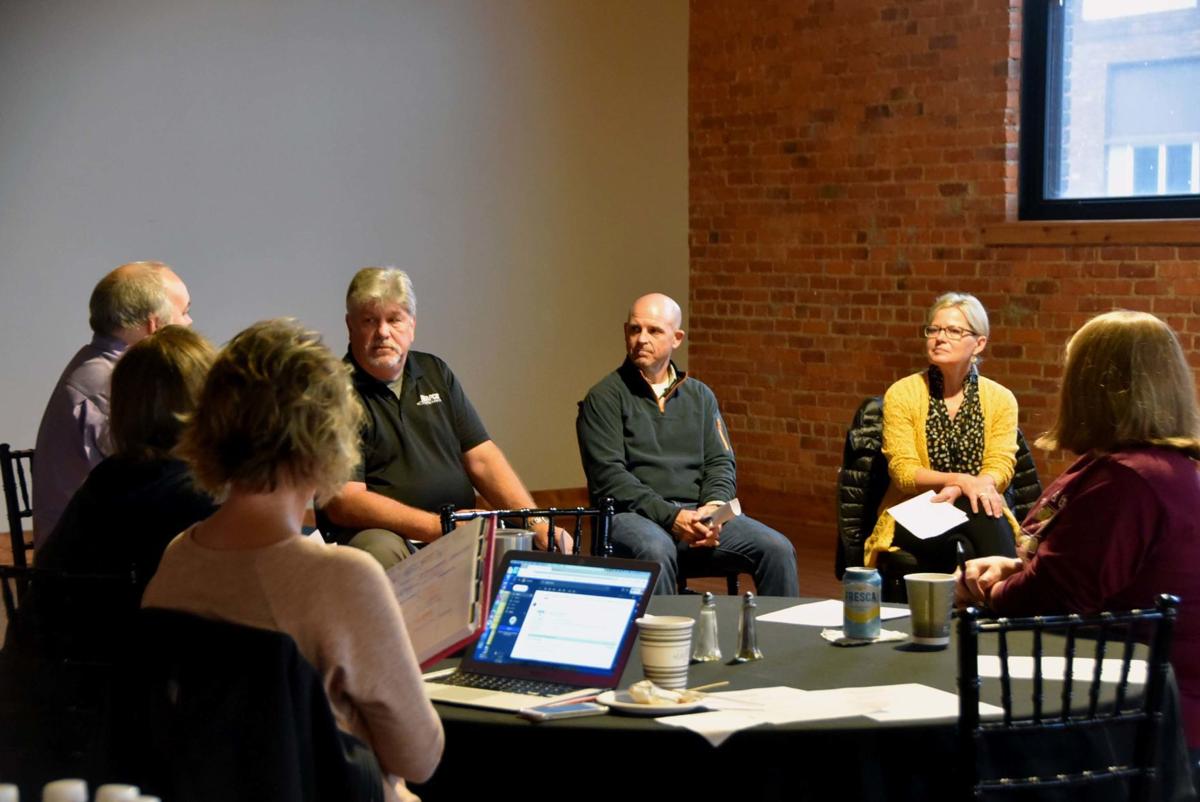 Local high school students toured local factories last week to learn more about manufacturing jobs. On Thursday, it was the school counselors' turn to meet with the businesses and learn ways to help students interested in manufacturing careers.
Counselors came from schools across southeast Nebraska to hold a panel with individuals from Precise Fabrication, Exmark and Neapco at Vintage Venue, then toured a couple of the facilities.
All three individuals said the leading cause for termination at their businesses is attendance, and stressed the importance of holding students accountable for their actions.
Randy Kinney, owner of Precise Fabrication, said while holding presentations at schools he sees teachers giving extensions on assignments or letting students redo assignments if they don't reach a certain grade, which he doesn't agree with.
"Whether they know what the capital of Denmark is, who cares? But they've got to answer the question on time, and they have to be accountable for that result, because that is what really happens," Kinney said. "I think the teachers are being pushed to get good grades and get them out into school and progressing on, and they're really doing a disservice and not teaching them there is accountability for their performance while they're going through school."
Kinney said he'll hire someone who worked in the fast food industry, whether they have manufacturing experience or not, because they've experienced completing a job within a specific time frame.
Chief Davidson, plant manager for Neapco, said that the businesses try to accommodate and understand when emergencies happen, but that communication is necessary so jobs can continue to run smoothly.
"Don't just not show up. It sends a terrible message that you're not interested, which is hard to overcome…Everybody thinks they're communicating well, but I've never had anybody tell me 'stop, you're over-communicating,'" Davidson said.
One counselor said she already has several informational materials on manufacturing jobs for students, but expressed complications with students having unreasonably high expectations for jobs. She also said she's dealt with parents who want them in a different career path.
You have free articles remaining.
"The parents are a bigger hurdle in this than the students are," Kinney said. "They're telling the students they have to go to a four year degree and wear slacks to work and everything…They're just burdening their child with 15 years of student loans that are going to keep them from buying a house and moving forward."
Kinney said that students interested in manufacturing should be filling out applications first instead of studying trades at Southeast Community College or another school.
"We'll see if you can stick pieces of metal together. If you can, we'll train you and after about three or four months, we'll send you to school if you need to and we'll pay for it," Kinney said. "You may have to sign a three-year contract with us that you're going to work after you graduate to help compensate for that schooling. But young kids that are going and paying for something – especially in the trade area – I'm going to recommend that they don't do that."
Davidson said he thinks it's critical for manufacturers to have parents tour the plants, or look up what they look like online.
"They don't look like they did 20 years ago. If parents are saying 'no, I don't want my child to be in a factory because it's too dangerous, it's dirty, it's nasty and they'll never get anywhere,' come see them, because I think you'll be surprised," Davidson said.
Cindy Jurgens, the continuous improvement manager at Exmark, said people may not know about the number of women in manufacturing jobs.
"We have a pretty high percentage of women," Davidson said. "It's not 50-50 yet throughout the operation, but we're probably pushing 40 percent across all three shifts. In fact, a lot of times when we do tours there will be a comment from some of the folks that 'oh, I didn't realize you had so many female employees.' We don't even notice. There's not a box to check on the applications."
The panel was mediated by Eric Drumheller, Vice President of grants and scholarships at the EducationQuest Foundation, a nonprofit organization with a mission to improve access to higher education in Nebraska.
"We think this contributes to Nebraska's economy," Drumheller said. "We want students to leave high school with a plan so they can be successful and productive Nebraska citizens."
Drumheller said EducationQuest is holding similar events in Omaha, Kearney and Scottsbluff with high schools who receive its college access grant funding.
The event was also organized with Gage Area Growth Enterprise. NGage focuses on creating opportunities for businesses to start, grow or move to Gage County, while also increasing economic opportunities for individuals and families.