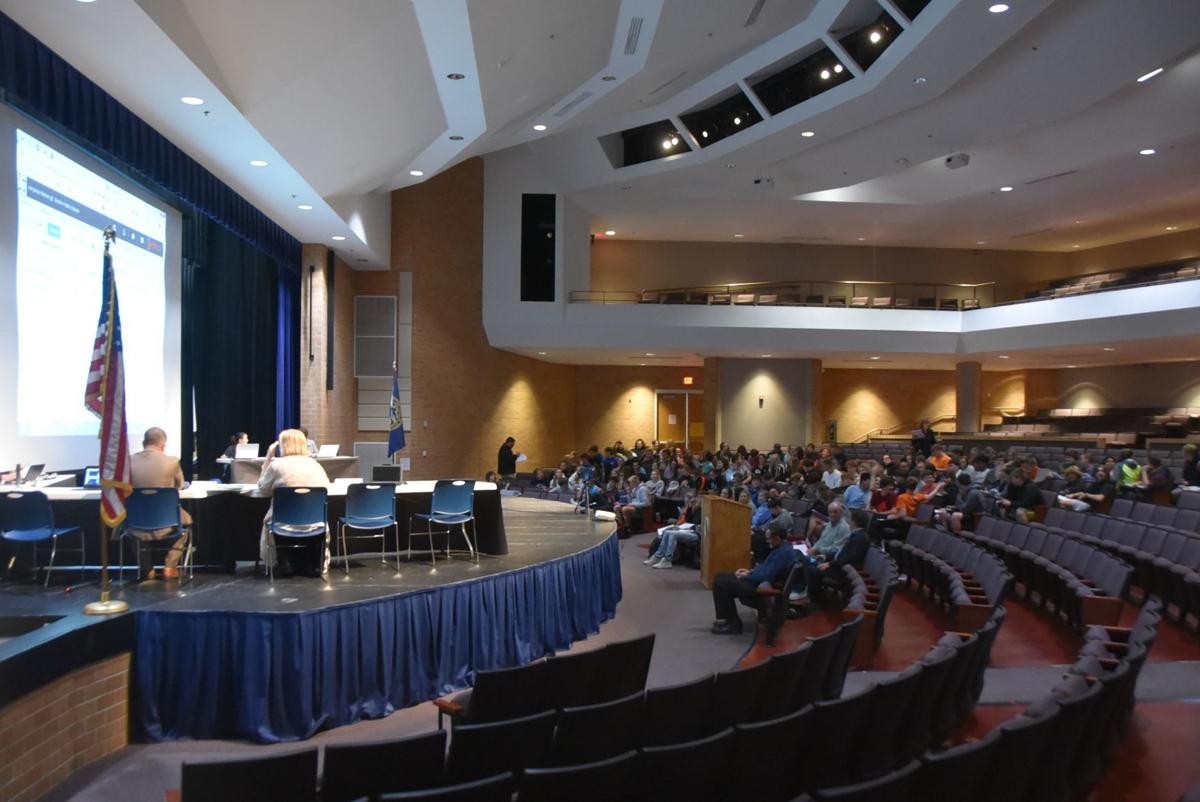 The Beatrice board of education's monthly meeting saw one of its largest audiences ever on Tuesday, as high school students enrolled in American government sat in attendance.
The meeting was moved to the Hevelone Center for Fine Arts in an attempt to comply with new legislation, LB-399, which mandates civics requirements. 
Students can fulfill the requirements by attending a public meeting and writing a report on it, taking a civics test, or doing a project, paper or class presentation on an American person or event commemorated by a holiday, such as George Washington's birthday or Veterans Day.
The law was sponsored by Senator Julie Slama of Peru, and seeks to teach students about government, geography and the economy.
Superintendent Jason Alexander said the board was approached by the school's American government teacher to move the meeting's time and location to make it more accessible to students, many of whom participate in after school activities.
"We thought that'd be a good idea, and it's also a good way to get students involved and hopefully spark their interest in serving on a board sometime in their future," Alexander said.
Alexander said the board will evaluate the response from the meeting and look at turning it into an annual process.
Students sat with Beatrice Public School faculty, community members and District 30 Sen. Myron Dorn as student member Zack Zimmerman gave an update on student activities, the district's payroll and accounting associate Jackie Bornemeier received an outstanding recognition and special education teacher Roberta Lineweber summarized the school's CHOICE program and their new house.
You have free articles remaining.
The largest topic on the board's agenda was discussing the district's technology needs.
Technology coordinator David Koch said the district's technology budget is roughly $168,000, which is $150,000 less than the previous budget.
Alexander explained that the difference was in part due to the Nebraska legislature eliminating a one cent technology bond that generated about $120,000 for the district.
Alexander said he and Koch organized and prioritized technology updates in the next one to five years, and determined that student Chromebooks, teacher laptops and projectors are the most utilized equipment that needs replacing.
Koch said the projectors fail at a rate of roughly one per month, which they plan to replace as needed. He also said that roughly 650 of the district's 2,000 Chromebooks will need to be replaced within a year, which will cost about $125,000.
"Google sets up their Chrome operating system to where it updates automatically for approximately five years," Koch said. "We have 650 Chromebooks that will technically expire for Google updates next year."
Alexander said that the district will continue to use their current technology grants and apply for additional grants, but explained that many of those require the purchasing of new technology, not updating or fixing the current technology.
"We know the general fund could pay a portion of it," Alexander said. "There are lease portion options that would be available to help resolve that. It's just a matter of what we want to commit to as a district…We're going to be working on a plan to bring to you in a committee of the whole meeting with some suggestions. We don't want you to have saucer eyes when we may come up with some out of the ordinary type of suggestions for you."
At the end of the meeting, Alexander used his superintendent report as an opportunity to speak to the students directly.
"I'm glad that you are here," Alexander said. "I want you to know that we appreciate you taking this opportunity very seriously…I also want to commend our board of education for being flexible in their schedules to accommodate you. These people give a lot of their own time to be on the board of education and to make decisions that impact your future and the education you receive."