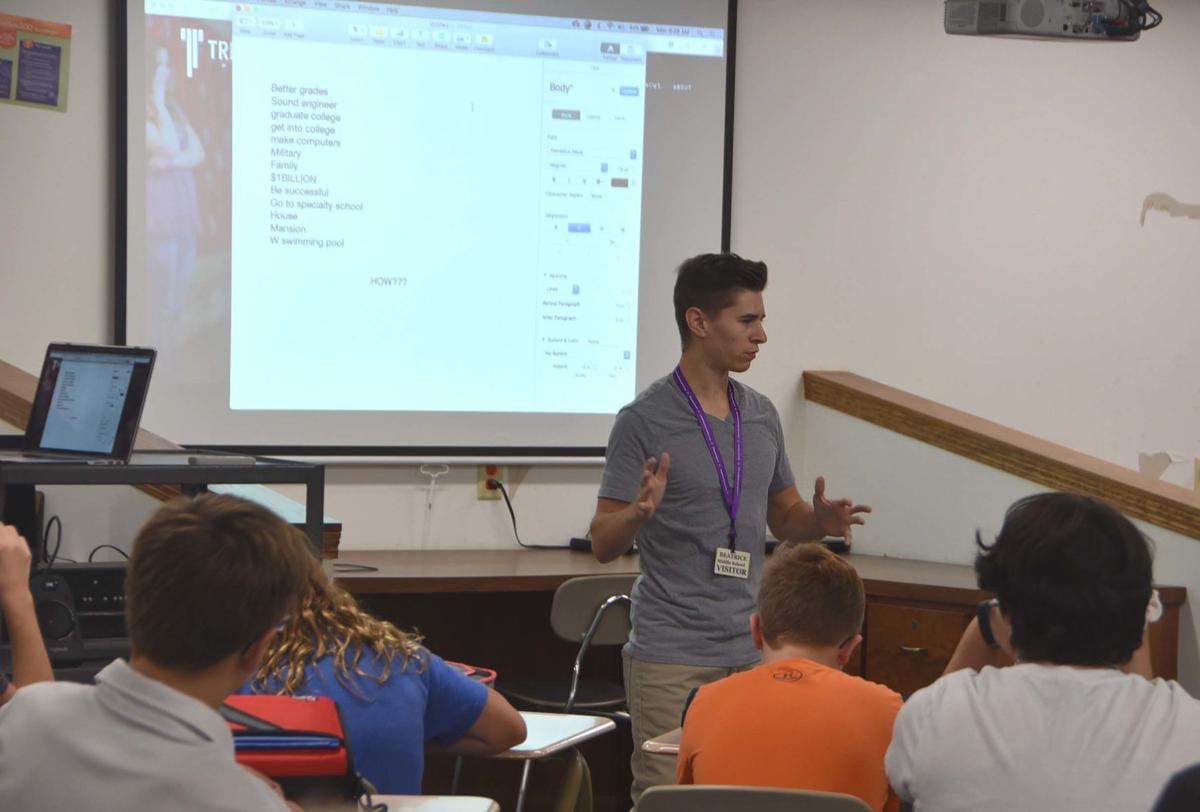 In October 1993, a Beatrice High School student was accidentally hanged after a prop malfunction during the school play. The scene commences "The Gallows," a 2015 found-footage style film that grossed $43 million worldwide.
The movie was co-directed and co-written by Chris Lofing, who graduated from the actual BHS in 2009. On Monday, Lofing met with seventh and eighth graders at Beatrice Middle School to discuss the film and how it came to be.
First, Lofing had the students list their ambitions in life. Answers ranged from dream careers and having a family to having $1 billion and living in a mansion. However, when Lofing asked how they would achieve these goals, only one student answered: working hard.
"I think a lot of times we really focus on how we're going to achieve something. What are the steps? Working hard is always going to be a part of it, but beyond that there's a lot of times you don't really know how it's going to happen," Lofing said. "Sometimes things just kind of fall into place, and they work out the way – hopefully – that you envision. This is how I came to make movies."
Lofing said he started making movies when he was a BMS student for Jodi Fakler's literature class, and later created his first feature-length movie while in high school. After screening the movie for friends in his living room and receiving positive feedback, Lofing decided he wanted to make movies as a career.
Lofing went to film school and California, where he met Travis Cluff while working on a project. The two formed their production company, Tremendum Pictures, in 2011.
"The Gallows" was their first project together.
Lofing had the students guess how much an average movie cost to make, which is roughly $100 million. The Gallows' budget was $100,000, which Lofing said was raised by making and distributing a trailer to potential investors.
After filming the movie, Lofing and Cluff went through the trailer process again to find a studio to distribute it.
"At the time, by the way, we were totally broke," Lofing said. "We spent well over a year making this movie not making any money for ourselves because that whole $100,000 went towards the movie. I also don't have a job at this point, but we did other videos and stuff to pay the bills."
The movie eventually got into the hands of Jason Blum of Blumhouse Productions, who had them almost entirely reshoot the movie. The new cut was then picked up by Warner Brothers and New Line Cinema, who released it in roughly 2,700 theaters in the United States and 63 countries worldwide.
"What was a one and a half year process became a four and a half year process…To bring this kind of full circle, we had a plan to make this movie that would go all over the world, even though we had never done it before, even though we didn't know how. We just knew we were going to do it, and then we did…Don't worry too much about how. The how will come, and you will get there if you just stick to it and work hard," Lofing said.
Lofing said he's heard positive feedback from the community about setting The Gallows in his hometown, and that he's interested in doing another Nebraska-centered movie in the future.
"The Gallows Act II" comes out in select theaters and digital platforms on Oct. 25. Lofing said the movie is not set in Beatrice this time, but will have some nods to the original.
Lofing said Tremendum Pictures has about six films they're looking to fund altogether and create in the next few years.
Be the first to know
Get local news delivered to your inbox!