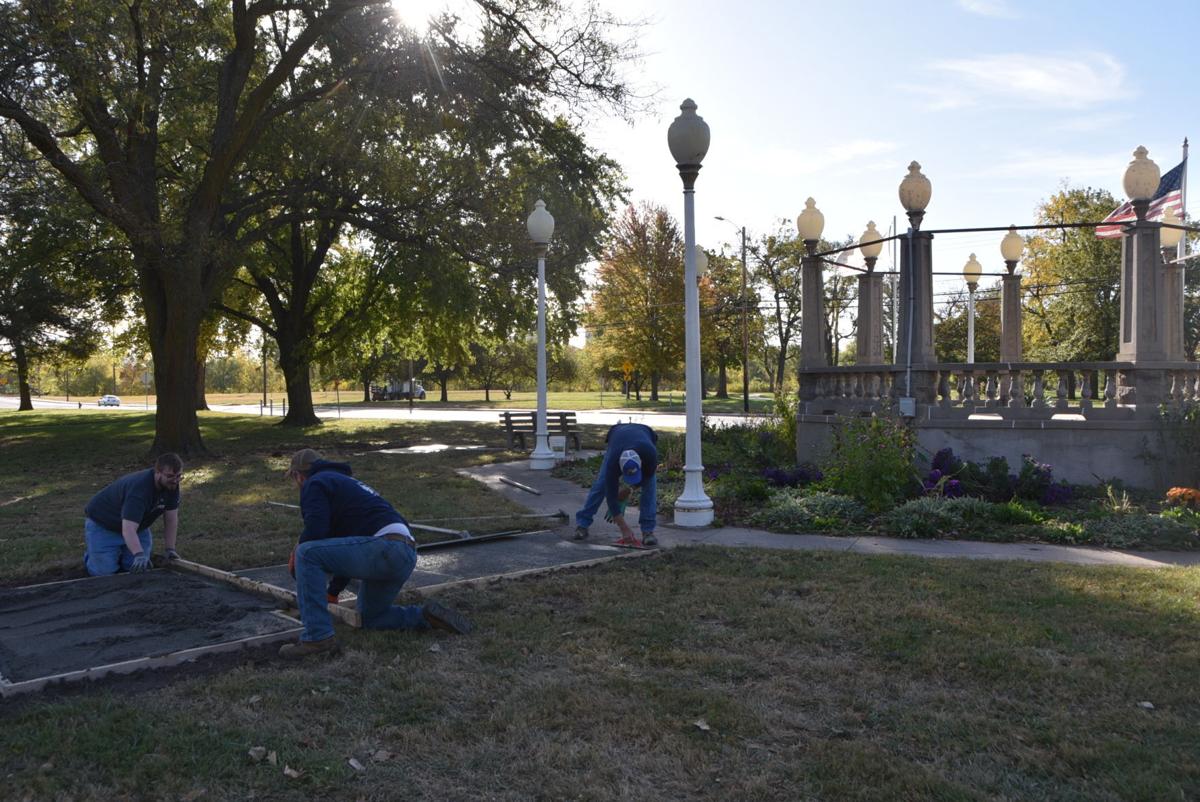 In preparation for the 100th birthday celebration of the Nichols Park Bandstand next year, Exmark Manufacturing has donated $5,000 and volunteers to pour concrete paths to house benches and picnic tables around the bandstand.
The volunteers are Exmark employees, who get to treat the time as a normal work day. Other projects funded by the Exmark/Toro Volunteer Grant include landscaping in front of the Carnegie Building, and upgrades to the St. Joseph Catholic School's playground.
"I like to give back to the area," Keaton Hoffman, a drafter with Exmark, said. "It's not just me giving back to the community with my time, but it's Exmark giving their time and money back to the community, helping out and just doing projects like this, making the community look nice."
Nichols Park has seen several other improvements this year, as well.
The Beatrice Civic Garden Club, which currently does the weeding and gardening around the bandstand, has received over $20,000 in grants and donations to install four concrete parking spaces and sidewalks, informational pedestals around the bandstand and plant identification signage.
"It's just a nice addition to our town," Linda Grell, Executive Director of Keep Beatrice Beautiful, said. "Any time that we can make an improvement and encourage people to get out in nature, enjoy the park, have a picnic, watch the traffic and enjoy it."
Grell said that the Garden Club first started working on the bandstand decades ago through Keep Beatrice Beautiful's Adopt-a-Spot program. She said they are the only group that still maintains their spot, noting that it takes a lot of time and commitment considering all the plants.
When other improvements were made to the bandstand in September, Garden Club member Ginny Haddix said the club would like to have a ceremony coinciding with Homestead Days to celebrate the bandstand's birthday and to thank people for their donations.
"I have to really thank Exmark for doing all of the grants that they do for the community," Grell said. "They support the fair, and just all kinds of beautification grants, the trees along Second Street, all the trees along the trail. Hundreds and hundreds of trees. Those are all Exmark grants. I just can't thank them enough for what they do for the community."
Get local news delivered to your inbox!
Subscribe to our Daily Headlines newsletter.