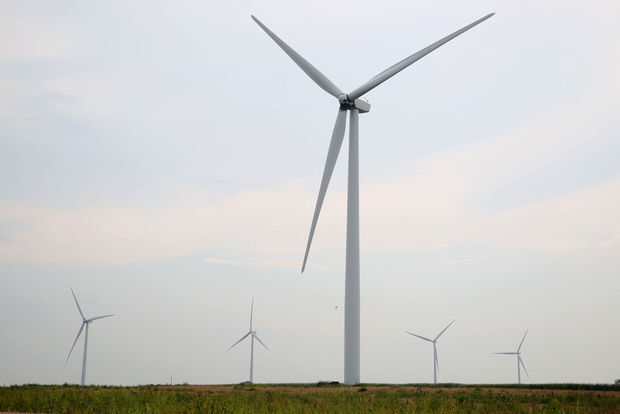 A petition asking Gage County to adjust its wind energy regulations is making the rounds and may be presented to the Board of Supervisors as early as Wednesday.
Whether or not the regulations should be reexamined was the topic of the Gage County Planning and Zoning Commission's meeting last week, where no decision was reached.
Planning and Zoning administrator Lisa Wiegand updated the County Board on the proposal during its committee meeting Monday morning.
"There is still a long desire of trying to get the county to reevaluate our setbacks," she said. "The commission's consensus was they're very sensitive to what people are telling them. We do know that there is a petition out there being signed right now… That petition basically says to please support hearing the proposed amendment."
While officials debate if the regulations should be changed, the County Board is considering stalling permits until a decision is reached.
The agenda for the board's Wednesday morning meeting includes an item to suspend wind permits to allow for review or change of the wind regulations.
"In the event we do have a permit that comes in from now until the time our rules are changed, we would fall under the existing regulations," Wiegand said. "The commission's thoughts were that we just addressed this two years ago and approved our regulations. There is a high sensitivity level of landowners' rights. That's where the commission really has questions."
If the Planning and Zoning Commission does decide to consider amending the regulations, a public hearing would be held at a future meeting. The group would then make a recommendation regarding the regulations to the County Board of Supervisors, which has final say in if they would be changed or not.
Prairie Wind Watchers is the group spearheading the requested amendments to Gage County's wind regulations. The group is focusing on two specific changes it would like to see made by the county.
A primary concern is increasing current setback requirements that stipulate turbines must be 3/8 miles from residences. The group is hoping officials will increase the setback to one mile.
The second requested change concerns how sound levels produced by wind turbines are calculated, and who does the testing.
Wording in the current regulations allows wind energy companies to conduct their own testing, which some think gives them an unfair advantage.
When the current regulations were passed the Planning and Zoning Commission recommended a ¼ mile setback, which the County Board ultimately increased to the current 3/8 mile requirement after hearing concerns from the public.