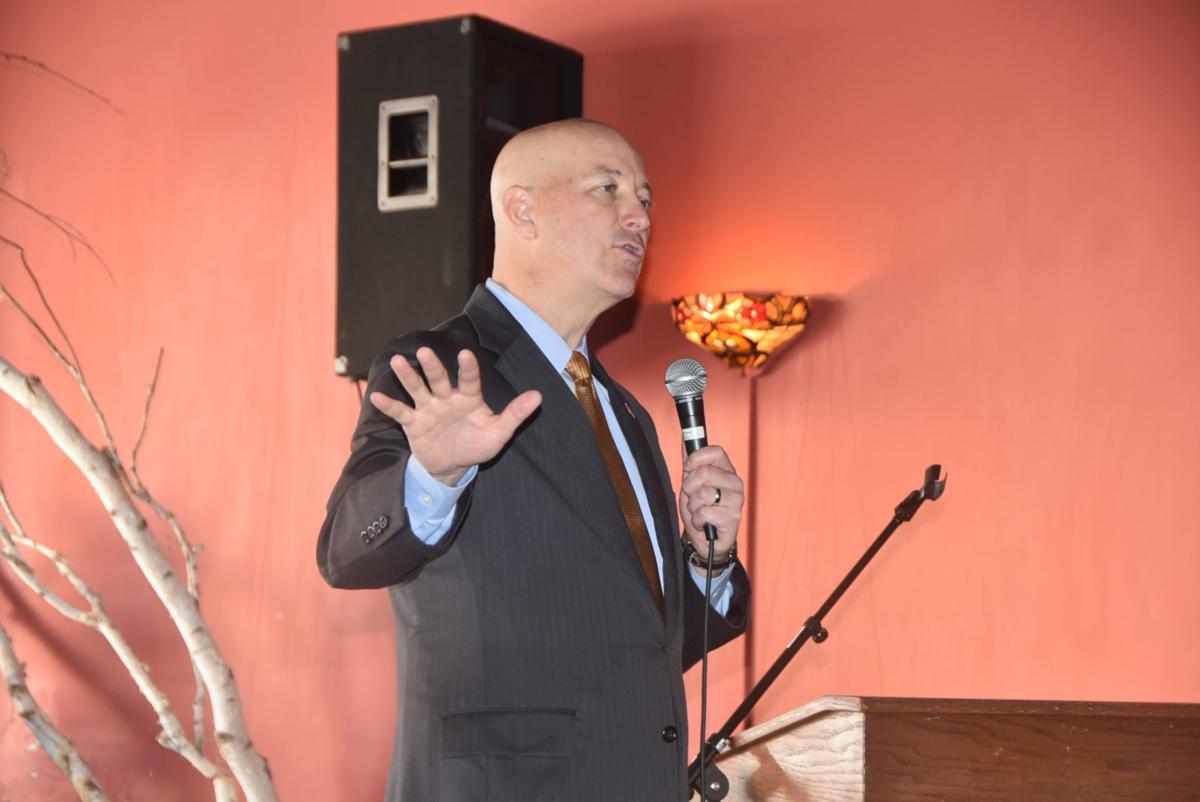 Gov. Pete Ricketts visited Beatrice Tuesday morning along with state chamber officials to discuss recent activity in the legislature, and what's in store for Nebraska's future.
The 2019 Legislative Forum, sponsored by the Nebraska Chamber of Commerce and Industry, was held at The Black Crow in downtown Beatrice.
Ricketts discussed Blueprint Nebraska, a strategic plan to grow the state in the years and decades to come.
"How do we make this state a place where we continue to grow, especially those startup companies, those young entrepreneurs to be able to develop?" Ricketts asked. "Over the last 20 years we have made tremendous improvements here in Nebraska that allowed us to grow."
An indicator of that growth was Nebraska three times winning the Site Selection Magazine Governor's Cup.
In addition to the state awards, in the magazine's ranking of top micropolitans, cities of 10,000-50,000 people which cover at least one county, Beatrice ranked the 14th micropolitan in the nation and the highest ranked micropolitan in Nebraska.
Bryan Slone, President of the Nebraska Chamber, commended the state for its accomplishments, but also pointed out some of the workforce struggles in the state. He said one goal of Blueprint Nebraska is to unify the state toward common goals.
"We need a unified vision in this state as to what the identity of the state is going to be," he said. "We can't have 20 different versions of what this state is going to be… We get into rural-urban, east-west and in my part of the state even north and south panhandle don't always get along and there are different interests from different viewpoints."
Slone stressed a need to attract 18-34 year olds who want to live and work in Nebraska. One way he hopes to do that is promote quality internet access across the state.
"If we're going to succeed for the next 20-30 years people and more people are going to be an issue," he said. "Retaining our 18-34 year olds in the state and having them be part of our workforce and part of our business community is going to be key."
District 30 Senator Myron Dorn, of Adams agreed. The senator also spoke at the forum and added that one thing the demographic looks for is activities and recreation.
"Young people, the 18-34 year olds, when you talk to them the number one thing they tell me is they want broadband, but they also want entertainment," Dorn said. "They ask what there is to do in your community? If you don't have those activities, if you don't have those things it's hard to keep the people there and it's hard to attract people there."
Dorn added that while there have been setbacks in Gage County and beyond, the NGage economic development group has made strides around Beatrice to attract and retain businesses, and there have also been many success stories.
"I do see a growing community," Dorn said. "I am very proud of this community and the fact that once we got NGage going and other things, there's a lot of good things happening in this community. We had some businesses close lately, but I know (Walker Zulkoski, NGage director) talked to some people and there was an article in the paper about how many we've had open up again this year, already. It will run in cycles like that, but I see a renewed interest in this community."