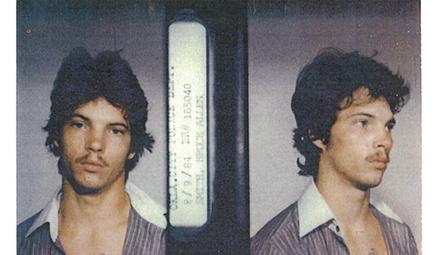 After 23 years, Bruce Allen Smith of Oklahoma City, Okla., has been identified as the true killer in the 1985 murder of Helen Wilson.
Nebraska Attorney General John Bruning announced that Bruce Allen Smith is the sole killer of Helen Wilson, who was found dead in her Beatrice apartment on Feb. 6, 1985.
The announcement was made during a press conference attended by Gage County Attorney Randy Ritnour, Beatrice Police Chief Bruce Lang, investigators from the Nebraska State Patrol, other local law enforcement and Sen. Ernie Chambers Friday afternoon at the state capital.
Three months ago, law enforcement, the county attorney's office and the attorney general's office began reviewing the homicide case of Helen Wilson. Through their review of evidence and recent DNA testing, officials conclusively identified Smith as raping and murdering Helen Wilson in 1985, Bruning said. Smith's DNA matches the blood throughout Helen Wilson's bedroom, blood on a pair of her panties found near her body and the semen found in Helen Wilson's body.
The six people, Joseph White, Thomas Winslow, Ada Taylor, Debra Shelden, James Dean and Kathy Gonzalez; originally convicted in the case have been found innocent in connection to the case.
"When our office became involved in this case three months ago, we sought the truth," Bruning said. "Helen Wilson deserves justice and so do six wrongly convicted people."
"I'm proud that because of (law enforcement) efforts we know the truth," Bruning said. "Nobody has any doubt that this was the killer."
In 1985, Smith was first identified as one of 10 original suspects in the case and law enforcement retrieved DNA samples from him, Beatrice Police Bruce Lang said. Smith was in Beatrice at the time of the murder, according to the investigation.
On Feb. 5, 1985, Smith was drinking in a Beatrice bar with local residents before leaving at midnight to head to Blue Springs for a party. After upsetting and threatening to rape one of the individuals at the party, he was thrown out. But, not before threatening to "get even," according to testimony.
At approximately 3:30 a.m. on Feb. 6, Smith was then driven back to Beatrice and dropped off at Sixth and Court and last seen walking north, according to Lang. It is then believed that Smith entered the apartment building, where Helen Wilson resided, and committed the crime.
The next morning a convenience store clerk reported observing blood on Smith.
There was also a wallet believed to have been stolen by Smith found near the crime scene linking him to the murder, Lang said.
Smith left Beatrice days after the murder and returned to Oklahoma. Law enforcement traveled to Oklahoma to retrieve DNA samples from Smith. It was tested in the Oklahoma State Crime Lab.
However, due to testing methods available at the time of the murder, he was excluded.
With recent DNA testing done on the original samples taken from Smith in 1985, he has been identified as the killer.
"Not only did it make the match, but it determined that others were not involved," Lang said.
Smith, who died of AIDS in Oklahoma City in 1992, had a checkered criminal past, including serving time in the Oklahoma State Penitentiary from August 1987 to December 1989 for burglary and being arrested for rape in 1981. There was no information on whether Smith was convicted of rape due to a flood that destroyed the criminal file.
Helen Wilson's family was notified of the new development in the case Friday afternoon prior to the press conference, Ritnour said.
"The victim's family has suffered through a roller coaster of emotions," Ritnour said. "I hope this gives them some final peace and closure."
Though the attorney general's office was pleased to announce they had identified the real murderer, they were saddened by the fact that the unethical actions of former prosecutors, which included former Gage County Attorney Richard Smith, led to the arrest and convictions of six innocent people, Bruning said.
It is believed that prosecutors bullied the six suspects and fed them evidence to get them to plead guilty.
In late 1989, Joseph White was found guilty of first-degree murder by a 12-member jury. He served 18 years before being granted a new trial on Oct. 15. He was released from custody that day. Bruning and Ritnour filed a motion to dismiss all charges against Joseph White.
Thomas Winslow plead no contest to aiding and abetting second-degree murder. He served 18 years before being released on Oct. 17 after being resented to time already served.
Ada Taylor plead guilty to aiding and abetting second-degree murder and was sentenced to 40 years. She is currently in custody at the Omaha Work Release Center. She will come before the Parole Board on Monday, where the attorney general's office will testify on her behalf for release.
Debra Shelden, James Dean and Kathy Gonzales all plead guilty to aiding and abetting second-degree murder and were sentenced to 10 years in prison. All three have served their time and been released.
Chambers, who introduced DNA legislation, applauded the efforts of the law enforcement for finding the rightful killer of Helen Wilson. But, cautioned there was still work that needed to be done by Legislature to correct problems with the justice system.
Bruning believes the justice system works, he said.
"I have faith in the system," he said. "Because of the senator's efforts there are many safeguards in place."
The Nebraska Commission on Public Advocacy attorney Jerry Soucie, who represented one of the men who was freed from prison based on the DNA evidence, held a press conference of his own on Friday at 4:30 p.m.
Soucie praised the Beatrice Police Department's handling of the evidence so many years ago. He praised Chambers' bill. And he praised the swift manner in which the identity of the real killer was determined.
The next step, he said, is to obtain official pardons for Joseph White and Tom Winslow, both of whom spent nearly 20 years in prison before DNA evidence proved their innocence. White and Winslow were both released from prison last month.
In coming months, Soucie said, he plans to meet with members of the Nebraska Legislature to discuss introducing a bill that would provide compensation for those who were wrongly imprisoned.
Soucie was critical, though of the way that former Gage County Attorney Richard Smith handled the case, which he called a "perfect storm" of events that caused several wrongful convictions.
During the press conference, Soucie accused Smith of meeting frequently with the defense attorneys during the 1989 trial of Thomas White, and suggesting he had evidence that incriminated their clients.
He criticized the way the six suspects were interrogated and the sporadic way in which those interviews were recorded.
He criticized the prosecution's use of a psychologist who told the accused that they had committed crimes so heinous they had blocked what they had done from their memories. One of the women sentenced in conjunction with the case, Debra Shelden, still believes she was somehow involved, even though the evidence overwhelmingly points otherwise, Soucie said.
"That's a terrible thing to do to somebody," Soucie said.
And in 2006, when White and Winslow first requested to have their DNA tested, Smith refused - a move that delayed their release by at least 14 months, Soucie said.
Soucie also criticized the practice of threatening suspects in murder cases with the death penalty in an effort to get them to talk.
"I think you really need to question whether anyone under that kind of threat is telling the truth."
Thomas Winslow, who was resentenced to time already served in October, also attended the 4:30 p.m. press conference, sitting between Soucie and his mother, Mary Winslow, his two-year-old nephew on his knee.
Since his release a month ago, Winslow has found a job, though he declined to say where. He's working to find a place to live. Both were difficult, he said.
"There's not a lot of provisions for people coming out of prison," he said.
Still, he said, he's been happy since his release, and has spent as much time as possible with his family, including various nieces and nephews, none of whom were born before his arrest and imprisonment.
His mother made sure he got a cell phone.
"After not being able to talk to him when I wanted for 19 years, I wanted a way to reach him," she said.
Upon learning that Helen Wilson's real killer had been identified, Winslow said he felt mainly relief.
Winslow said he never met Bruce Smith. Neither had Joseph White, said White's attorney Doug Stratton.
Winslow said he wasn't bitter about all that time he spent in prison, or about Nebraska's lack of a compensation law. All he wanted, he said, was an apology.
"I would say sorry is enough, because I've already forgiven," he said.
White's attorney, Doug Stratton, credited Joseph White with finally seeing justice served.
It was White who first contacted him and asked about DNA testing, Stratton said. White never lost confidence in the system, even as the years wore on.
"He maintained that quiet confidence," Stratton said.
Stratton said he spoke on the phone with White earlier in the day on Friday. Like Winslow, he was relieved the real killer had finally been found.
"He was happy," Stratton said. "Not just happy for himself, but happy for the closure it brought to the victim's family."
Stratton said he didn't know how the case would end up when White approached him back in 2005. Friday's news, he said, was as good as it gets.
"This is a complete exoneration," he said.
Cara Pesek from the Journal Star contributed to this story.