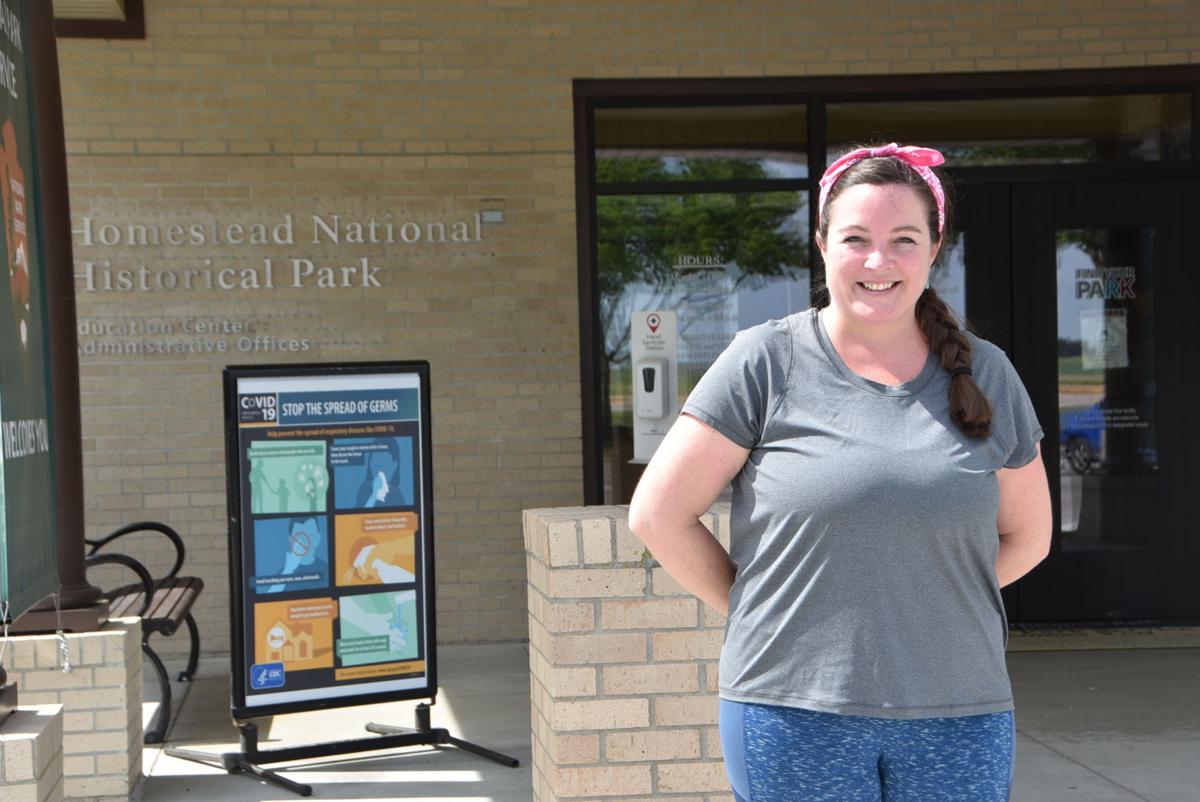 The warm Sunland weather this week has been a welcomed introduction for Homestead National Historical Park's first artist in residence of the summer.
Homestead has participated in the Artist in Residence program with the National Park Service for 12 years now, hosting artists to help connect visitors with the park and its meanings using various art forms.
The first artist this year is Sarah McCartt-Jackson, a poet from Louisville, Kentucky, who will be at Homestead from June 7-18.
McCartt-Jackson said this is her third residency with the National Parks Service, previously visiting Great Smoky Mountains National Park, which borders North Carolina and Tennessee, and Catoctin Mountain in Maryland. She said she plans to do a fourth residency in July at Acadia National Park in Maine.
"When I was doing my research about Homestead, I was really excited about what the park's mission is," McCartt-Jackson said. "It aligns with a lot of what I do in my regular life and my background. I have a background in vernacular architecture, so I was really interested in the restoration of the landscape at the time of the first homestead here. I also have a background as a naturalist, so I was really interested in seeing a tall grass prairie restoration. And I love the big sky out west, so I was really interested in that, too."
McCartt-Jackson said her poetry is often about humans' place in nature and how they interact with the landscape, and that residencies has helped her focus on her work while also exploring those themes.
"One of my favorite things about the Artist in Residency with the Parks Service is you learn so much," McCartt-Jackson said. "So you think you know a place until you actually go there…I came here thinking I was just going to write about the tall grass prairie, but there's so much more involved, especially with the human interaction with the landscape."
At the end of McCartt-Jackson's residency, Homestead will host a program where the public can read her work and learn more about poetry. A date for that program will be announced on the Homestead National Historical Park Facebook page.
McCartt-Jackson said she's planning for the program to be a meet-and-greet, as well as an opportunity for attendees to write a poem together.
"I like to make poetry accessible to everybody and get people to explore," McCartt-Jackson said. "So even if you don't think you can write a line to add to a poem, you can think about an image or a word or something like that."
"The Artist-in-Residence program is extremely valuable. It gives park visitors an opportunity to not just see Homestead and its story themselves, but see it through the eyes of the artist, which can be very moving and powerful," Homestead Superintendent Mark Engler said.
Homestead's other residents this year include dance artist Meg Kirchhoff of Buffalo, New York from July 19–31, visual artist Daniel Moore of Ruston, Louisiana from  Aug. 2–16, mixed media artist Allissa Hansen of Wahoo, Nebraska from Aug. 2–16, painter Ann Miller-Strandoo of Seattle, Washington from Aug. 30 to Sept. 13, barn quilt painter Vickie MacMillan of Olympia, Washington from Sept. 6–20, painter Lucretia McGuff Silverman of Roosevelt, New Jersey from Sept. 13 – 27, photographer Dana Fritz of Lincoln, Nebraska from Oct. 3 – 17 and muralist Ashley Pierce of Columbus, Ohio from Oct. 17 – 30.