It started slowly, and not without hiccups.
"Mr. Starks, congratulations," Lancaster County District Judge John Colborn said. "You're now a member of the Lancaster County Veterans Treatment Court."
"Thank you, sir," Corry Starks said.
With that quiet start a year ago, the county's newest problem-solving court had moved from the planning stage to reality with the judge asking Starks about his week, about treatment, about what else was going on in his life.
Starks, who was facing two felony drug charges that each carried sentences of 20 years to life, admitted that treatment was a little overwhelming. But he said he looked forward to going. So far so good. He'd gone to Holmes Lake that weekend with people from his support group. All sober.
"It's a huge life change," he said then. "A swing in the right direction."
That day, and several times since, Colborn told Starks everyone in the courtroom was there supporting him, wanting to see him succeed. But it wouldn't be easy. They would hold him accountable, too.
And, so, the county's veterans treatment court was off and running.
Since then, a group of team members, mentors and others have come together on Tuesday afternoons in Courtroom 31, working to get veterans who have struggled and ended up facing felony charges back on their feet and out of prison.
So far, six men have been accepted into the program: first Corry and Bill, then Michael, Ryan and Nick and, most recently, Aaron. Combat veterans of the U.S. Army and Marine Corps who served in Iraq and Afghanistan.
At the start, it was just Starks.
On June 13, 2017, two weeks after that first meeting, he missed his weekly court date.
"He's not out in the hall?" the judge asked.
After 15 minutes passed, the prosecutor, a member of the veterans court team, asked for a bench warrant. Three weeks later, Starks was back in front of the judge, this time in jail clothes.
Colborn told Starks he was pretty upset to learn he'd absconded and asked if he wanted to go to inpatient treatment in Grand Island. Starks said he did.
"Don't get me wrong, I understand the problems with addiction," the judge told him.
But, he warned Starks, if he absconded again, he may not get to stay in the program.
"You gotta let the people around you who want to help you, help you," Colborn said.
When treatment in Grand Island didn't take, Starks went to inpatient treatment in Kansas, but ended up leaving against medical advice. On Sept. 5, Colborn issued another warrant for his arrest.
That same day, the veterans court got its second member, a 42-year-old former Army Ranger who drunkenly assaulted a police officer at the VA hospital on a March day in 2016.
Colborn told William Furnas it sounded like things were going good, that he was making progress even if he wasn't seeing it himself.
"I'm just trying to follow the veterans court outline," Furnas told the judge. "It's not beneficial in any form or fashion if I don't."
Two weeks later, Starks was back. In December, a third veteran started, Michael Sanders; followed by a fourth in January, Ryan Sharp; and a fifth in April, Nicholas Hogan. The sixth, Aaron Sherman, started June 5.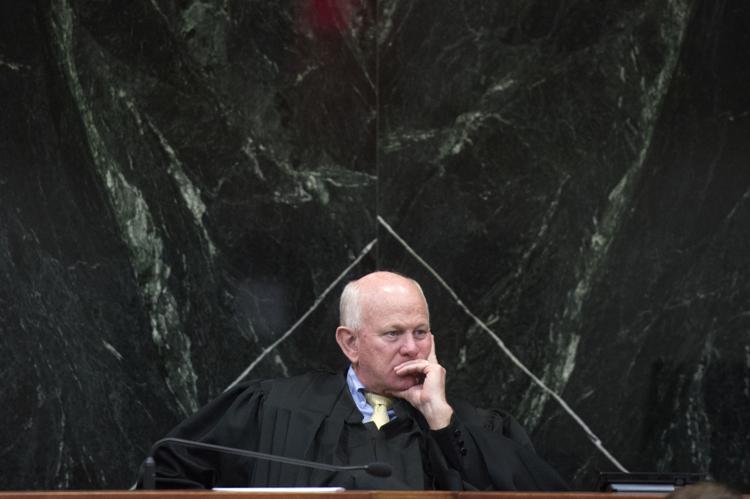 "I think we're progressing. I really do," Tony Conell, the coordinator, said in May. "We took it slowly and we're starting to see more applicants now."
Word is spreading among defense attorneys, he said. And they're looking at opening the program to combat veterans who came home with mental health disorders beyond traumatic brain injuries or post-traumatic stress disorder.
They're able to keep the cost of the program low because all treatment is service-funded through the Veterans Administration, rather than through private providers.
And there are other savings, too, he said.
"The public defender, the prosecutor, the judge, everybody is all basically donating their time as part of their normal duties, which is a great benefit, because it is reducing the amount of taxpayer dollars that are being spent," Conell said.
Then there are the veteran mentors who volunteer their time, get matched up with participants and play a huge role in their lives, he said. They have about a half-dozen and always are looking for more.
The goal is to treat any issues the participants might be dealing with, whether it be substance-abuse issues or depression or PTSD.
"In this kind of court, you know there are going to be struggles. Because relapse is going to happen. Issues are going to come up, because you're dealing with people's lives every day," Conell said.
But, he said, it's how participants deal with the setbacks and move forward that's most telling.
One relapsed the weekend before he was set to celebrate six months of sobriety. Conell went to his house after he missed drug testing, found him drunk and took him to court. Then he was sent to jail.
Conell said it ended up being the best thing for the veteran. It was like a light bulb had turned on, and he knew he just couldn't drink anymore. Not even one sip. He told the judge as much the next week.
A year in, Conell said he's glad he's a part of the program.
"I think it's a huge need in our society," he said. "I think we owe (veterans) a lot and I feel that our whole team feels that way and wants to be of assistance to them as they come back and have issues."
Starks had setbacks early on, too.
On an April morning at a Lincoln coffee shop, he was quick to answer when asked where he was a little more than a year ago.
"In jail, for, like, the 15th time probably. Homeless. Still on substances. Meth, you know. A completely different life," he said.
The 35-year-old from Los Angeles said he absolutely would not be where he is now if it weren't for veterans court. He'd probably be in prison — and not getting out anytime soon.
Starks said he joined the military in 2000, in peacetime, after college and baseball didn't work. But wartime and 12 years of active duty followed, including four deployments to Iraq. He spent 49 months in the thick of it, on a quick-reaction force in daily firefights, tasked with putting out hotspots in Baghdad, Basra, Baqubah, Mosul, Fallujah and Sadr City.
"I was an infantryman, too, so it was a pretty rough go of things," he said.
Starks said he should've been dead 100 times and knew lots of people who did die there.
But he stayed in because of the other guys.
He had planned to retire in the military but got out early for medical reasons. He landed in Nebraska, not sure where else to go and following a friend who had come here for school.
After all he'd seen in the service, it all felt like "extra time," Starks said.
"I just kinda didn't know what to do with life, which direction to go, and got in with kind of a bad crowd. And that was the start of the rabbit hole," he said.
Starks started using drugs when he was 31. He'd gotten involved in a motorcycle club in town, drawn in by a brotherhood that was a little like the military. And he started using meth. It was just what they did, he said. But it also was a form of self-medication.
"I didn't know that going into it. But that's what it turned into. You don't have to sleep. You don't have to deal with stuff that hasn't been treated, hasn't even been addressed," he said.
Starks had been having nightmares since 2004.
"But that's just a day in the life. That's just normal living. You don't know any better. And when you're in (combat), everybody's dealing with it," he said. "You kinda just rely on each other without speaking about it."
Starks said he was 17 when he joined the military and wasn't ready for what came next when he got out at age 29.
Treatment was available through the VA, he said, he just didn't take advantage of it for the first five years he was out.
Starks said he didn't realize the extent of his issues.
Relationships with his family and the friend he'd followed to Nebraska broke down. He started growing more and more anti-social, he said.
First, he got caught by police for carrying a concealed gun.
Then, on Oct. 29, 2015, he landed in jail and in the paper, his name in a story under the headline: "Five cited after meth found in a hotel room."
That was the big eye-opener, Starks said. He'd never been arrested before that. He'd just been cited on the gun charge.
When the court still was in the planning stages, Starks had people pulling for him — his court-appointed attorney, Matt Kosmicki, and Sandra Miller, a Veterans Justice Outreach social worker at the VA — trying to get him in.
Miller, who visited Starks weekly at the jail, told him she wanted him to be the first veterans court participant.
"And it all kinda came true," Starks said.
It was new to everybody, he said. At the start, some team members weren't sure where to sit in the courtroom, given that the legal system usually has two sides: prosecution and defense. Now, at veterans court, they all sit in a row.
He said it's been interesting seeing how everything's developed and being a part of it. But it's not easy.
"It's a full-time job and then some," Starks said. "But it's good, though."
To get in, participants must be combat vets with little or no record before their service ended, who were honorably discharged and have been diagnosed with PTSD or a traumatic brain injury. Starks has both.
In the beginning, he said, he wasn't ready for inpatient treatment for PTSD. But that changed. He later did intensive outpatient treatment, on top of at least seven 12-step meetings a week. He started out living in a group home, doing volunteer work and outreach.
He said he and Conell, the coordinator, are trying to set the bar with him. And he's working to reach the sixth phase and finish.
Starks said he's the guinea pig. The expected time frame is 18 months to two years.
But, it's working, he said.
"I'm not anywhere close to the same person as I was a year ago," Starks said. "I think it's all about transitioning back into society."
John Arias, one of the mentors, said when he came back from the Gulf War he was angry and having dreams.
His marriage fell apart, and he ended up in prison. There, he benefited from counseling through the Lincoln Vet Center, then started helping other veterans like him, something he kept doing when he got out.
Now, he drives 100 miles from his home in Wood River to meet with his veteran and go to court with him on Tuesdays.
He's a Marine vet. His match is an Army vet.
Arias said he's gotten a lot out of being part of the veterans court and would like to see it reach a point where they don't have enough veteran mentors to match up with participants.
"Because that means more veterans are being helped back on their feet. And we've all had problems getting back from war," he said. "I didn't have anyone to help me. That's why I'm here."
He said he's had a hard life and doesn't like to see veterans struggle like he did.
"It bothers me to see veterans in chains or to know that veterans are in prison. But if I can help veterans not end up in jail or prison, then I guess I'm doing my job as a veteran," Arias said.