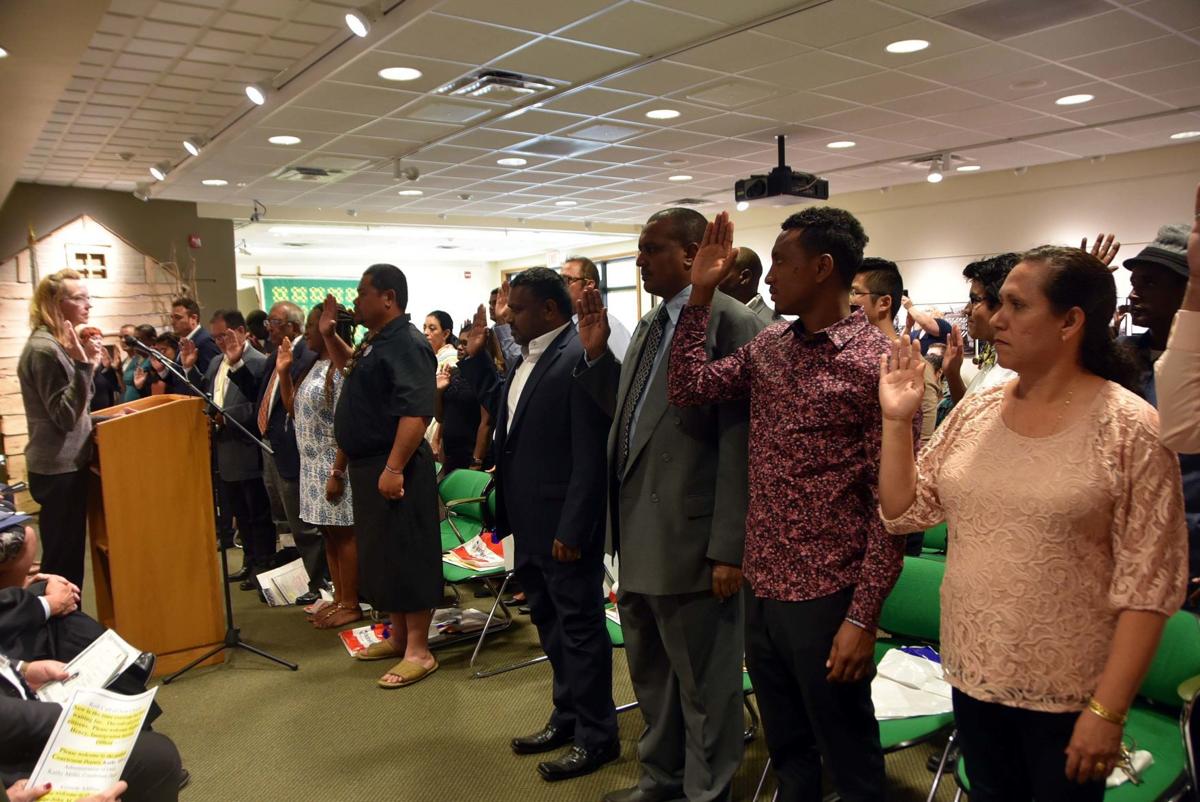 In celebration of Constitution Day, roughly 28 people from 18 countries became United States citizens during a naturalization ceremony at the Homestead National Monument of America on Tuesday afternoon.
Naturalization is the process wherein U.S. citizenship is awarded to individuals after fulfilling a set of requirements established by Congress. After the ceremony, foreign-born citizens enjoy nearly all the same benefits, rights, and responsibilities that the Constitution gives to native-born U.S. citizens.
Among those who gained citizenship were Giovanni Luna, who moved to Kearney 16 years ago to live near his grandparents and is currently studying to be a doctor.
"I just felt like it was something I had to do, [becoming] a U.S. citizen," Luna said. "I felt like it would open up a lot of opportunities."
Rozzeena Chace, who moved to Beatrice from Fiji at 5 years old, said the United States is all she knows.
"My stepdad lived out here," Chace said. "I've gone to school and graduated from Beatrice. Citizenship-wise, it's been a long-term goal… It's finally reachable, and now on to different goals."
This is the second of two naturalization ceremonies to take place at Homestead National Monument of America in 2019, with the first having taken place on Flag Day.
"The Homestead Act had a big impact upon immigration in the United States," Homestead National Monument of America's Superintendent Mark Engler said. "The Naturalization ceremonies we hold today reflect upon this part of our nation's Homestead story."
Representatives for Congressman Don Bacon and U.S. senators Ben Sasse and Deb Fischer also attended the event and read special remarks during the ceremony, welcoming the new citizens.
The event was presided over by U.S. District Judge John M. Gerrard, who remarked that naturalization ceremonies are one of the most important and enjoyable parts of his job.
"This day has been a long time coming for many of you," Gerrard said. "Citizenship in this country is not an easy thing to achieve. It takes time, perseverance, money and sometimes personal pain. I want to thank you for becoming citizens today."
Gerrard said he hopes each individual preserves their native language and heritage.
"I want to remind you that what you solemnly renounced in that oath was allegiance to the government of another land," Gerrard said. "You did not renounce, nor should you ever renounce, the devotion you carry in your hearts for your native land, for its people and its culture…Doing so not only enriches the lives of those in your family, but also enriches America and all of us that are here today."
Get local news delivered to your inbox!
Subscribe to our Daily Headlines newsletter.