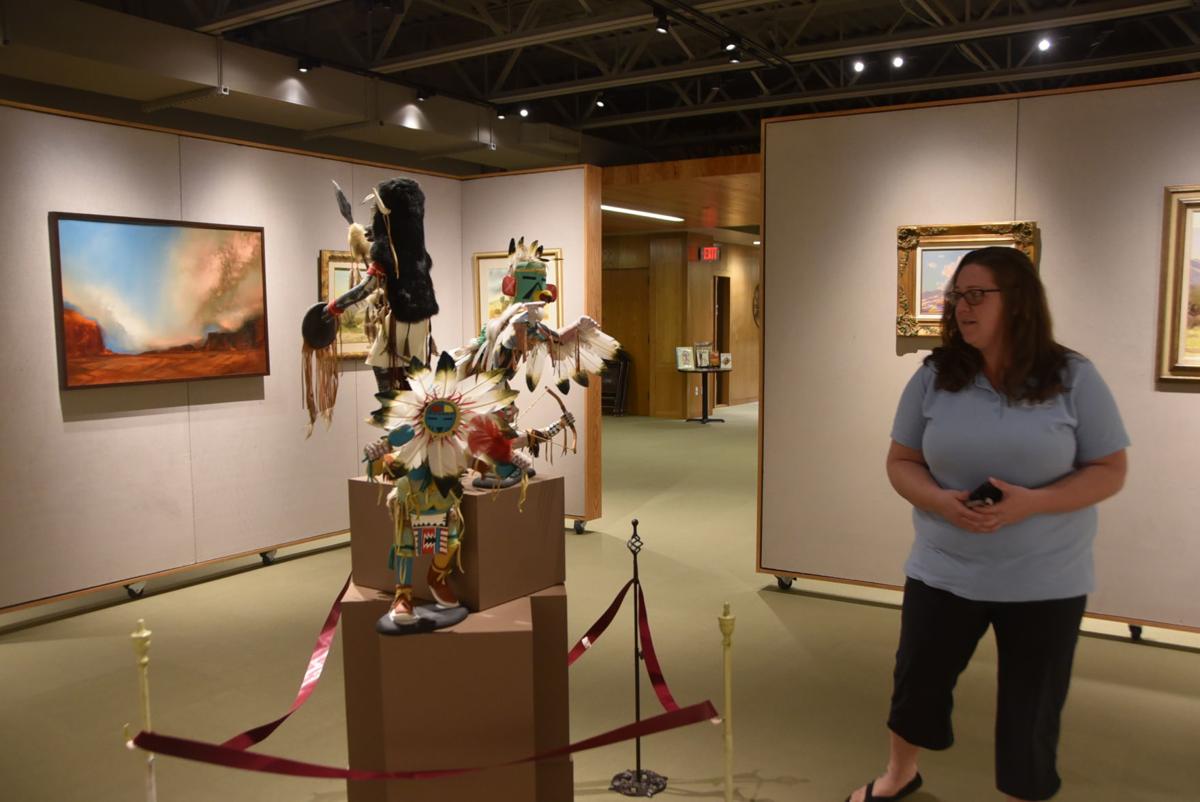 Cacti, kachinas and southwestern landscapes are the main focus of the current exhibit in Beatrice Public Library's Vette Cultural Arts Center.
"La Frontera: Art Inspired by the American Southwest" focuses on the border area of the United States and Mexico, showing the art and Native culture there.
At the center of the display are several kachinas: small, heavily ornamented carved-wood dolls.
Kachinas are a part of Pueblo culture and are ancestral spirits that interact with humans. Kachinas will allow themselves to be seen by a Pueblo community if its men properly perform a traditional ritual while wearing kachina masks and other regalia. The spirit-being depicted on the mask is thought to be actually present with or within the performer, temporarily transforming him.
Library director Laureen Riedesel said a cancellation meant the exhibit had an open month, which led to La Frontera.
"It was kind of late to borrow from someone else," Riedesel said. "All of a sudden in the news, it seemed like there was a lot of talk about that border area between the United States and Mexico. So much of our collection is tied to these beautiful paintings from that area. And I was thinking about the fact that when we had done it before, we focused on the United States side of it and also on the landscape side of it. But we had paintings from Mexico, and we also had some works related to Native Americans in the area."
You have free articles remaining.
The display includes paintings from the collection of Maurice and Dorothy Hevelone, kachinas from the collection of Nick and Deb Covey, cactus pottery and paintings by Nancy Hagler-Vujovic and other related items from the collections of the Beatrice Public Library and other private collectors.
The library also has a book and media display with loanable items about the art, culture and history of La Frontera.
The la Frontera exhibit can be viewed until Sept. 29 during regular library hours.
The library's next exhibit highlights the history and achievements of the University of Nebraska–Lincoln as they celebrate their 150th anniversary.
The exhibit runs Oct. 7-19 and details key moments in the university's history, from influential alumni and cultural contributions to agricultural, technological and science innovation and environmental conservation.
The Nebraska Extension office has already set up several events to go along with the exhibit, including an open house on Oct. 12 from 10 a.m. to noon, a National Youth Science Day activity on Oct. 12 from 1-4 p.m. and a horticulture activity on Oct. 6 from 7-8 p.m.
Additional programs will be advertised through the Beatrice Public Library and Nebraska Extension in Gage County's newsletter, website and Facebook page.
For more information about the library's exhibits or any of its other programs, contact the Library at www.beatrice.ne.gov/library or 402-223-3584.