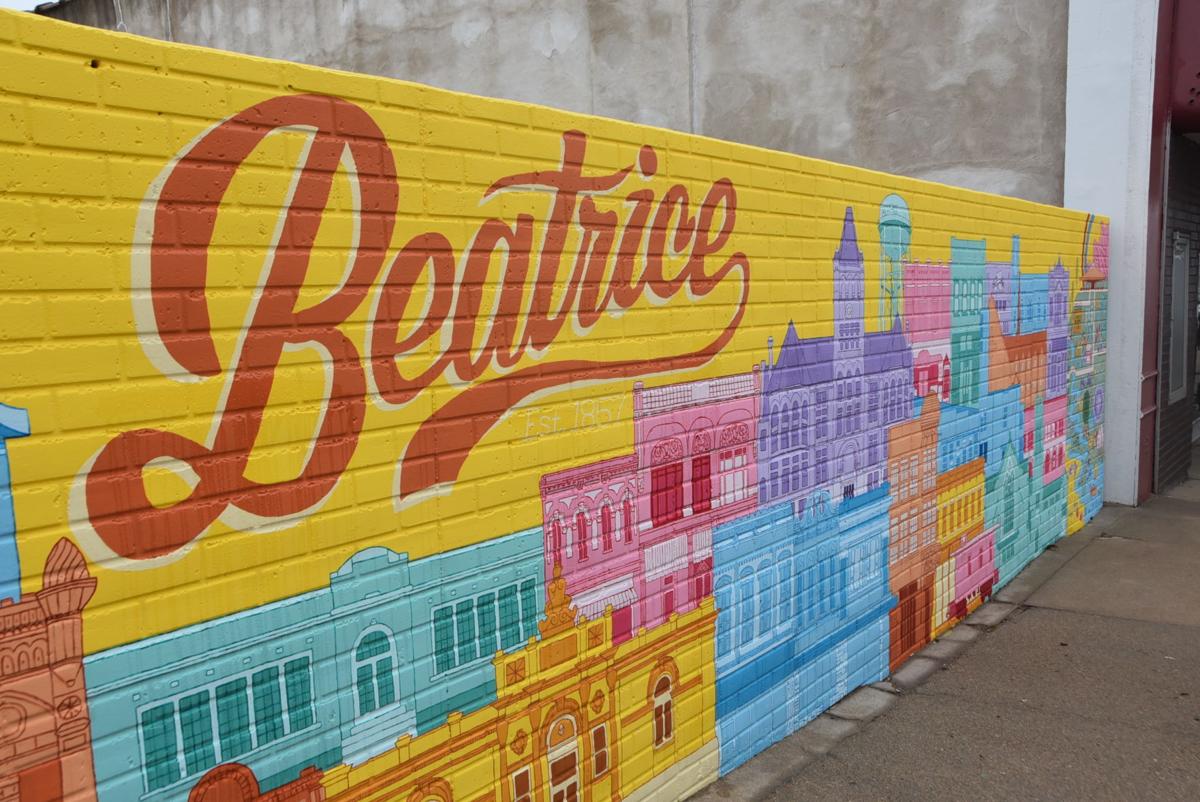 In light of the positive response received for the colorful mural along the Highway 77 and Highway 136 intersection downtown, Main Street Beatrice has started searching for local artists to create a mural on the second story wall of Lepant Law Office, located at 119 N. Fifth St.
The first mural was completed in October of 2020 by Beatrice artist Tyler Rinne, depicting various city landmarks.
Main Street Director Michael Sothan said the goals of the murals are to create excitement and interest for the community, visitors and prospective residents and businesses, make the downtown a vibrant and welcoming public place, highlight the work of local artists and capture the community's history while also highlighting possibilities for the future.
"One thing that we've learned from our last project is that while a lot of people absolutely love it, there's some folks that maybe want to see something that's more traditional or historical, maybe less vibrant in the colors. Others want an exact repeat of that…But from a concept, we're wanting something that is unique to Beatrice, maybe tells a little bit of our community's story, but since it will be up much higher it needs to be something that translates to a large space, that's going to be further away from the viewer," Sothan said.
The project is open to experienced Beatrice and Southeast Nebraska artists of various backgrounds, as well as artist teams and school groups.
Sothan said that while priority may be given to Beatrice artists, Main Street wanted "local" to be a broad term to explore a variety of different artists in the region.
"Even if we don't select artists for this specific mural project, we want to be able to have a list of artists that we can then reach out to when we start doing some alley artwork that we're hoping on probably starting later this year," Sothan explained. "But also for any future projects, that way we've really got a good list of folks that we can turn to and try to get a variety of potential types of work, and kind of bring hopefully some quality projects to Beatrice."
Sothan said that one of Main Street's big goals this year is to add lighting and artwork to the downtown alleys, and gave the nearby Yesterday's Lady at 113 North Fifth Street as an example. He said one of the reasons Lepant was chosen as a mural location this year is because they're contributing money to the project, which is also being funded by the Hevelone Foundation and last year's Big Give donations.
"As far as murals go, it may not be something that's able to happen every single year. Again, there's limits on the budget. These aren't extremely expensive, but they also aren't the cheapest, and they just take a lot of time. But the art is something that we want to see continue. We still have a few other locations in mind," Sothan said.
Artists interested in applying can write a one page letter of interest describing their qualifications, create a résumé, attach images of previous work, contact information for two professional references, and the artist's contact information. All qualification materials must be submitted by midnight on Thursday, April 15 to Main Street Beatrice, ATTN: Lepant Mural Project at 205 N 4th ST / P.O. Box 125 Beatrice, NE 68310, or emailed to msothan@mainstreetbeatrice.org
The Artist Selection Committee, made up of Main Street staff, Lepant's property owner or representative, and the Downtown Art Committee plan to meet in April to review all artist submissions and select up to two artists to submit concept ideas for review. The two selected artists will then be invited for a site visit and asked to provide at least two design concepts, each artist will be paid $300 for the concept work.
The committee will select the design concept and the final artist in May, with the mural planned to be completed in October, weather permitting.
Main Street's budget for this project is $15,000, which covers all costs associated with the project including, but not limited to the artist's stipend, concept, art rights, materials and associated costs.