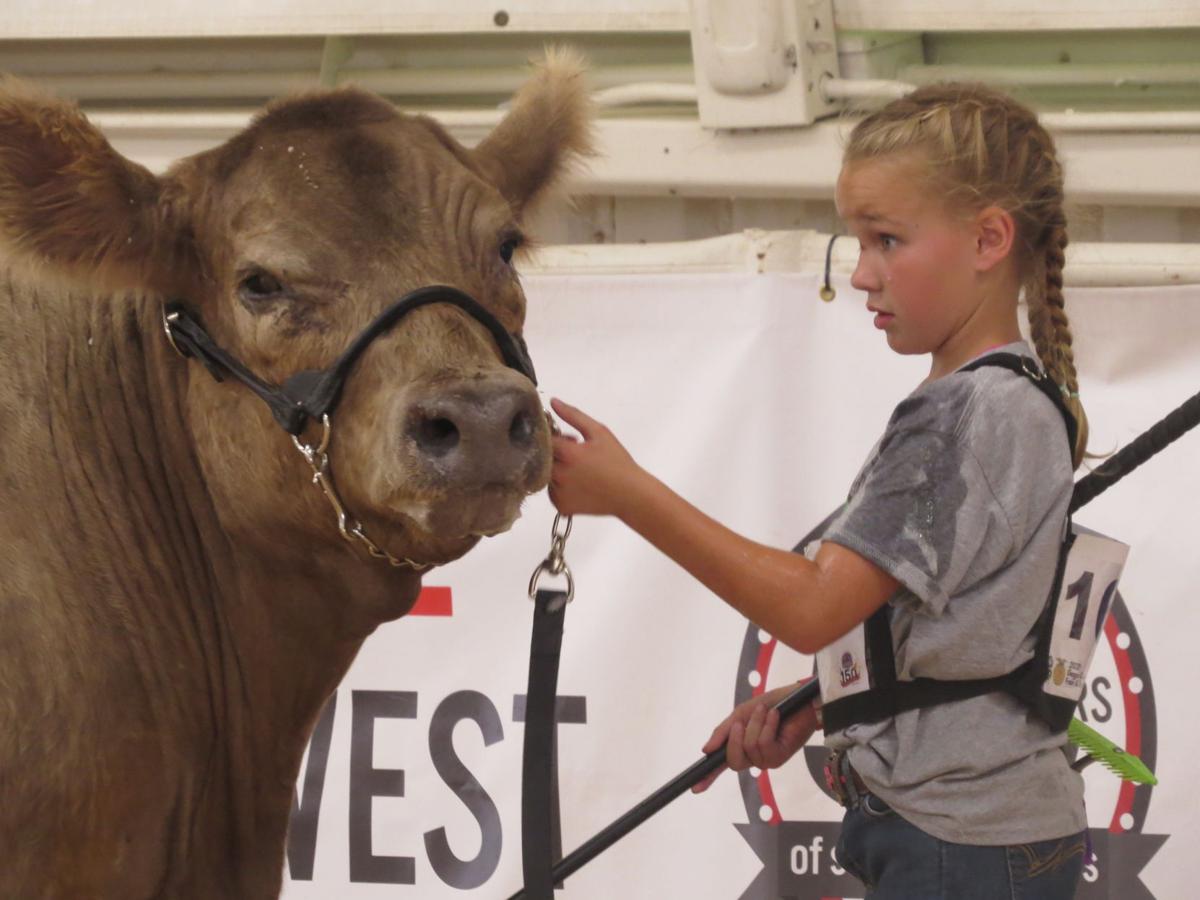 Around 80 area youth competed for showmanship honors at the beginning of the Beef Show during the Gage County Fair on Friday.
At the show, 22 heifers and steers were shown in the market division and 72 beef animals were exhibited during the breeding section.
The daylong event was watched by a full barn of parents, grandparents and other community members in extreme heat. It was also livestreamed and recorded for YouTube viewing courtesy of Diode Communications and Shawn Kracke.
Johnnie Johnson served as the Judge for the Beef and Meat Goat shows.
Johnson was born, raised and resides in Northeast Nebraska. He has been involved in the livestock industry and show arena all of his life. Johnnie raises club calves and SimAngus breeding stock.
In addition to the many county fairs, Johnnie has had the privilege of judging in 24 states, Brazil and New Zealand.
Johnson has served on the Burt County Fair Board and as the Fair Manager for several years.
"This is the biggest crowd that I ever judged in front of at a county fair level," Johnson said. "The number of animals was incredible and the quality of the showman, the breeding and the market animals were outstanding."
"Gage County should be so proud of number of youth out here today. Parents and grandparents you have taught them well. I see great competition, intensity and passion."
Johnson said he looks forward to returning to Gage County to judge and see the younger showman grow and learn.
Natalie Trauernicht of Wymore received the trophy in overall showmanship.
"I just love showing. I love the relationships that I'm building with people and animals," she said.
Abby Vales of DeWitt received Reserve Grand Champion in Showmanship said she loved showing because it gave her the opportunity to mentor younger youth the way she was mentored.
First year showman, Deighton Dorn, showed her market steers "Pickles" and "Reggie," each weighing over 1250 pounds. She also showed four swine on Saturday, but said she like showing her steers better.
"For sure I like showing the steers more. I have more control of them," she said.
"That little girl always has a smile on her face and those steers are just as proud of her as she is of them," Johnson added.
Natalie Trauernicht of Wymore received Grand Champion Market Heifer and Brylie Hartwig of Cortland received Reserve Grand Champion.
Tatum Schroeder of Beatrice showed the Grand Champion Market Steer and Abby Vales of DeWitt received the Reserve Grand Champion.
The Grand Champion Breeding Beef was shown by Lainey Trauernicht of Wymore and Carly Rains of Dorchester showed the Reserve Grand Champion.