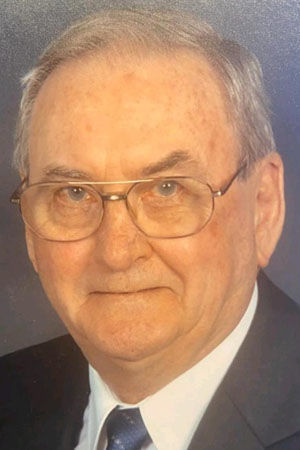 Allan L. Lindblom, 86, Pittsburg, PA, he left this world with his son Ron by his side on Sunday December 15, 2019 in Pittsburg, PA. Allan L. Lindblom lived his life, and will be remembered, as a man of faith, duty, and honor. He was born in Saskatchewan, Canada, on July 2, 1933. Al came into this world with a remarkable sense of duty and honor. He graduated from high school in Morris, MN in 1951. Al married the love of his life, Beverly Anne Gaines, on December 12, 1952 in Beatrice, NE. After enlisting in the Air Force in 1953, the two of them would raise their boys on Air Force bases all over the world. Four young American airmen hailed a cab in 1954 Biloxi, MS. The driver took one look at the group. "I can take you three or I can take him," he said, pointing at the one airman of color. "I can't take you all together." The driver explained that Jim Crow laws made it illegal to take a fare that "mixed" races. One of those airmen leaned in and told the driver if he wouldn't take all of them, they would walk. It was miles back to base, but worth every step to Al Lindblom. His moral compass pointed to no other path. May 1, 1976, saw Allan retiring as Chief Master Sergeant with respect and honor at Fort Dix, New Jersey, his service to his country did not end there. He continued his work in the private sector and his second retirement told of over 40 years in the aerospace industry. In 2001, he and Bev moved to the Regent Square neighborhood of Pittsburgh, PA, so they could live near their son and daughter-in-law, Ron and Penny, as well as their grandson and granddaughter in law, Brett and Kristie. Bev left his side to make her home in heaven in 2003.
He is survived by his sister, Sharon Lottman and husband Dean of Odell; his son, Ronald-Allan Lindblom and his wife, Penny of Pittsburgh, PA; daughter-in-law, Mindy Downum; her husband, Larry of CA; and her son, Hayden; his grandsons, Brett and Josh, and their wives, Kristie and Jessica; his seven great-grandchildren, Seamus, Emelie, Daphne, Jacob, Markus, Quinlin, and Austin; sisters-in-law, JuDee Gonzalez and husband Eli of CO, and Sharon Gaines of CA; brother-in-law, Chuck Gaines of CA and countless nieces, nephews, and cousins. Al was preceded in death by his parents, Charlotte and Ole Lindblom; wife, Bev; son, Jim Lindblom; brother, Don Lindblom and wife Phyllis; sister, Maxine Salts and husband Ben; parents-in-law, Hazel and Aubrey Gaines; sister-in-law, Lois Gaines; and brother-in-law, Ken Gaines.
Memorial services were held January 14, 2020 in Pittsburgh, PA. Inurnment was at the Homewood Cemetery in Pittsburgh, PA. A guestbook is available at www.harmanwrightmortuary.com. Harman-Wright Mortuary.
Obituaries Newsletter
Sign up to get the most recent local obituaries delivered to your inbox.