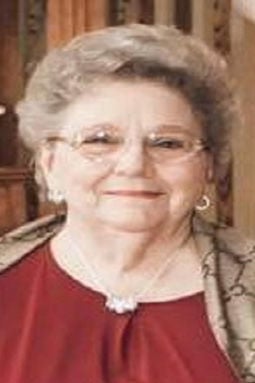 Donna Kay (Hignett) Maschmeier
Donna Kay (Hignett) Maschmeier, 80, was called to her eternal home on March 9, 2020 at North Texas Medical Center.
Mom was born on February 20, 1940 in Fort Sill, Oklahoma to Roe A. Hignett and Edith Jewel (Nelson) Mathews. While Mom married very young and started her life as a Maschmeier she always taught us kids about her family history. Mom was especially close to her mom, Grandma Edith.
Mom was an amazing wife, mother (of course), grandmother and great-grandmother, Mom literally raised six children by herself while Dad was in Korea and Vietnam. She was a homemaker, sheriff's office dispatcher and cook. Also, Mom and Dad owned and operated Lanham Tavern in Lanham, Nebraska for many years. Although Mom knew nothing about the restaurant business, she and Dad did a great job and people would literally line up on Friday and Saturday nights to eat their famous prime rib.
Mom loved her family, church and friends. She enjoyed baking and her bible studies, most recently at Faith Lutheran Church in Gainesville, Texas. Mom especially loved fishing and traveling all over the United States with Dad.
Donna is survived by her husband of 63 years, Gilbert (Bud) Ernest Maschmeier; son, Gilbert (Buddy) Ernest Maschmeier Jr. and wife, Vickie; daughter, Rebecca Kay (Maschmeier) Blue and husband, Mike; son, Bruce Edward Maschmeier and wife, Jeanne; son, Michael Ray Maschmeier and wife, Ruth; son Bryan E. Maschmeier and wife, Lisa; son, Mark Wayne Maschmeier and wife, Marcie; twenty grandchildren, twenty-seven great-grandchildren, niece, Debbie and nephews, Steven and Curtis.
Donna was preceded in death by mother, Edith Matthews, father, Roe Hignett, step-father, Clarence Mathews, younger brother, Frank Mathews and older sister, Shirley Woods.
In lieu of flowers, donations in Donna's name may be made to Helping Hands of Faith c/o Faith Lutheran Church 1823 Luther Lane Gainesville, Texas 76240. Arrangements are under the direction of Meador Funeral Home of Whitesboro, Texas.
Update: Unfortunately, Mom's obituary never made it to any of the newspapers. So, we are reposting this obituary along with the Celebration of Life information. Although Dad survived mom, it is our opinion that Dad just couldn't stand being away from Mom any longer and he died of a broken heart and joined Mom just three months and two days later in the loving arms of our Savior, Jesus Christ.
Pastor Paul Terral of Faith Lutheran Church in Gainesville, Texas will be officiating a Celebration of Life for both Mom and Dad on Saturday, July 25th at 9:30 a.m. at the Chautauqua Park Tabernacle & Pavilion in Beatrice, Nebraska. Following the service, we will be hosting a big Fish Fry to honor Mom and Dad for family and friends.
Dad and Mom will be buried together at the Kansas Veterans Cemetery 5181 Wildcat Creek Rd, Manhattan, KS at 9 a.m. Friday July 24th, following Dad's full Military Funeral Service.
Obituaries Newsletter
Sign up to get the most recent local obituaries delivered to your inbox.